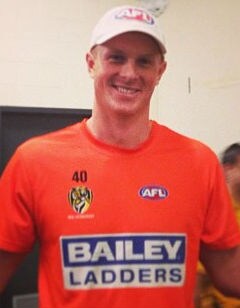 Originally, I didn't really have much interest in still being involved in the club because it was such a hard decision to retire
IT WAS in Byron Bay late last year when Kelvin Moore was first presented with the idea of staying involved with Richmond by becoming a team runner.

Moore was on holiday with a bunch of his former teammates and coaches in October to celebrate Brett Deledio's wedding to his long-term partner Katie.

It was just over two months after he made the agonising decision to retire at the age of 28, finally succumbing to the crippling hip complaints he battled for years.

And, it was over a few beers that coach Damien Hardwick asked him if he'd like to remain part of the club by acting as one his volunteer match day runners.

It took Moore a few months to decide, with the sad end to his career a primary factor in his hesitation.

"Originally, I didn't really have much interest in still being involved in the club because it was such a hard decision to retire and give it away," Moore told AFL.com.au this week.

"I just wanted to step aside and move on with my life and try and forget about footy.

"I thought the hardest thing was going to be if I was still around the club and involved in football, I was going to start to miss it and question if I made the right decision or not."

Moore thought about the offer during the next few months and eventually decided running for the Tigers would be a good way to not only stay fit but remain a part of the club he first played for in 2004.

He had close friends there, knew the game plan well and understood football, which made him the ideal candidate for the Tigers who have previously used assistant coach Wayne Campbell and former captain Kane Johnson in the role.

"I'm keen on watching the Tigers progress and improve in the coming years, and there was no better way to be involved," he said.

"I can still feel a little bit part of it even though I'm not out on the field doing the hard things."

Moore played three senior games in his final year of AFL, the first of which was in round 16 against Gold Coast and the first time he'd played since round 22, 2010.

He fell out of the senior side and played two games for Coburg but the toll the game was taking on his battered body was too great to envision going on.

He retired immediately in August, on the same day forward Brad Miller hung up his boots, and started to think about what came next.

"I still felt mentally like I could play the game but my hips just couldn't hold up," he said.

"It was the recovery during the week. The game is hard enough when you're training every session and I wasn't able to do that.

"I would play on the weekend, not do much until about Thursday where I'd do the main training session and just get through that, and then I'd do all my recovery to try and get myself right for the game.

"You're not going to improve doing things like that.

"It wasn't fair on the other players if I was going out there and I wasn't 100 per cent. It didn't sit well with me."

He continues to have problems with both hips, although it was his right one he had the most trouble with when he was playing.

In his role for the Tigers, he can expect to run between 12 and 14km per game but believes his body will be able to cope with it, given the activity isn't constant.

"It was the contact and twisting and turning and the pressure that football puts on your body that was a problem," he said.

"Running is probably not fantastic but being an active 28-year-old, it's very hard not to run.

"It's just one of those things I've now got to manage and deal with. It's a bit different not having to get up in the morning and get through a game of football or training.

"Now I can do a bit of running and if I pull up sore the next day, I just deal with it."

Jennifer Phelan is a reporter for AFL Media. Follow her on Twitter @AFL_JenPhelan.