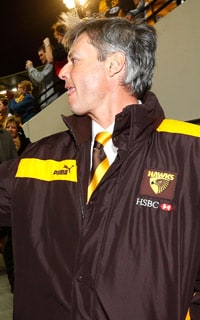 LAUGHING OFF
Kevin Sheedy's barbs
as a "bit of theatre", Hawthorn president Andrew Newbold has repeated his claims that equalisation is a topic that requires serious discussion from the AFL and the clubs.
In an
open letter to Newbold
on the Greater Western Sydney website on Tuesday, Sheedy lambasted the Hawk president for comments on the abundance of draft picks the start-up Giants had received as well as the cost-of-living allowance in Sydney.
"Some clubs down in Melbourne have got fat on their own self-interest," Sheedy said.
Newbold told AFL.com.au on Wednesday that he was amused by Sheedy's remarks, but said equalisation needed to be treated by football as a matter of importance.
"He's taken a few comments of mine from a pretty long submission and has gone to town, which is fine and a bit of theatre," he said.
"But if we're going to look at equalisation then we need to have a serious look at it and see what it means."
According to Newbold, draft concessions need to be addressed, as do salary cap allowances and stadium deals.
"We are all concerned about the bigger picture in the game and if we are looking at what the larger clubs can do to help the smaller clubs then we need true equalisation.
Newbold said that allowing the Swans to have a cost-of-living allowance in their salary cap was an outdated concept if other cities around Australia weren't taken into consideration.
"The Western Australian clubs should have a larger allowance if we're consistent and if you extend that logic, then Adelaide and Port Adelaide should have smaller caps."
"It is an outdated policy setting," he said.
Newbold again called on the AFL to look at ways of alleviating stadium pain for some of the smaller clubs.
"It's all well and good to have a crack at me about the draft, but what about the Western Bulldogs and North Melbourne, who have to write cheques for $100,000 after playing home games at Etihad Stadium?"
AFL Media senior writer Ashley Browne is on Twitter @afl_hashbrowne