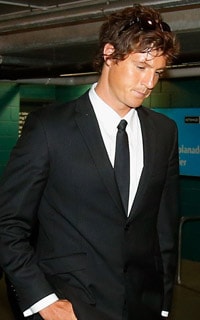 (The AFL) looked at every contract I've ever done with the Adelaide Football Club and they didn't find one thing wrong
Adelaide football manager Phil Harper
ONE OF the men suspended by the AFL last year for his role in the Kurt Tippett saga - Phil Harper - is back at work, but he'll no longer have a significant hand in the contracts of players.

Harper was suspended by the League for two months in November for his role in the Adelaide Crows' salary cap breaches regarding Tippett.

While Harper's match-day responsibilities are to increase in the absence of Dean Bailey, himself suspended over the Melbourne tanking affair, he was forced to surrender his contract negotiation portfolio to list manager David Noble.

Harper said he didn't see the re-distribution of responsibility as punishment for his hand in the Tippett scandal, but rather as a natural progression.

"I've been assured by (club chairman) Rob Chapman that's not the case," Harper told reporters outside club headquarters on Friday morning.

"The AFL investigation was really thorough and they looked at every contract I've ever done with the Adelaide Football Club and they didn't find one thing wrong with any contract I've ever done.

"When David (Noble) first came in he hadn't done any contracts, so we stepped him into that and he did a few the first year, last year he did 60 per cent of them, I mean really I only dealt with one manager last year.

"This year it'll probably go the other way and he'll do 80 or 90 per cent.

"It fits more in his role anyway, list management you're managing the list and that includes contracts."

While Harper inherited the ill-fated Tippett deal from his predecessor John Reid, he denied his two-month suspension dealt by the League was unfair.

He admitted he should have reported the deal to the AFL the minute it appeared "untoward".

"A lot of people have said to me, 'You're hard done by, you had nothing to do with that deal' and all that sort of stuff and really all those people who have said that to me are family, friends and Crows supporters, so they're all biased," he said.

"What you need to do is say, 'Well who should judge that? And it should be somebody who's independent, which was the AFL Commission, they made a judgment on it and I accept their decision.

Harry Thring is a reporter for AFL Media. Follow him on Twitter: @AFL_Harry.