PORT Adelaide has taken a major step towards abolishing its $4.1m debt, signing a lucrative, three-year sponsorship deal with French motoring giant Renault.
The sponsorship is the Power's first major deal struck with a multinational company since Vodafone parted ways with the club four years ago and validates the surprise decision by the Power to install Sunrise presenter David Koch as chairman late last year.
Koch's appointment last October was criticised in some circles, with the media personality to be based interstate and away from the club's Alberton Oval headquarters.
But the Power's board signaled a need to broaden its corporate base, particularly along the eastern seaboard and Koch is understood to have played a significant role in securing the important partnership.
The club chairman said the Renault deal was the first step in taking the Port Adelaide brand beyond its traditional borders.
"This is a statement from Port Adelaide that we aren't restricted to that postcode, 5105, which I think we've had that sort of mentality in the past," Koch said at a sponsorship launch symbolically held at the MCG on Tuesday.
"We are a national organisation and a national brand.
"We're proud of our roots, we're proud of our history, we're proud of where we are and where we come from, but we also understand that to build a club, we've got to look beyond Alberton, Adelaide and South Australia."
Koch said he was determined to bring the "swagger" back to Port Adelaide.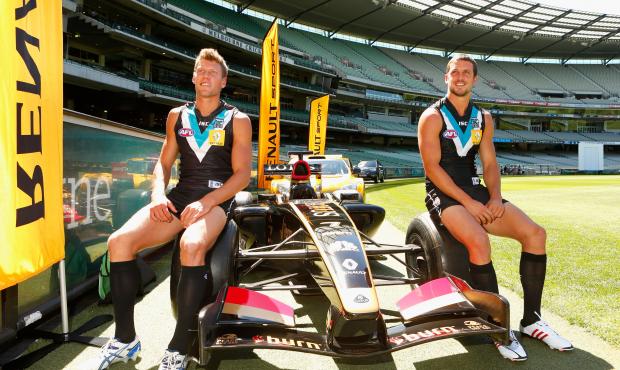 The deal came on the back of encouraging membership numbers for the Power; the club broke 30,000 members last week and is tracking towards 40,000 for the first time since its inception into the AFL in 1997.
As a joint major partner, Renault will appear on the front of Port's away and clash strips as well as on the back of its home jumper.
Koch admitted the deal almost hit a hurdle when the Australian Crime Commission released its report into drugs in Australian sport on February 7, but the club had acted swiftly, appointing an integrity officer who reports directly to the board.
Renault Australia marketing director Chris Bayman said his company had been convinced the Power presented no risk.
"I think everyone would question, just for that day (the day the ACC report was released), what their involvement with the game ought to be," Bayman said.
"But as far as I can see, nobody has been charged with anything, and the guys at Port Adelaide have reassured us that they've got great systems in place, so we're very comfortable."
Koch said Port Adelaide was currently in talks with another international company about becoming a sponsor.
Harry Thring is a reporter for AFL Media. Follow him on Twitter: @AFL_Harry.