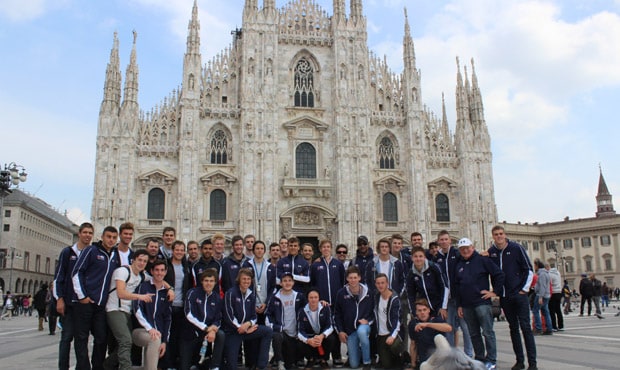 Victorian Tom Boyd is a tall, strong big-marking forward who had an outstanding year in 2012 as a 17-year-old. Now a member of the AIS-AFL Academy, Boyd is with the squad on its two-week tour of Europe. Follow his blog on AFL.com.au
Monday, April 1, Varese, Italy
It was the first time we hit the track as a group, and it was on a soccer field in Varese. Despite the change in ground dimensions the surface was good, the weather was nice and it was great to get out and have a kick.
We were a bit flat early because everyone was still a little bit tired after the flying. It wasn't a long session but by the end we were feeling pretty good.
At times when I was getting a drink of water or having a moment to cool down I would find myself looking around and being reminded that I was actually training in Italy. The mountains were in the backdrop, as were the local homes, and police sirens and lakes.
But getting out and having a kick certainly wasn't the only highlight of the day.
At night we joined with the supporters group – and what seemed like the whole town of Varese – to attend a local basketball game.
We were told beforehand that Varese is a good team and play at a top level, but we had no real warning of the atmosphere that we would encounter. It was phenomenal.
At one end of the court there was a section of supporters likened to that of Bay 13 during the cricket season at the MCG.
They were singing, chanting, abusing, cheering, clapping, waving flags, and doing everything they could to will their team over the line. It was obvious we weren't Varese locals. When the rest of the crowd stood up we were in a pocket sitting down, and we probably didn't giver the Mexican wave a lot of love either.
It must be said that, in chilly conditions, a topless man standing on a ledge with a microphone in his hand led the whole crowd's antics. Maybe we should be getting him down to the Eastern Ranges this year to help us out a bit.
Spotlight on:
Alex Spina. The past two AIS-AFL Academy camps, in December and January, Alex had been barely able to train with the main group as he recovered from injury. So this was pretty close to his first session with the group and it didn't seem like he had missed a beat.
Tuesday, April 2, Varese, Italy
A tough gym session before breakfast preceded what was the best day of the trip so far.
We took a bus to visit the Sacred Mount of Varese, where we walked up to the historical village of Santa Maria del Monte.
Despite the group being advised to rug up for cold conditions, Lewis Taylor came in a pair ofrunning shorts and a polo after getting some bad advice from teammate Kurt Heatherley. At least Kurt was also in shorts.
We had a tour of the church in the village, and found out a few interesting things, like how the local nuns stay indoors for their lives as a pledge to their faith.
After that we hopped onto another bus, which took us into Switzerland, where we took a cogwheel rail all the way to the top of Monte Generoso, 1700 metres above sea level.
A lot of the boys on the trip, and coach Michael O'Loughlin, had never seen snow before, but they couldn't have picked a better place to start. At the top we had the most sensational views of the Swiss alps and the surrounding towns.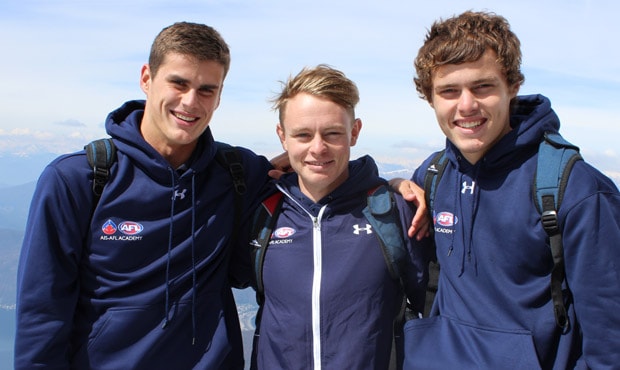 Tom (l) at the Swiss Alps with Lloyd Perris and Kade Kolodjashnij
A great four-course feed was bookended by two big snow fights, led by Geelong Falcon James Tsitas. James threw snowball after snowball at his teammates and finally got one back and was hit where it hurts most.
There were many civilian casualties of the snowball fight, including my mum Anita, who was hit by a rocket from Lewy Taylor (in his shorts). Things have been a bit tense between them since.
Spotlight on:
Matt Scharenberg. 'Shaz' is usually a pretty coordinated guy, but that might not have helped him when he was navigating the slippery snowy terrain. Much to the amusement of his teammates, and GreaterWestern Sydney list manager Stephen Silvagni, Shaz neglected help in walking down the mountain and instead slipped, fell and slid to the bottom. Priceless.
Wednesday, April 3, Varese, Italy
There has been 17 clubs represented on this trip by recruiters or list managers (Essendon is the exception). Many clubs have sent two people to watch and meet us and learn more about how we go outside our comfort zone.
But they are also here to get a better assessment of us as footballers. And that's what they would have got at Wednesday's training session, probably the most competitive and intense session I've had in my football career.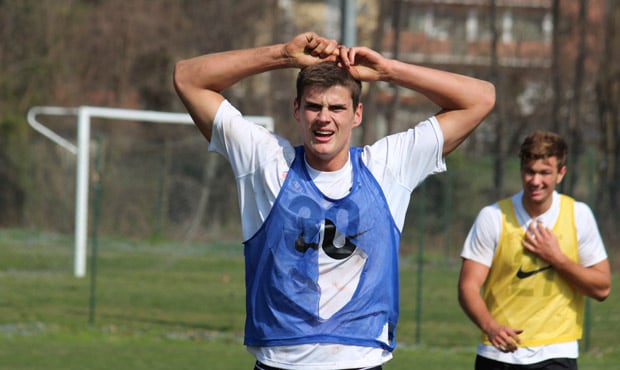 A tough training sesssion in Varese, Italy.
We were told to go hard and that it was the main session of the week before our game on Saturday, and it lived up to its billing, sometimes getting a little fiery.
On one occasion, I slipped over and Darcy Gardiner, who was about to tackle me, dropped a little knee into me. It is fair to say I let him know I wasn't all that happy, but I find that when we do train like that it brings out the competitor in everyone. The tension between Darcy and I lasted no longer than a couple of minutes.
At the end of the session we were paired up with a player of similar size and had to try to win three different contests in a row. We did that circuit twice and everyone scrapped, fought, and buried each other in the mud.
Ben Lennon and Nick Robertson went head-to-head, as did Errin Wasley-Black and Marcus Bontempelli. Jack Billings and Dom Sheed were paired up, and I went toe-to-toe with big Queenslander Cain Tickner.
A trip to Milan for a shopping spree finished the day and effectively our time in Italy ahead of the flight to London on Thursday.

Spotlight on:
Dwayne Wilson. There was a drill during the session where Dwayne, who is known for his brilliant skills, was throwing his body around and laid heaps of tackles. Another South Australian who has had a couple of injury niggles of late, it was good to see him out there and really getting into it.

Thursday, April 4, Surrey, England
Having made the flight and got through Heathrow Airport, we were greeted by snow and freezing temperatures. It was a fair change from what had been a beautiful few days in Italy.
Nonetheless it didn't stop us from preparing for Saturday's game. We had a gym session as soon as we arrived at the hotel, which was located at Surrey Sportspark, where we will be playing the European Legion on Saturday.
The gym session was fine. We didn't know the toughest part of the day was to come.
After jogging back to the hotel we were told to get down and do some push-ups on our knuckles. This is Micky O's favourite form of punishment in response to slackness from the group.
With small snowflakes falling, we gathered on the pavement for almost 10 minutes doing push-ups. It would have been a funny sight for fellow hotel guests.
Nevertheless, the small bit of hurt we felt was put into perspective later in the night when Jason McCartney addressed the group about his recovery from being a survivor of the 2002 Bali bombings.
Jason, here on official duties as list manager at the Western Bulldogs, spoke of a few things that got him through, like persistence and goal setting.
The thing that resonated with me most was the importance of values instilled in us by football. Without sport, and the fitness he had spent years building up, he thinks his recovery would have been a lot longer and his AFL career would never have resumed in the famous and emotional way it did.

Spotlight on:
Nick Bourke. Unfortunately Nick dislocated his shoulder twice in our game against Collingwood last week, which has meant he hasn't done a lot of training while here. But that hasn't stopped him from being a real positive influence. He's one of my favourite blokes to hang with as he's always got a smile on his face and is up for a laugh.