NORTH MELBOURNE is most vulnerable when it goes forward.
That's not as counter-intuitive as it sounds.
Coaches have long recognised that danger lurks immediately after an attacking foray fails.
If one is not careful, the shoulders droop, the mind wanders and most importantly the ball goes back into the opposition's hands.
On Sunday afternoon at Etihad Stadium that unseen peril was behind the Kangaroos' demise.
Three of Adelaide's last five goals came from attacks launched from deep inside the Crows' defensive 50.
Two were generated from Brodie Smith kick-ins following North Melbourne behinds. One was generated from a free kick to Daniel Talia deep in defence.
Six were generated from deep in defence during the game. The competition average is five.
It's become a problem for the Kangaroos.
In 2013, North Melbourne has conceded 55 scores from its defensive 50 this season. Only Greater Western Sydney has conceded more.
The Kangaroos' opponents have scored from 18.8 percent of their kick-ins this season. The competition average is 11.2 percent. Again, Greater Western Sydney is the only team with a worse percentage for that statistic.
This means multiple mistakes are being made defensively that allow such transitions to happen.
It also means the last kick inside 50 can leave the Kangaroos out of position if the ball is turned over.
"We seem to go away from what we have done," Swallow said. "Whether that's blokes just switching off or just ... it's a hard one to explain. It's not just the last quarter or the last five minutes, which has cost us. There are lapses right throughout the games, which are really hurting us now."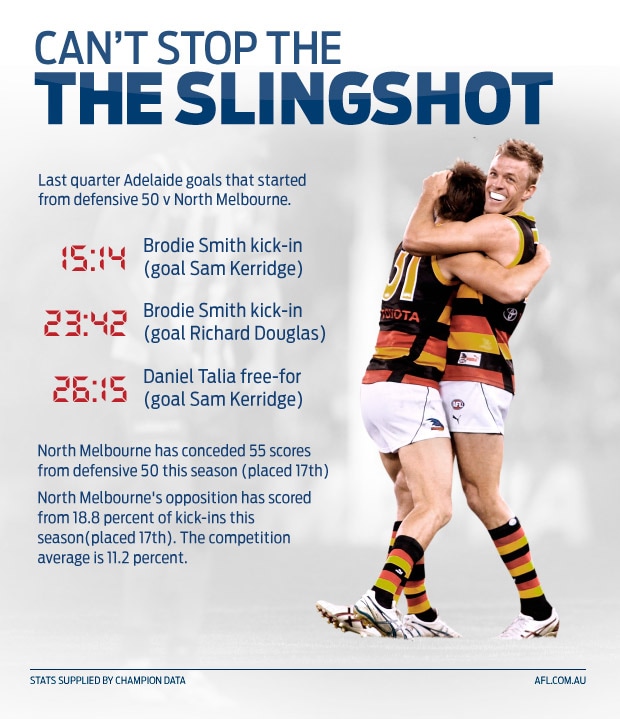 Some will say it's an issue with fitness. The coach says mental demons may exist for some.
My suspicion is that lapses happen as a result of both those issues reaching breaking point late in the game.
One case midway through the final term involving veteran Michael Firrito is evidence that some individuals might be pushing beyond their capability.
With the Kangaroos leading by 30 points, 10 minutes remaining and the Crows moving the ball down the wing after a kick-in, Firrito made two mistakes.
He did not appear to think about the location of his opponent Sam Kerridge nor did he make the right judgment as to what dangerous space he should protect.
Instead, Firrito protected the boundary when he should have headed to the hot spot with one eye on Kerridge.
Perhaps fatigue had affected his decision-making because few play with as much passion as Firrito.
You did not need a Masters of Lip Reading to understand the coach's displeasure when Kerridge marked directly in front of goal.
But you can also argue that Firrito – having played 92 percent of a game that contained few stoppages, fewer tackles and the ball whizzing from one end to the other – was too tired to think straight.
Six minutes later, he could not keep up with Kerridge as the man of the moment charged towards an undefended goalsquare. Firrito knew what he had to do, but his legs could not get him there and Kerridge took a mark unopposed.
Firrito was not hopeless. He was helpless.
Unfortunately the man they call Spud looked as though he was advertising for the Cliff Young telemovie to be aired later that night.
One way he can improve is to get on and off the ground more often to protect his legs.
His team can help, too, by playing tempo football to give players a rest – mentally and physically. And the forward forays need to be deeper and less risky to stop the ball bouncing back as hard.
On Sunday, the Kangaroos laid just two tackles inside their forward 50 in the second and third quarters.
No wonder the Roos' defenders – on the ground for longer than their direct opponents – were shot.  Hard-working forwards make defenders look better.
In other words, not all blame should be directed at Firrito. He was the last line of resistance.
The Crows broke other lines before the game reached him as a result of too many Kangaroos ball-watching or not protecting the ball.
Funnily enough, despite the perception that North Melbourne fades, it has won more of the ball than its opposition late in the last quarter in 2013.
It averages 4.6 more disposals and 1.4 more inside 50s than its opposition once 15 minutes of the last quarter has elapsed. However it scores 3.7 fewer points. That indicates it is sharing the ball around and not making that entry deep enough to count.
The defensive decisions that allow opponents to run the ball up and down the ground are leading to a perception of fade-outs.
It becomes more likely when opponents do as Adelaide did and throw caution to the wind.
The Kangaroos have conceded 7.5 more points on average than its opposition in second halves in 2013.
They have a problem with controlling opposition fast breaks.
Fixing that is everyone's responsibility.
Stats supplied by Champion Data
The views in this article are those of the author and not necessarily those of the AFL or its clubs