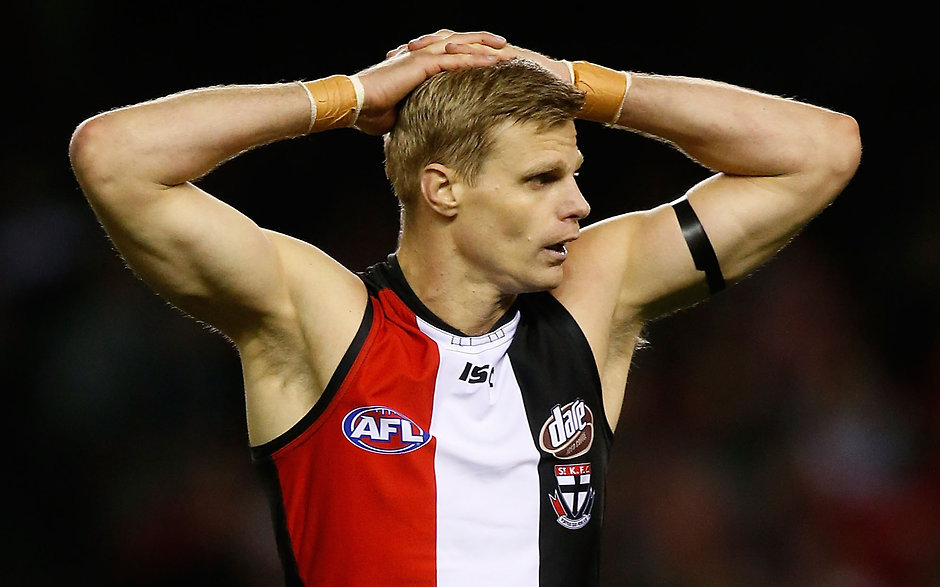 ST KILDA captain Nick Riewoldt returned to pre-season training on Wednesday after being given an extended off-season break following a challenging 2015.
Riewoldt did not train with the Saints prior to Christmas with the club allowing him some extra time away following the International Rules series in Ireland in late November.
Roo is back! #BeStKilda pic.twitter.com/oeNipX7sbv

— St Kilda FC (@stkildafc) January 6, 2016
He returned for the Saints' first session of 2016 on Wednesday completing a running session and participating in the skills session.
The majority of the Saints' squad did a 3km time trial at Caulfield Park. Perennially strong runner Jarryn Geary was first to complete the course with Sean Dempster, Jack Newnes, Maverick Weller and Tom Curren rounding out the top five.
Saints coach Alan Richardson said he was delighted with the performance of the group.
"Of the 31 that did the time trial, we had 20 that either matched or bettered their best time so that's a real indication that the guys did the work," Richardson told saints.com.au on Thursday.
"Those that missed out only did so marginally.
"We had a few guys not do the test, but still ran pretty strongly (away from the main group).
"Riewoldt is a good example. He's been away so he didn't actually do the time trial, but he's certainly doing some work early."
The boys returned to training today and were immediately pulled out of holiday mode with a 3km time trial #BeStKilda pic.twitter.com/WTGWxuzFlw

— St Kilda FC (@stkildafc) January 6, 2016
New recruit Nathan Freeman was another who did not run in the time trial as he continues his rehabilitation from the right hamstring strain he suffered in mid-December.
Richardson said the club was still extremely optimistic that the former Magpie would have an impact from the start of the home and away season.
"He's an incredible worker; he's a great kid; he's a very positive person; he's already won the respect of his teammates with the way he's gone about his training and the way that he's coped with his minor setback," the coach said.
"Having said all that, he's not far away really, in terms of joining in. In probably a couple of weeks, you'll turn up and watch training and not notice that he's been out of it.
"He's a pretty impressive athlete so it won't take long for him to get up to speed with the rest of the group."
Richardson said the Saints were now firmly focused on preparing for the NAB Challenge.
St Kilda's first pre-season match is against North Melbourne on February 20 at Norm Minns Oval in Wangaratta.