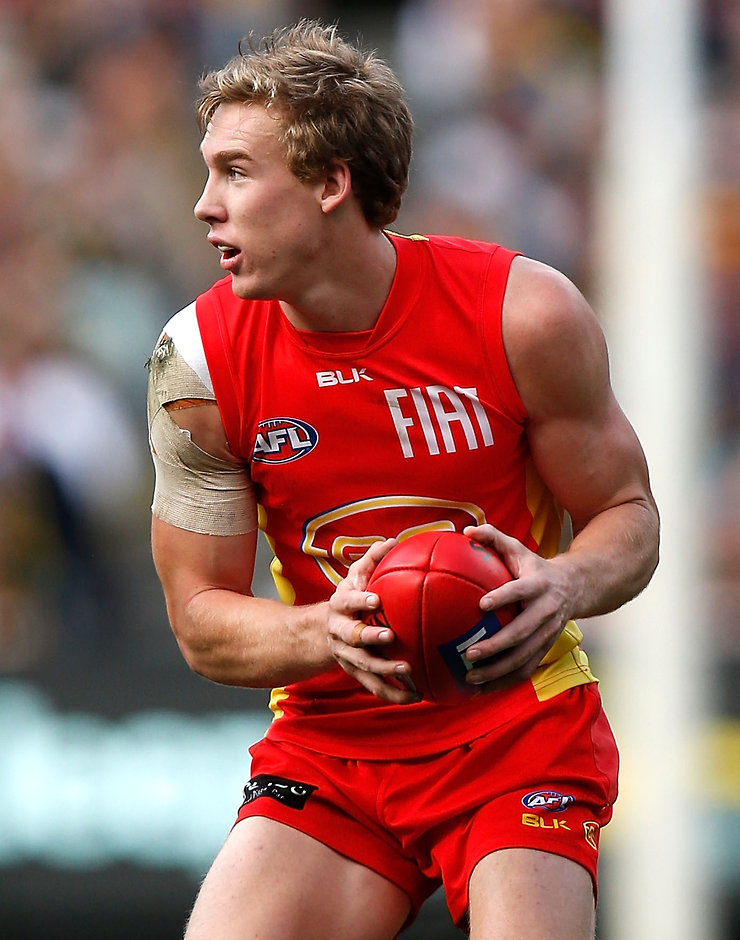 It'll be interesting to see how the 90 rotations has an effect on things, and how fatigue sets in
Rodney Eade
AFTER losing powerhouse Charlie Dixon in the off-season, Rodney Eade has little choice but to play just two tall forwards in his best line-up in 2016.
And that's fine by the Gold Coast coach.
Eade thinks the reduction in interchange rotations from 120 to 90 will suit a smaller, mobile forward line that uses a strong-running medium-tall target as its third option.
In 2015 the Suns often used Dixon – now at Port Adelaide after a career-high 41-goal year – alongside club champion Tom Lynch and former number three draft pick Sam Day in a three-big forward line.
Day would often revert to defence, but it still meant a ruckman was left to rest up forward, leaving Gold Coast a little top-heavy at times.
But just as he fashioned a forward line with a string of medium-sized options in his days at the Western Bulldogs, Eade believes two main targets will be plenty.
"It'll be interesting to see how the 90 rotations has an effect on things, and how fatigue sets in," Eade told AFL.com.au.
"Some clubs are thinking, just go with the talls so the big blokes will come back in, but I'm not totally convinced on that.
"I would think if you can get them up to a (good) running standard and the big blokes can't run, they'll be a liability and be run off.
"I get a feeling it may go back to good medium-tall players, six foot two, that can run and compete in the air and can still be running at the end of the game.
"It'll be interesting to see how it plays out."
Eade confesses the Suns have little choice but to take this approach, with Dixon's absence leaving Lynch, Day and Peter Wright as the only recognised tall forwards on the senior list.
However, in Jack Martin and Jarrod Grant they have two guys that nicely fit the bill as a roaming third tall.
Eade said Day, now entering his sixth season but yet to fully claim his spot, would have a fight on his hands to start alongside budding superstar Lynch.
"He and Peter Wright are fighting for that second spot with Tom," Eade said.
"It's his sixth year and you'd think he'd be in front of Peter, but it'll be picked on from.
"Peter's training really well, he's growing and improving.
"Sam has lost two or three kilos and he needs to lose a few more to have repeat efforts and stay in the game for longer.
"Sam's given himself every chance, as has Peter, but we've given Sam every chance and now the ball's in his court."