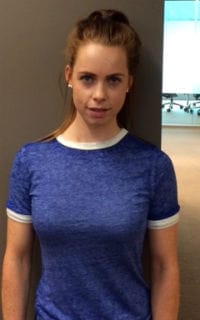 SINEAD O'Mahony hopes she can follow in the footsteps of fellow Irish products Tadgh Kennelly and Jim Stynes and become a trailblazer for the national women's AFL competition.
The 26-year-old primary school teacher, a 2015 Gaelic Athletic Association Dublin County team member, recently moved to Australia and turned her attention to tackling a new sport.
O'Mahony will join around 140 other players trying out in the inaugural female football national talent search at the Whitten Oval in Melbourne's west.
Those identified during the talent search will be offered places in female state academies as the AFL moves closer to establishing a national competition in 2017.
"Any player who is quite serious about their sport wants to get to the highest standard they can," O'Mahony told AFL.com.au.
"I can't believe there's been this push for a female competition in 2017 and if the (talent scouts) like what they see tomorrow (Saturday) I would definitely be up for it."
O'Mahony's father hails from Kerry, a county she jokingly refers to as the kingdom of GAA football, so she is well aware of Kennelly's exploits.
The champion Irishman played 197 games for the Sydney Swans and was a key part of the club's 2005 drought-breaking premiership.
After putting his AFL career on hold, Kennelly returned home to Kerry in 2009 and helped his county win that year's All-Ireland final.
Kennelly is the only player to win both an AFL premiership and an All-Ireland Senior Football Championship.
"Tadgh came over with a similar skill set and he obviously brought something new and something different, and I hope I can do that too," O'Mahony said.
"It is great to see there have been guys from Ireland who have come over and played and done so well.
"If he (Kennelly) can do it, I can do it."
O'Mahony's partner Jamie Hagan plays for the Melbourne Rebels in the Super 15 rugby union competition, so she understands the city's love affair with sport and in particular Australian football.
She admits to being nervous for Saturday's talent search but is looking forward to showing the scouts the skills she can transfer over from the round-ball game.
The players will be put through physical testing similar to the men's national and state combines, including standing and running vertical jumps, agility, sprints and the beep test.
Kicking, marking, handballing and decision-making will also be tested.
"I've been kicking about with friends the last couple of days just to get my kicking and handballing right," she said.
"A bit more practice on it and it shouldn't be too hard to pick up."
The campaign is designed to unearth new talent from athletes not registered as Australian football players, and the AFL has made no secret of the fact it wants the very best athletes part of the competition.
"Hopefully this will go really well and drive the women's AFL competition," O'Mahony said.
Talent search dates
Melbourne
9am-2.30pm
Saturday, January 23
Whitten Oval
Perth
8am-1.30pm
Saturday, January 30
Trinity College
Brisbane
9am-2.30pm
Sunday, February 7
Anglican Church Grammar
Adelaide
9am-2.30pm
Sunday, February 14
Prince Alfred College
Sydney
9am-2.30pm
Sunday, February 21
St Ignatius College
Hobart
9am-2.30pm
Sunday, February 28
Newtown High School