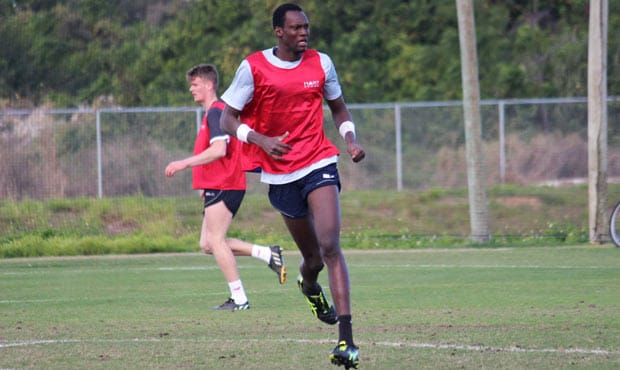 I was in a negative mindset and was thinking about stopping playing sport in general
Tony Olango
• NAB AFL Draft Hub: Get to know your club's future stars
EVERY lunchtime, and even occasionally during some classes at school, Tony Olango used to whip out his phone and watch videos of soccer superstar Zinedine Zidane.
Olango would then head home from school and spend his afternoons searching for more highlights of the Frenchman on YouTube before going to soccer training.
"I loved him and would watch clips all the time," Olango said. "Soccer was like a religion to me. I did nothing but play it or watch it."
Olango, a member of the NAB AFL Academy squad that trained in Florida this week on a high performance camp, was more than just a committed fan and keen player.
Academy provides draft snapshot
The Sudanese teenager, who is eligible for this year's NAB AFL Draft, was a talented central defender who captained the Northern Territory state soccer team for three years in his teens.
That experience, plus his skills and athleticism, led to Olango winning an invitation to trial with Scottish soccer club Glasgow Rangers. But Olango's trip to Scotland in early 2014 didn't materialise how he had hoped.
He was working through a persistent groin injury at the time and didn't train to the level he expected, and when he didn't make the cut for Rangers, he returned home and played just one more soccer match before quitting the sport.
"I was really disappointed after that trip, so I stopped playing," Olango said.
"I was in a negative mindset and was thinking about stopping playing sport in general. I was really disappointed in myself, but after a little while something came to me and said 'keep trying'."
Bad break for Academy star Ainsworth
Although the visit to Glasgow diluted his passion for soccer, he knew there were other options to pursue, so he contacted Northern Territory talent manager Wally Gallio about joining the state's football program.
Olango, who was born in Kenya before moving to Australia with his Sudanese parents when he was two in 2001, wasn't unfamiliar with the game.
He had played at local level in the NT as a junior before focusing on his soccer, but Gallio saw Olango's promise: at 201cm he could move swiftly across the field, he had speed and clubs are always on the lookout for developing talls. "He believed in me," Olango said.
Olango's osteitis pubis problem ruled him out of the Territory's under-18 campaign last year but he was allowed to play in its under-16 championships later in the season and impressed as a roaming and agile ruckman.
After the carnival, he was told he would be joining the national level two academy for its tour of the US in January, and attend a camp with the prestigious talent program in December. They saw his raw ability and recognised his room for development.
"I was nervous when I first heard I'd be in, especially coming into somewhere where the players are really talented and they've been playing the sport for years," Olango said.
"I had to get a few lessons with our wellbeing coach in the Northern Territory about growing my confidence and learning some positivity and relaxation techniques, but it's been really good to be a part of the trip."
He has found his soccer background helpful with the Sherrin in his hands, and noticed he can see the game move quickly. More than a few times over the past week during the Academy's training sessions at the IMG Academy, Olango has baulked past opponents and zipped away, highlighting his improved self-belief.
Soccer didn't turn out how he'd hoped but Olango has a new target in mind. "It's finally hit me that I have a big chance and opportunity now," Olango said. "I want to take it."
The views in this article are those of the author and not necessarily those of the AFL or its clubs