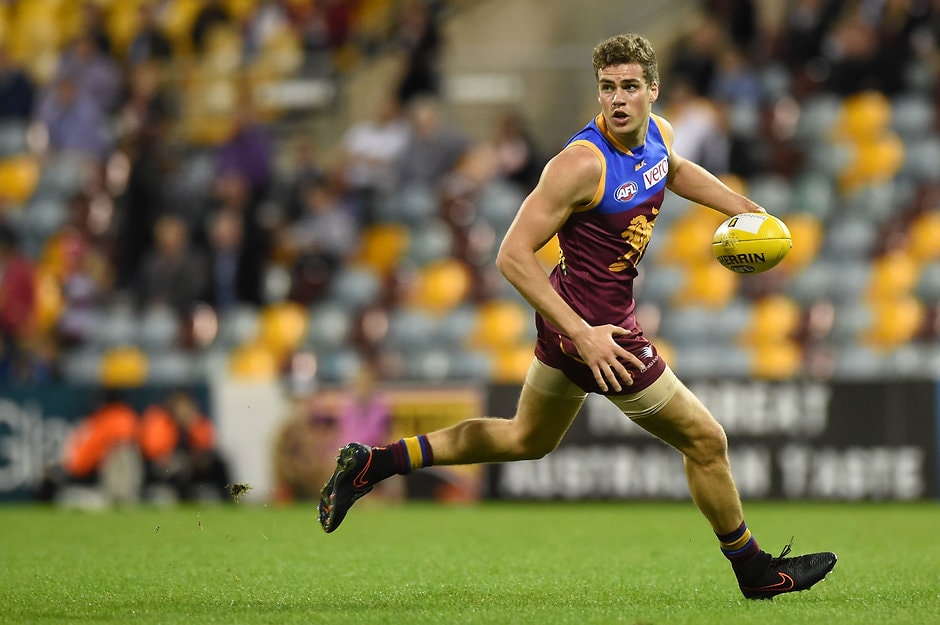 THE THIRD season of a player's career isn't quite make or break, but Brisbane Lion Tom Cutler knows it's time to grab a regular spot with both hands.
Unless you're a Jaeger O'Meara, Daniel Rich or Joel Selwood, your first year in the system is more about finding your feet and just trying to earn a game than it is about dominating.
Year two, you start getting some continuity and hopefully contribute to your team.
Then year three comes along, when the player, the club and the wider AFL community get more of a feel for how good the player is.
With 18 games to his name – 11 last season – Cutler has shown glimpses of his enormous talent, but he wants to lock down a spot and be a defensive cornerstone of what he hopes will be a Lions revival.
Much like teammate Pearce Hanley, Cutler glides across the grass with ball in hand, has a thumping right boot, and at 192cm is a perfect size to play on either medium-size forwards or smalls.
He has shortcomings – his disposal can be erratic – but Cutler and Sam Mayes running from half-back is a mouth watering proposition for Lions fans.
Cutler said playing the final four games of 2015, in which he averaged 21 disposals, was a huge boost to his belief, particularly when coach Justin Leppitsch asked him to mark Adelaide star Eddie Betts.
Betts kicked three goals that night, including one from his famed Adelaide Oval pocket as the Crows handed out a hammering, but it did wonders for Cutler's confidence.
"I jumped at the opportunity," he told AFL.com.au. "He's (Betts) such a good player, an All Australian and it was a great challenge for me.
"He never stops, he's always busy and active around the contest, always on the move, so you always have to be on your toes. You can never take a second off."
Cutler's main weapon is his running game, but his ability to lock down on small forwards should help him force his way into the best 22 on a regular basis.
Not far off turning 21, the quietly spoken Victorian said some words from vice-captain Hanley last season went a long way.
"I try and take elements of Pearce's running game and style into my game," he said.
"When he was injured last year, he took a really big step in his mentoring and leadership with individual players.
"He spoke to me on several occasions and we broke down film together looking at how I could do certain things. His football IQ is so high."
Cutler said he felt the young Lions were poised to improve in 2016.
"The group's maturing, our leaders are doing a great job on and off the track.
"I think there's a natural growth and development and continuity factor at the moment.
"We're not going into the season with too many expectations … we're just trying to get better every week and play an exciting brand of football for our fans."