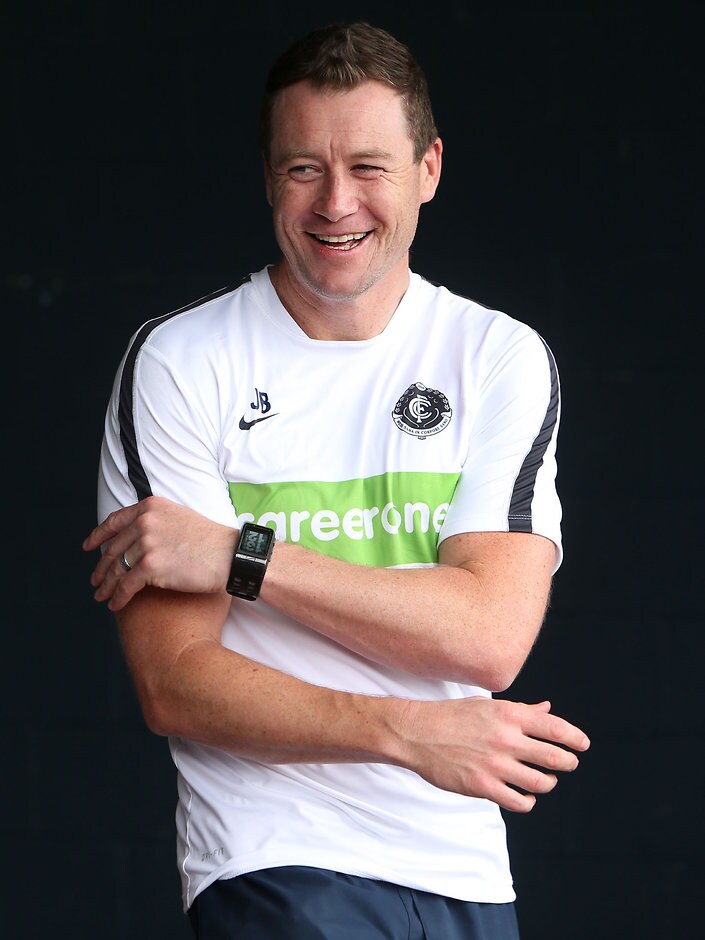 Knowing that I'm invested in this place, it was a pretty easy decision to stay
John Barker
CARLTON already has a considerably better culture under new coach Brendon Bolton, assistant coach John Barker said.
Speaking to the faithful at the club's family day at Ikon Park on Sunday, Barker provided more reason for optimism with his insights into the new coach's regime.
And he's had a prime vantage point to view the change that has taken place, having filled the role of caretaker coach last year after the sacking of Mick Malthouse.
Veteran Blue keen to earn a contract for 2017
"It's a really exciting time at the moment – I think culturally we've grown significantly," Barker told fans.
"I know it's only been a couple of months, but the standards that we're setting, what we're prepared to stand for as a group under Brendon and the way we're educating the players on modern footy has been second-to-none from my experience.
Barker had been an applicant for the coaching job that ultimately went to Bolton, but said his decision to remain with the Blues was an "easy" one.
"With Brendon coming on board, I realised that we were going to set a really strong foundation for success here. I knew we were going to start walking some talent through the door, and we've got some (experienced) players … that are high-quality players and they just needed a really good environment to help them grow and help us be as good as we can be," he said.
"And knowing that I'm invested in this place, it was a pretty easy decision to stay.
Bolton enthused that he was surprised with how well the players had coped with a physically and mentally demanding pre-season program to date.
He expressed excitement about the efforts of the club's youngsters and also some older players like veteran Kade Simpson, who Bolton said was "running PBs", and Bryce Gibbs, who is "in the best physical condition he's been in for a while".
The new coach also issued a plea to fans.
"I want everyone looking at me at the moment to be part of this," he said.
"This club is starting on a journey … What you'll have from us this year is a united team. Every coach, administrator and player will have a clear role … and we need you with us.
"And we're all about continual growth. So over the NAB (Challenge), look for the growth in an individual from game one to game three, (and) look for the growth in the season."
One Blue who is planning to grow, or re-grow, this season is Dale Thomas, who is on the comeback trail after undergoing a shoulder reconstruction in June.
Thomas told reporters he was back into full-contact training and that his body – including his reconstructed shoulder and troublesome ankle – were feeling good.
He is aiming to play in the NAB Challenge but said he isn't sure what the plan would be for him.
"For our supporters and our footy club, we'll be out there having a red-hot go in the NAB Challenge (games), and for myself, I haven't played a great deal of footy, especially last year, so I'm looking forward to getting back out there and hopefully running into some form," he said.
"Hopefully (the shoulder) gets back to somewhere near its best and some luck's just around the corner.
"I was in a similar spot last year – I'd done (the) bulk of the pre-season and (was) going pretty well and it all went pear-shaped pretty quickly."
"I get the chance to rebuild and go again this year."
The 28-year-old's first priority is simply "getting back out there" but he believes he can recapture the pace and gut-running he became renowned for.
"That sort of stuff is how I play regardless. As long as I can stay on the park, hopefully you can see a bit of that," Thomas said.
A decision is expected to be made on Carlton's captaincy in the next fortnight and Thomas backed Marc Murphy to continue in the role as he had been a "fantastic" leader in Thomas' two years there.