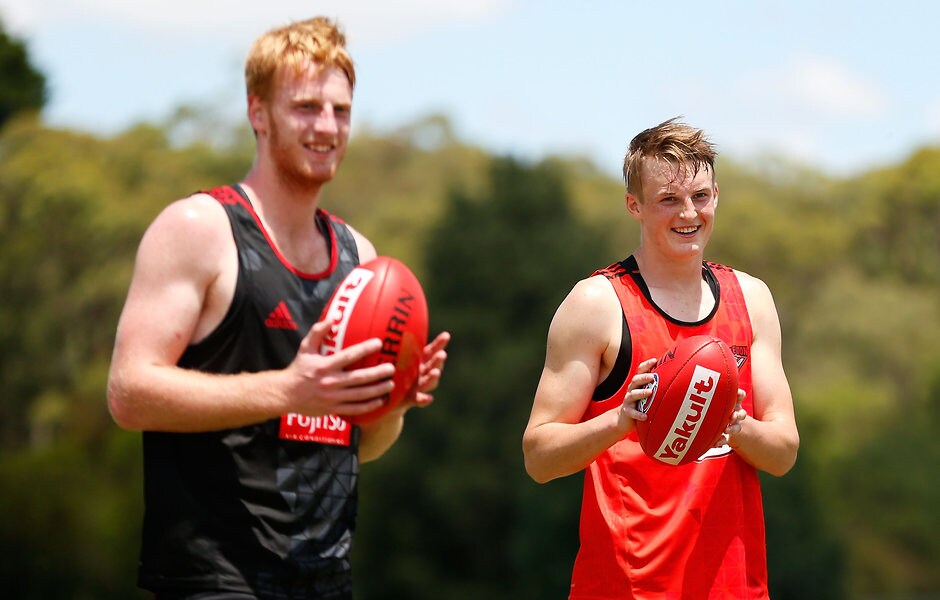 HOW CAN the AFL justify the decision to hand Essendon top-up players for 2016 to replace its 12 banned players?
The simplest way to explain the ruling would be to point to the seven players on Essendon's remaining list of 33 who are entering their first AFL season.
Despite boasting four top-30 selections in the seven players taken in last year's national and rookie drafts, we shouldn't expect too much from that group when an historical analysis of first-year players is taken into account.
According to the AFL Record Season 2016, only one first-year player played every game last season.
That was Gold Coast's Touk Miller who was selection No.29 in the 2014 NAB AFL Draft.
And that's not unusual.
Court may delay call on Watson Brownlow
Only 15 players since 2000 have played every game in their first listed season, and three of those 13 were mature-aged when they made it to a senior list while the Suns' Jaeger O'Meara had been at the club for a season after being picked up as 17-year-old in the 2011 mini-draft before being put on the Suns' list.
Few players, if any, have the immediate impact we might imagine on draft night.
The total of 85 players who made their debut in 2015 is four above the average number of debuts per season since 2000 (excepting the years when Gold Coast and Greater Western Sydney began).
And not one of those 85 played in last year's Grand Final or preliminary final.
In fact, only two players picked in the 2014 NAB AFL Draft (and one rookie selection) played finals last season.
Isaac Heeney, who had a head start after graduating through the Sydney Swans' academy program, played two finals and the Western Bulldogs' Caleb Daniel was a substitute in the elimination final after Jason Johannisen had to miss through injury.
Rookie Kane Lambert was in Richmond's team that lost to North Melbourne, but he was 23 when he made his debut
Adelaide's Riley Knight, Richmond's Kamdyn McIntosh and the Bulldogs' Joel Hamling also played finals last year in the same season they made their debut. But all three had been in the AFL system for more than one year.
Experienced coaches know that most players need at least a season to become clear on what is required at AFL level, and many need even more. 

A disconnect exists between what clubs know their first year players are capable of, and the dreams supporters have for their most recent draft picks.
The physical limitations are obvious but the educational aspects of the game are very real too.
Since 2000, the average games played by players who made their debut in their first season on an AFL list is eight (excluding Gold Coast and Greater Western Sydney from those figures).
Six premiership teams since 2000 have had a player in their team who had made his senior debut in the premiership year: Robert Copeland in 2001, Sean Dempster in 2005, Joel Selwood in 2007, Cyril Rioli in 2008, Jarryd Blair in 2010 and Allen Christensen in 2011.
However Copeland was 20, Dempster was in his third season on the Sydney Swans' list and Blair and Christensen were in their second season at their respective clubs.
Robert Copeland was a rare first-year player to appear in every game in his debut year. Picture: AFL Media
Such historical statistics, the domain of the AFL Record Season 2016, are a reminder to temper our expectations when it comes to players in their first season.
Fans must look to second, third and fourth year players when hoping for a lift from the youngsters in the season ahead.
The statistics also bring some weight to AFL general counsel Andrew Dillon's comments in relation to Essendon last week when he was defending the AFL's decision to not provide the four other affected clubs with the right to recruit top-up players.
"An exception has been made for Essendon only because of the sheer number of suspended players it has on its list and on the basis that they must be able to field a side that that can compete at a basic level each week.
"If Essendon were not granted list concessions, there may be legitimate health and safety concerns for young and inexperienced players forced to play senior football over a full 22 week season," he said.
Played every game in their first listed season
2003 – Matthew Lokan (Collingwood): 25 games (including Grand Final)
2004 – Adrian Deluca (Carlton): 22 games
2005 – Brett Deledio (Richmond): 22 games (won Rising Star award)
2007 – Bryce Gibbs (Carlton): 22 games
2008 – Cyril Rioli (Hawthorn): 25 games (including winning Grand Final)
2009 – Stephen Hill (Fremantle): 22 games, Daniel Rich (Brisbane Lions): 24 games (won Rising Star award), Nick Suban (Fremantle): 22 games
2010 – Ryan Bastinac (North Melbourne): 22 games
2011 – Dyson Heppell (Essendon): 23 games (won Rising Star award)
2013 – Matt Jones (Melbourne): 22 games, Ollie Wines (Port Adelaide): 22 games, Jaeger O'Meara (Gold Coast): 22 games (won Rising Star award)
2014 – Lewis Taylor (Brisbane Lions): 22 games (won Rising Star award)
2015 – Touk Miller (Gold Coast): 22 games
Stats supplied by AFL statistician Cameron Sinclair.