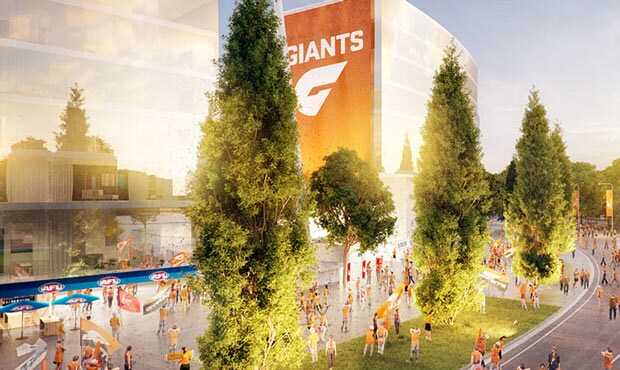 GREATER Western Sydney's home away from home in Canberra could be set for a major overhaul after the club made a submission to the ACT Government for an $800 million upgrade of Manuka Oval and the surrounding area.
If the proposal gets the tick of approval the stadium would be turned into an international standard arena with almost 5000 new permanent seats, roofing to cover almost 80 per cent of the stadium and new hospitality, media and changeroom facilities.
The suburbs around Manuka oval would also receive a facelift in the form of a multi-million dollar landscape upgrade, plus a boutique 4-star hotel and serviced apartments, residential, commercial and retail areas and a licenced club.
The Giants currently use the ground for home games early in the season when Spotless Stadium is unavailable due to the Sydney Easter Show, with the team to play the Western Bulldogs there next week for its first game of the NAB Challenge.
Matches against Geelong in round two and Port Adelaide in round four will follow, with the Giants also heading back to Canberra to take on Richmond in round 19.
GWS chairman Tony Shepherd said the idea, dubbed 'Manuka Green', would see the area become a world-class mixed-use precinct.
"For over 100 years, Manuka Oval has been a proud home for cricket and Australian Football in Canberra," he said.
"But the oval's potential is limited by not meeting standards for international cricket or AFL.
"The proposed upgrades will mean that Canberra can attract more elite sporting events. They will also significantly improve the player and visitor experience."
The Giants have linked up with Grocon, one of Australia's leading development partners, to deliver the overhaul.
Shepherd said GWS fans and Canberra locals would have the chance to be part of the process due to a design competition being run by the club.
"We want to establish Manuka Oval as a broad-based sporting venue that represents a truly outstanding asset for Canberra and the only way we can do that is by sharing ideas and further developing a clear understanding of each other's priorities, needs and expectations," Shepherd said.
"With this in mind, a design competition is a transparent and equitable way of ensuring the entire community has the opportunity to directly contribute to the upgrade of a very important community asset."