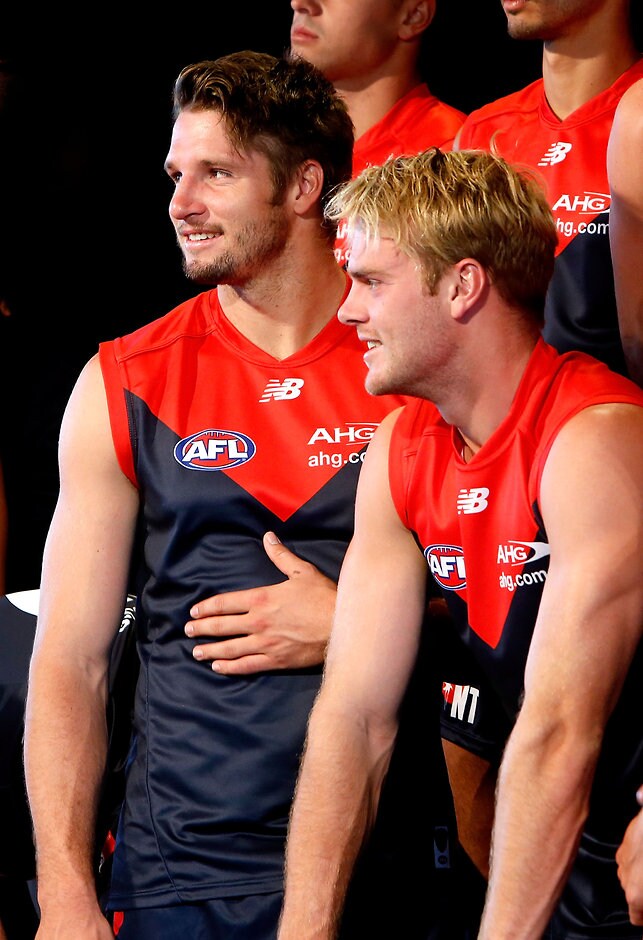 It is up to Jesse to believe that [success will come] but also be comfortable in Victoria and Melbourne
Melbourne coach Paul Roos
JESSE Hogan's decision on whether to play out his career with Melbourne will depend on factors outside the club's control, coach Paul Roos says.
Roos said the club remained comfortable with its ongoing dialogue with Hogan's management, and was continuing to provide the best possible environment for the 21-year-old.
"We [the club] have delivered on things we have talked about," Roos told AFL.com.au.
"The next phase is probably for [Jesse] to feel part of this resurgence."
'I know we're going to be successful': Roos
Aware the key forward will have a number of suitors when he comes out of contract at the end of 2017, the club has been keen to extend his stay but understands why Hogan is in no rush to put pen to paper.
Roos is confident the club will start to rise up the ladder as the talent acquired in recent seasons develops.
Other personal factors will then come into play when Hogan makes his call.
"It is up to Jesse to believe that [success will come] but also be comfortable in Victoria and Melbourne and with his friends and things like that, so some things we can control, some things we can't," Roos said.
Hogan won last year's NAB Rising Star Award, kicking 44 goals in 20 games.
His youth showed, however, towards the end of the season when he struggled to win one-on-ones but his first AFL season was full of promise.
Roos has been keen to remind everyone of Hogan's inexperience and ensure his development is well managed.
He said Hogan is a popular figure at the club.
"He is a big figure and he is a likeable guy but he is still young," Roos said.
The club has several players out of contract at the end of this season, with young key defender Tom McDonald a priority for re-signing.
Roos expects the talent surrounding Hogan up forward to emerge this season as the group plays more often together.
Jesse Hogan will have a big decision to make some time in the next two seasons. Picture: AFL Media

The talented Dean Kent and Jay Kennedy-Harris are hungry as they return from injury-interrupted 2015 seasons, Aaron vandenBerg has a stronger body and former Magpie Ben Kennedy has shown his value in the past month.
The club hopes Sam Frost can play forward, and Roos also suggested Jack Watts would play more as a permanent forward in 2016.
The coach revealed that he met with Chris Dawes on Tuesday as the 27-year-old began another stint in rehab to recover from a calf injury.
Dawes out for a month after latest setback
"[I] told him it is probably time for him to be a little bit selfish," Roos said.
"We're probably not as reliant on him now as what we were and I think he knows that. As a result of that I said 'Get yourself right, it's got to be about you giving yourself the best chance to play good footy'."
Roos said Dawes – who is out of contract at the end of the season – is clearly in Melbourne's best 22 but he has probably played injured in recent seasons because he felt as though the team couldn't afford his absence.
He said Dawes remained positive and believed in his ability despite the setbacks but Roos still took the time to reassure him he had plenty to offer.
"The issue to get across to him [is] 'be selfish'. Get yourself right, whether it is round one, two or three. Don't worry what round it is because we know he'll prepare really well. In the past, we have all collectively got him back into the team too quickly," Roos said.
Chris Dawes is out for a month with another calf injury. Picture: AFL Media