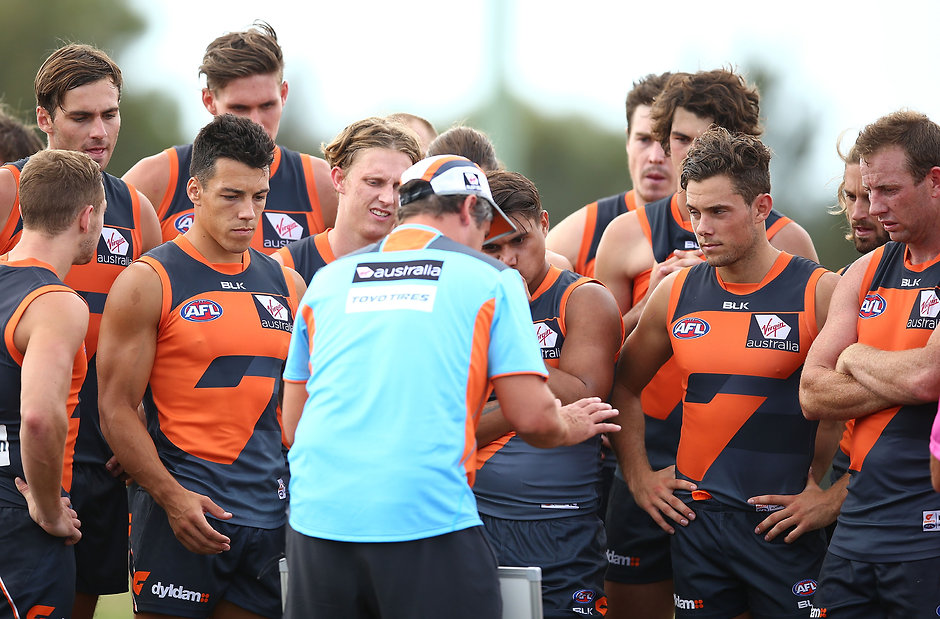 Now the group has said 'enough is enough, these are our expectations, this is what we want to do, and we're ready to take the next step'
Nick Maxwell
GREATER Western Sydney's handful of experienced players are fed up with the 'young Giants' tag, according to leadership coach Nick Maxwell.
Since entering the competition in 2012, the Giants have had the pick of the best talent on draft night, but over the past three years they've have added experienced players Heath Shaw, Shane Mumford, Ryan Griffen, Joel Patfull and Steve Johnson to the list.
The Giants won just three games in their first two seasons and were on the receiving end of some horrific beatings, but under current coach Leon Cameron, tasted victory six times in 2014, before amassing 11 wins last year.
Maxwell, who joined GWS in November in a part-time role working with the club's emerging leaders, told AFL.com.au that led by his former Pies teammate Shaw, the Giants want to be known for their on-field success rather than the potential of their players, and are hungry to make their first finals campaign in 2016.
"The biggest surprise to me when I got here was the determination of the senior core to take the group to the next level," he said.
"They're certainly not satisfied anymore with being a team that's developing, they're a team that wants results and wants them fast.
"Clearly there was huge progress last season and a heap of injuries hurt the club towards the end of the year.
"Now the group has said 'enough is enough, these are our expectations, this is what we want to do, and we're ready to take the next step'."
Co-captain Callan Ward has spoken to AFL.com.au about his desire for the club to shake the label of 'up and comers' this pre-season, as have some of his teammates.
Maxwell likened the Giants to his Magpies side of 2010, who before that season, had finished in the top eight for four consecutive seasons, without ever getting past the preliminary final, let alone winning a flag.
While the circumstances might be different, Maxwell said the attitude of the players and their hunger to make changes is virtually identical.
"A lot of the group who were part of that premiership team were also part of the finals teams in 2006, 2007, 2008 and 2009," Maxwell said.
"It just got to the stage where it reached breaking point and the guys said 'this is the time to do it'.
"There were a lot of tough conversations going on and the leadership group and senior players tried to drive that as much as they could."
Over the pre-season, Maxwell has spent plenty of one-on-one time with Devon Smith, Dylan Shiel and Stephen Coniglio, who are all 22 years of age, have played between 60-80 games and are emerging stars of the competition.
Maxwell has been mentoring the trio on leadership, club culture and standards, so they can pass on their knowledge to the next tier of Giants.
"I think because they're good players and they genuinely love the club, they want the club to get better and they were part of the losses early on," Maxwell said.
"They're ready now to be part of a team that's successful and wins a lot more games.
"There was that change in their attitude, but they've also been prepared to have the tough conversations, to sit down face to face with guys when things aren't right.
"It is hard to sit down with a mate and tell him what he's doing isn't good enough, and tell him you need more from him.
"You've got to make sure you're looking after your backyard and you're doing everything in your power to keep yourself at the peak of your powers.
"Their progress has been impressive and they've taken on that responsibility and been really good.
"I think that anytime you have adversity, whether it be individually or as a group, there's two ways you can go.
"You can either throw your hands up and say it's too hard or you can dig in.
"A lot of the young players here haven't had a lot of adversity as individuals because they've been gun players coming through and high draft picks, so they've had to learn that it's not all smooth sailing."