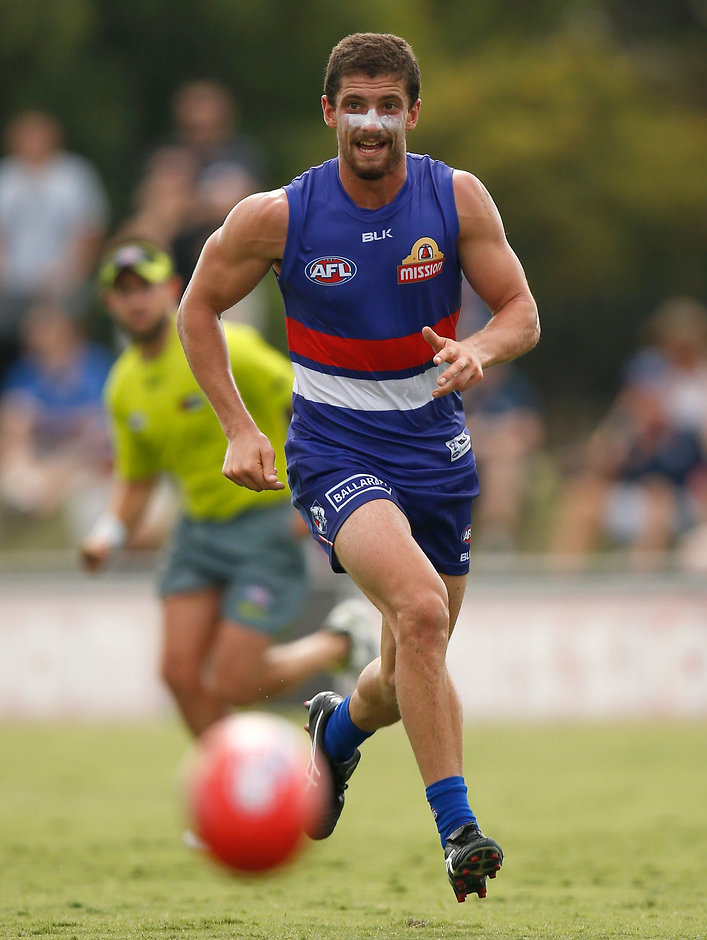 We'd rather them not get another knock so they're cherry ripe for the second (match)
Luke Beveridge
A CAUTIOUS approach is the reason star playmaker Tom Liberatore won't make his much-anticipated return to senior football following the ACL tear that forced to sit out last season.
Coach Luke Beveridge said the 23-year-old had "copped a knock or two" recently and will join key forward Tom Boyd on the sidelines for the Dogs' opening NAB Challenge clash against GWS in Canberra on Thursday night.
Liberatore was a standout in the club's intraclub match two weeks ago, showing no effects of the injury he sustained in last year's pre season series.
Full NAB Challenge squads: Giants v Bulldogs
"It's nothing significant, it's just short-term and we'd rather them not get another knock so they're cherry ripe for the second (match)," Beveridge said.
"He got through all pre-season pretty much unscathed, but in the last few weeks Tom Liberatore and Tommy Boyd copped a knock or two, but they'll almost be definitely ready for the second one and we'll line them up against the Demons."
The Dogs have named a near full-strength squad for the clash against the Giants, with Beveridge hoping his side can replicate last year's strong NAB Challenge form that proved to be a springboard for an impressive home and away campaign.
"It will be a very similar build-up to last year," Beveridge said.
"Most of the boys have had pretty productive pre-seasons and we're going to pick our best side on availability.
"We'll probably [pick] as many players as we can in the second (game against Melbourne) because our younger guys again have really performed well over pre-season.
"And then we'll build up again for the third one, so that's the way we're going to go."
The word coming out of Whitten Oval is Beveridge has been harder on his players than in his first pre-season in charge, but the second-year coach conceded the club went on a "discovery tour to understand" the Dogs' heart-breaking elimination final loss to Adelaide.
"It was in quite a bit of detail and there were some harder messages in that because there were a few surprises in that game that we didn't see coming and that was the platform for the start of our pre-season," he said.
"But I definitely don't think personally my demeanour has been any harder."
And with depth once a rarity at the Bulldogs, Beveridge is hoping the club's new-found competition for spots will take his side further into September this year.
"It will help, it will definitely help," Beveridge said.
"We get 'Libba' back, we get Koby (Stevens) back and we get some experience in Jed (Adcock) and Matty Suckling and some bright young (draftees) who are already putting pressure on second and third year players.
"If you get to the end of the year and you're still there, if you've got good depth to draw upon you're in a good space."