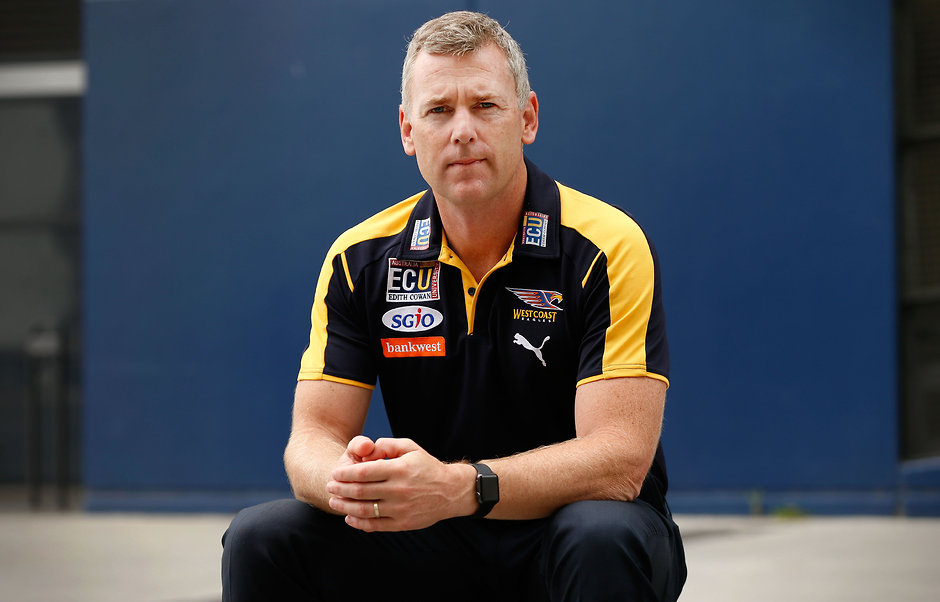 People in media circles have jumped on this web stuff but it's really not mind-blowing stuff
Adam Simpson on the Eagles' defence
HAVING been part of two teams that bounced back from a Grand Final loss one year to win a premiership the next, Adam Simpson has a simple piece of advice for his West Coast players this season – just get on with it.
Simpson led the Eagles to last year's Grand Final in his second season as senior coach, but his young team was overwhelmed by Alastair Clarkson's seasoned Hawthorn side, losing by a 46-point margin that, if anything, undersold the Hawks' dominance.
It was Simpson's first Grand Final as a senior coach but he had been part of five premiership deciders previously, three as a North Melbourne player (1996, 1998-99) and two as Clarkson's assistant at Hawthorn (2012-13).
He had tasted Grand Final defeat before too, in North's 1998 loss to Adelaide and the Hawks' 2012 defeat at the hands of the Sydney Swans.
Both times Simpson washed that bitter taste away with champagne swigged straight from the following year's premiership cup: in 1999, he was one of North's best players in the comfortable win over Carlton and, in 2013, he helped plot Hawthorn's triumph against Fremantle from the coach's box.
Asked whether he had drawn on those experiences since last year's Grand Final, Simpson said the 1999 Roos and 2013 Hawks had trod a similar path to redemption.
"Both times there was a sense of just getting on with it the next season," Simpson told AFL.com.au.
"There's no real mystique as to how you review a Grand Final. We reviewed last year's game, questioned the players, albeit they weren't in a great state mentally a couple of days after the match.
"We finished the year off with that review and then when the players came back for pre-season there was no point reflecting on what happened on Grand Final day.
"That's just so long ago now. I'm thinking more about how we can get better from [the round one NAB Challenge loss to Adelaide]."
Simpson says the Eagles' review did not reveal anything startling.
WATCH: Eagles fall to the Crows in NAB Challenge round one
The West Coast coach does not feel the 'web' defence the club implemented to cover the loss of key defenders Eric Mackenzie and Mitch Brown early last year – where defenders guarded space rather than direct opponents, often cutting off attacks with intercept marks – failed the Eagles when it mattered most.
Simpson also does not want to undersell Hawthorn's remarkable 'three-peat' triumph by dwelling on the fact that the Eagles were playing on the MCG for just the second time in 2015 that day and fielded seven players competing in their first finals series.
In the end, West Coast was simply beaten in the basics by the Hawks and could not stem the tide, he says.
"The system that you play with is not the No.1 priority, it's winning the footy, putting pressure on and doing the basics," Simpson says.
"I think people in media circles have jumped on this web stuff but it's really not mind-blowing stuff. It's not like, 'Oh my god what are these guys doing?'
"What made us a really good side last year was that we were No.1 in contested ball differentials and scores from stoppages. We were a high-scoring side.
"But in the Grand Final we didn't do the basic things very well at all and then obviously some of our better players didn't respond to a bit of adversity.
"In the preliminary final against North Melbourne, when we were 20 points down at quarter-time, Josh Kennedy imposed himself on the game and then so did Nic (Naitanui), (Matt) Priddis and these guys.
"But I thought in the Grand Final when we needed our leaders to step up we got probably a bit less (response) than what we got against North."
Despite stumbling so badly on the game's biggest stage, West Coast is a clear-cut second favourite for this year's flag with betting agencies, behind only Hawthorn.
Predictably, Simpson is keen to temper such external expectations.
"I think they're not really justified," he says.
"I know you could look at the Grand Final and just assume (the Eagles will get back there again this season), but it's really dangerous to assume that.
"This time last year a lot of people tipped us to be in the bottom four or five, which just shows how off you can be.
"I look at the competition at the moment and it's gone up another level with the consistency of sides and I think you're going to see another rise this year.
"For us, of course, we want to be part of September action, but the expectations are separate."