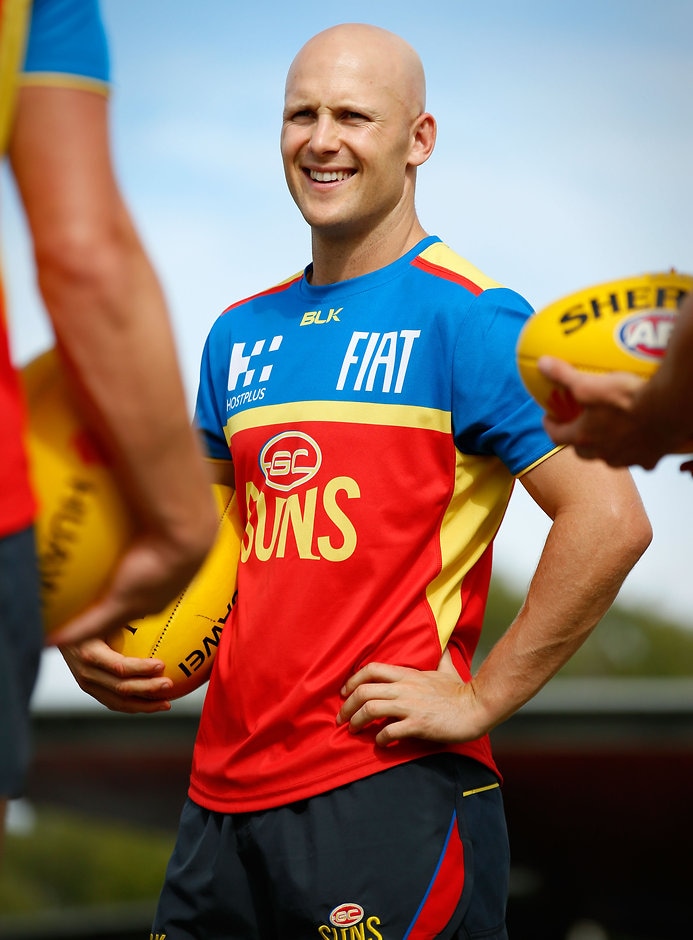 GOLD Coast captain Gary Ablett says the Suns have become more united after a nightmarish 2015 and the club has made the changes necessary to push for its first premiership.
The 31-year-old dual Brownlow medallist insisted that changes to the playing list and football department, along with improved team culture, had Gold Coast better placed to achieve success.

Youngsters Harley Bennell and Charlie Dixon were traded from the club at the end of last season after making headlines for their off-field behaviour. Ablett was also criticised by the media for a lack of leadership.
"Internally, over the past 12 months there has been a huge amount of growth at the club and within the leadership group. The boys are clear on the direction we are heading, what our values are and what we stand for," Ablett told News Corp.

"With all the negativity that we have received, particularly during the 2015 season, you would expect us as a group to be divided, but the truth of the matter is that all of it has only united us.

"As a team we want to win a premiership and we believe we have made the tough but necessary changes that needed to be made in order to achieve our goal. The hunger, passion and commitment is there now, more so then ever."
He said that while it was disappointing to lose Bennell and Dixon, tough calls simply had to be made if the club was to progress. But the skipper was still worried about the impact on both players.

"They've been moved on and that's what we thought was best for them and for the football club," Ablett said.

"I completely agreed with the decision … I was concerned for their well-being."
In a wide-ranging interview, Ablett also revealed:
• He was concerned for the welfare of party boys Bennell and Dixon, and fully supported the club's decision to trade both players.
• Optimism that Jaeger O'Meara would remain with the club beyond this season, after having "some good chats" with the youngster.
• He has counselled young teammates on the pitfalls of allowing their identity to be dictated by their on-field performances.
• For the first time, the extent of his Christian faith, disclosing that he'd had "a godly experience" in his early twenties that reignited his faith and changed his life.

The introverted Ablett also received some strong, though welcome, feedback from his teammates during a Leading Teams session in December.

"The biggest thing for me, and I would call myself an introvert, I'm the kind of person that recharges from spending time with family and close mates and, so the first thing they said to me was: 'Gaz, as our captain, we feel you're great at one-on-one, with following up and challenging guys one-on-one, but we need you to hit guys between the eyes within a group setting."

Ablett has continued to have regular one-on-one conversations with O'Meara, whose contract expires at season's end and is certain to receive massive offers from rival clubs.

"I've had a chat to Jaeger about it. He's good kid with a good head on his shoulders. I said, 'At the end of the day, you need to make whatever decision you feel is right for you,'" he said.

"He's got those leadership qualities in him and no doubt he could be a potential captain. I think the past 12 months were really good for Jaeger.

"We have some good chats, we've challenged each other and looked at areas where we needed improvement. Jaeger has said the environment has changed and hopefully that's enough for him to make the decision to say."

Ablett revealed his religious faith had helped his football in that it "takes away the pressures and expectations you put on yourself".

"The one thing I've learned in the past 15 years of my football is that you can win premierships and you can win individual rewards, but it doesn't bring fulfilment to your life," he said.

"I believe I'm one of the most competitive people you'd ever meet, but … if your identity gets wound up in your football or whatever you're doing, then I believe a big fall is coming."