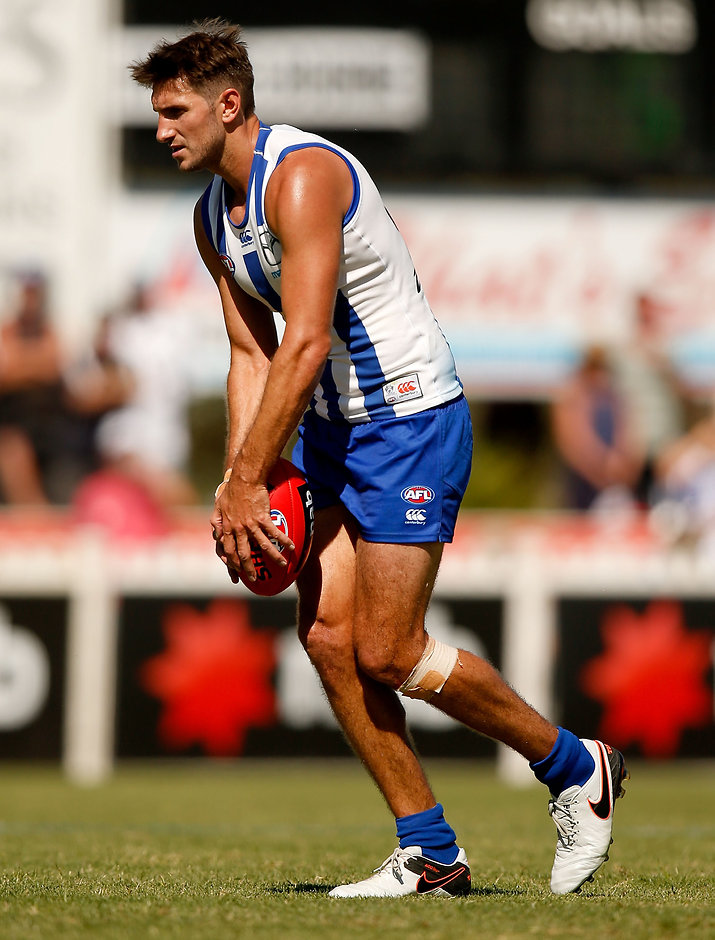 I know it's only late February but I feel like I could go on next year
Jarrad Waite
JARRAD Waite still feels "pretty young" and remains so "genuinely excited" by the game that he is not entering the 2016 season thinking it will be his last.
Waite turned 33 earlier this month and is about to enter the final season of the two-year deal he signed with North Melbourne in 2014's free agency period.
When the former Blue arrived at Arden Street, there were serious question marks over his durability and longevity.
In his last six years at Carlton, Waite had never played more than 16 games in a season, averaging more than nine games a year on the sidelines in that time, most of them through injury.
The Blues offered Waite a one-year deal at the end of 2014, but were ultimately not prepared to match the Roos' offer of an extra season.
North's move was bold but it knew if Waite could shake his injuries he could lighten the aerial load Drew Petrie had shouldered for so long in the Roos' forward 50.
So far the risk North took has brought it nothing but reward.
In his first season at Arden Street, Waite played a career-high 23 games and delivered as much as – if not more than – North could have hoped for.
He shared North's leading goalkicker award with Petrie (42), led the club in goal assists (19), finished equal seventh in the AFL for contested marks (40) and equal ninth for marks inside 50 (55), and, most significantly, starred in North's two finals wins with four goals against Richmond and three against the Sydney Swans.
Waite told AFL.com.au this week that he would enter the 2016 season on the back of his second consecutive full pre-season.
The spearhead said being able to start his first pre-season at North on day one had been a big factor in his strong 2015 in the royal blue and white.
Having avoided surgery again this pre-season, Waite says his body is feeling "really good".
The forward's passion for the game is also as strong as ever and he even hopes his past injury woes might extend his career.
"I know it's only late February but I feel like I could go on next year," Waite says.
"Having said that, it's definitely a case of wait and see at the moment. I'll just get out for as many games as I can this year, do my part for the team and if the club wants to re-sign me then that's fine and then if they want to go down another path then I obviously understand that as well.
"Having missed so many games (in the past), I feel like it's given my body a bit of a rest from all that impact.
"Playing key position you do cop a lot of impact injuries, so I feel it's freshened me up and, even though I've just turned 33, I still feel pretty young and I'm still genuinely excited to play footy and get back out there."
Waite's performance in North's opening NAB Challenge game last Saturday suggests he can carry his 2015 form into 2016.
Playing St Kilda in Wangaratta, Waite looked sharp as he kicked three goals, set up another and took five marks (two contested).
Waite rolls through the Roos sixth goal in a row #NABChallenge https://t.co/7GGNvF551y

— AFL (@AFL) February 20, 2016
The key forward knows he can't afford to become complacent this year with younger talls such as Mason Wood, who kicked four goals against the Saints, and Aaron Black desperate for senior opportunities.
Although such internal competition could put pressure on Waite and North's other established forwards at times this season, the former Blue is not complaining.
"If you don't feel like you have that pressure underneath then I don't think you're having a fair dinkum crack," he says.
"You want that pressure from underneath because it drives you to become better, it's really good for the team to have that."
The forward expects he will be rested from North's second pre-season game against Collingwood next Saturday at Wagga Wagga before returning for the final tune-up against Hawthorn a week later.
However, Waite does not expect to be rested throughout the home and away season to manage his aging body.
"To be completely honest, I haven't spoken to anyone about a management program so at this stage I'm just going to play as many games as I can," he says.
"Hopefully, I can get into some good form and potentially get into the finals and improve from last year."