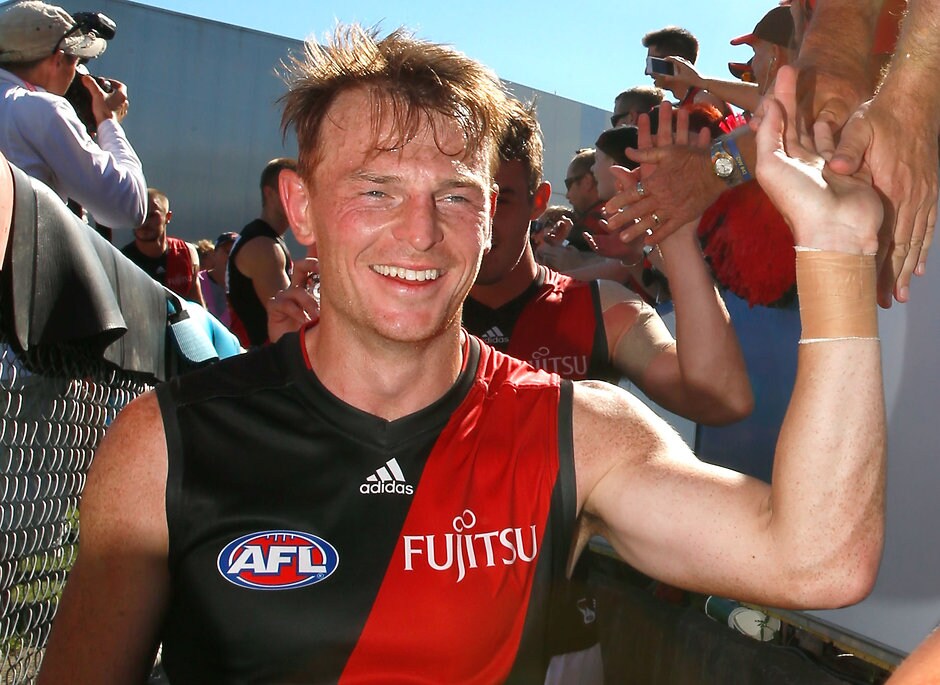 ESSENDON has enjoyed a few hard-fought wins over the journey at Princes Park, but perhaps not many as satisfying as Sunday's thrashing of Carlton, even though there were no premiership points up for grabs.
Let's start with the obvious qualification that the Blues were without their starting midfield of Matthew Kreuzer, Marc Murphy, Bryce Gibbs and Patrick Cripps.
And Blues coach Brendon Bolton once again rotated far fewer players through his interchange bench, meaning fatigue set in earlier for the Blues than it did the Bombers.
But even those with little sympathy for the Bombers and their plight would have begrudged them their broad smiles after their 60-point win. It has been a torrid summer for everyone at Essendon, but a win, even in the pre-season, was one to be enjoyed.
Carl v Ess: Full match coverage and statistics
Whether or not the Bombers are anything other than a bottom-three side remains the question, but John Worsfold would have loved the work of David Zaharakis, Brendon Goddard (who appeared to relish the captaincy), Zach Merrett and Joe Daniher. No.5 draft pick Darcy Parish also moved well.
Of the newly listed players, Sam Michael was great in the ruck, Sam Grimley lively (if wayward) close to goal and Jonathan Simpkin won plenty of touches. The telegraphed move of Ryan Crowley to the forward line also paid off.
Zach Merrett kicks a @NAB Supergoal. $500 of Sherrins to Cobden thanks to @NAB #NABChallenge https://t.co/lPK3zaVDg6

— AFL (@AFL) February 28, 2016
With two pre-season matches remaining, the Bombers still have a bit to work through. But there would seem to be enough of a blend of experience and talented youngsters to think the Bombers will be a chance to catch some opponents napping, perhaps win 4-6 games for the year and lay some serious foundations for the years after that.
As for Carlton, it was a mixed bag. The atmosphere was fabulous and with more than 18,000 in attendance, the famous old ground came up a treat and was close to capacity. The AFL is getting it right with these selected NAB Challenge games at the old suburban Melbourne venues and it surely cannot be too long before the most iconic of them all, Victoria Park, gets a look in.
Almost 19,000 people have piled into Ikon Park to see @CarltonFC take on @EssendonFC in the #NABChallenge pic.twitter.com/7FIC7uE19l

— AFL House (@AFL_House) February 28, 2016
The Blues seem serious about reconnecting with their supporters and taking them on a journey and the myriad activities before and during the game reflect that. Those that were fortunate enough to be at the Spirit of Carlton lunch, held in a dining room approximately beneath where the old Robert Heatley Stand once stood, heard all manner of stories about some of the great times at Princes Park.
On the field, they could not have wished for a better first-up effort from No.1 draft pick Jacob Weitering, who ran to the right places, read the ball superbly and took six intercept marks. They didn't have to reach to get him – after all he was the most talented junior in the land – but he would seem a lock for round one.
Weitering a shining light: Bolton
But there were some eyebrows raised about team selection. This was the second of the Blues' three NAB Challenge games and with so many elements needing to come together in the pre-season, there might have been an opportunity lost for Carlton to play its strongest possible side and to get its systems and structures in place.
One giant step
There was a distinct roar when the ball hit the turf during the opening bounce on Sunday. Part of it was the return of big-time footy to Princes Park. But it was also in recognition of the history-making moment when Eleni Glouftsis became the first female field umpire in AFL history.
History-maker Glouftsis shines in first match
And she did well. Like all the umpires in the pre-season she officiated for three quarters and while her formal review will take place during the week, there was probably only one decision she'd like to take back, a chop of the arm on Daniher that she didn't pay in the second quarter.
"We were really impressed," said AFL umpires manager Wayne Campbell. "She bounced well, made position correctly and I thought it was very courageous of her to take the opening bounce. We left that decision to her but she was bouncing well in the warm-up."
Glouftsis will spend the season umpiring at state league level, but her progress has been terrific. A spot on the AFL senior list beckons in 2017, especially with the likely move to four field umpires.
Field umpre Eleni Glouftsis takes the match ball ahead of her debut. Picture: AFL Media


Can Mason make it?
Slowly, the US rucking experiment is paying dividends, with Jason Holmes establishing himself as a bonafide AFL ruckman with three games late last season for St Kilda.

But Mason Cox is really intriguing. His VFL figures for Collingwood last year in his first season jump off the page – 19 games, 17 goals (including five in one game), a 45 hit-out game and 24 contested marks and the Magpie brains trust could barely curtail their excitement and only just resisted the temptation to elevate him to AFL ranks late in the season.

But there was no holding Cox back on Friday night in the NAB Challenge opener against Geelong at Simonds Stadium. He looked like a natural AFL footballer, with four marks and two goals. His first goal was a thing of beauty, as he outmaneuvered Lachlan Henderson and clunked the first of his two contested marks for the evening.
Mason Cox kicks his first AFL goal! He's in some excellent form. #NABChallenge https://t.co/vYSgVowLP8

— AFL (@AFL) February 26, 2016
Not to be outdone, Corey Gault stepped in for Cox in the second half and kicked three goals of his own.
Liked the look of: Who caught the eye in week two?

Gault has four AFL games to his name, but with the greatest of respect, Cox, the 24-year-old former Oklahoma State college basketballer is the story. Imagine going from not having picked up a Sherrin to playing for the biggest club in the land in just two years.

ESPN won't be able to get here quickly enough to film the story. Already, no less a judge than Gerard Healy has him pencilled in as a certain starter for round one.

The portents are good for the Pies. Both Travis Cloke and Darcy Moore didn't play Friday night, but they kicked 21.5 for the night including 11 goals in a riotous third quarter.
Full match coverage of Geelong v Collingwood

If they can play Cox or Gault close to goal and let Cloke and Moore use their jets to roam further up the ground, it adds so much to their dynamics forward of the centre. The midfield already looks much deeper than last year and now the forward line appears full of promise.
Great start for Danger
Geelong couldn't have asked for much more from Patrick Dangerfield in his first hit-out in the blue-and-white hoops, with 28 possessions (12 contested), six clearances and three goals.

The Cats as a whole looked rusty, but not Dangerfield and while one NAB Challenge game does not make a season, it took just 80 minutes of football to confirm what we all knew and that is Geelong will be significantly better with him.

And not just on the field. More than 20,000 attended the game which given the building works at Geelong this year, was just 5000 short of capacity. And according to MediaWeek, a very healthy 192,000 watched the Fox Footy broadcast, which was double the amount that watched any of the 'fair dinkum' A-League, Super Rugby and NBL games on at the same time.
It wasn't pretty, but it's still six points! Dangerfield's first goal in the blue and white hoops. #NABChallenge https://t.co/xXoJKBOJKo

— AFL (@AFL) February 26, 2016
It was also the most watched NAB Challenge game since the AFL moved to the new format three years ago and was also the third-most watched TV program on Foxtel so far this year.

Now, obviously the presence of Collingwood for the first time this year helps considerably in this regard. But the Cats are a team with ambition in 2016 and having Dangerfield surely helps in this regard.
Demons play up at Playford
After sending out a virtual reserves team for the pre-season opener against the Sydney Swans last week, Port Adelaide loaded up with the return of 12 first-choice players for Saturday's clash with Melbourne at Playford Alive Oval.

Yet the Power squandered a 17-point half-time lead to lose by 21 points to Melbourne after a listless second-half that included a scoreless third quarter.

There were times last season when Port seemed to think the edge in talent would be enough to secure the win, only to be exposed on the scoreboard. It was the same on Saturday. The Demons were missing only Nathan Jones and Bernie Vince from their best team and lost Angus Brayshaw to a knee injury in the opening 30 seconds, but on paper, Port appeared a class above.
Full match coverage of Port Adelaide v Melbourne
But not in the second half and some of the key match stats told an alarming tale for Port, beaten 44-30 in clearances, 31-19 in stoppages and 135-105 in contested possessions.

For all Port's dash and flair, it plays its best footy when that skill is matched by grunt. It was a poor work ethic in the first half of last season that helped send Port down a hole too deep to extract itself from to play finals, and on Saturday, they were reminded once again of the perils of being outworked. The Power have just four quarters remaining of pre-season football to rediscover the magic.

On the other hand, it was a performance full of promise from Melbourne. The Demons are riding a nine-game interstate regular season losing streak and while Saturday counted for nought, they dug deep and grafted a win that should translate to a few more memberships and more cause for optimism.

Ruckman Max Gawn has been the talk of Melbourne's pre-season, not the least because of his stated goal to become the No.1 ruckman in the AFL by the end of the season. There are a few ahead of him on the pecking order for now, but you love the ambition and Saturday's effort suggests again he is on the verge of becoming very good at what he does.

No.4 draft pick Clayton Oliver was good first-up in the midfield in open company, while former Pie Ben Kennedy also played well.

There have been some false dawns at Melbourne and some talk not always matched by deeds. As we said in last week's column, it is still only February, but Melbourne finally seems to be getting things right.
This Ben Kennedy pick-up = #NABChallenge https://t.co/c9KN5XmEHY

— AFL (@AFL) February 27, 2016
Happy 80th birthday, Ron Barassi
This column fell in love with footy in the 1970s when everything to do with the game was big, bold and brash.

And a big reason why was Ron Barassi. There were some champion players through the 1970s, legendary coaches and media types who were at the centre of everything to do with the game. But Barassi stood above them all.

He was the inspiration behind Carlton's miraculous comeback to win the 1970 Grand Final and the mastermind who lifted North Melbourne from the depths of despair to win the breakthrough premiership in 1975 and another premiership two years later, beating Collingwood in a replay clash after the draw the week before.

Before that, he played in six Melbourne premierships and is easily the greatest figure in that club's history.

Barassi was the master tactician, motivator beyond par and the greatest visionary the game has ever had. A great dinner party conversation to be had is whether the game would be as big as it is today without him.

Some of us in the footy media have had the privilege of working with him. I ghosted him in 1995 when he wrote a weekly column for The Age. He was coach of the Sydney Swans by then, having answered an SOS from the AFL to fix a club that was on its knees. The conversations that made up the columns were fascinating; the chats before and after were even more so.

He is football's greatest living treasure. Happy birthday, Ron Barassi. Enjoy the lovely tributes on both the Melbourne and Carlton websites. May you live to celebrate many more.
VIDEO: Celebrate Ron Barassi's 80th birthday with this special tribute: https://t.co/x3Va0Ksqo0 #BoundByBlue pic.twitter.com/S8lUy6TpcG

— Carlton FC (@CarltonFC) February 27, 2016