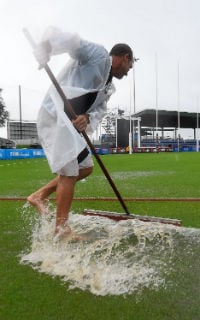 BRISBANE Lions have some scrambling to do after Sunday's NAB Challenge match against St Kilda was washed out in Mackay.
The Lions played a second-string team in its pre-season opener against Gold Coast a fortnight ago and now have just one match left to get conditioning into their big guns.
Captain Tom Rockliff and midfield aces Pearce Hanley, Daniel Rich, Stefan Martin and Dayne Zorko are yet to play a game.
Sure, they're all fit, but every player tells you there's no conditioning like match conditioning.
Throw in Dayne Beams, Allen Christensen and Josh Green who won't be available until the season opener against West Coast, and it leaves quite a few Lions short of a gallop.
It makes next Sunday's game against Greater Western Sydney on the Gold Coast – to be played at the Queensland summer-friendly time of 12.10pm – even more crucial.
Football manager Matthew Francis said he had the utmost confidence in the Lions' physical performance staff to get the most out of players, but there has to be a concern.
Is one match with new recruits Ryan Bastinac and Tom Bell enough to integrate them into Justin Leppitsch's system?
"It will certainly raise another set of challenges for us in terms of preparing for round one," Francis said of the cancelled match.
"We've got serious data and analysis behind the program for our players in terms of match conditioning to get them exactly right for round one.
"That's been thrown against the wall to some extent, but our players are resilient, and with the expertise of our staff, we'll be fully fit and raring to go by round one."
Rockliff inspected the Harrup Park surface with Saints veteran Leigh Montagna, but despite knowing it was unsafe to play, must have been aching for a game.
The Saints have also been dealt a tough card now after resting some of their best players from the NAB Challenge opener against North Melbourne.
Montagna, Jack Steven, David Armitage and Sam Fisher were all due to open their 2016 accounts in Mackay until the weather intervened.
There was also the three-hour flight each way for no return to consider.
Footy manager Jamie Cox saw the bright side when talking about next Sunday's final hit-out against Melbourne at Etihad Stadium.
"It's under the roof, so it'll be slightly different conditions. Pretty safe to say we know we won't get that one called off," he joked.
While locals stayed at the ground for hours after the match was called off to take advantage of the hospitality packages, both teams headed off to figure out just how they'd overcome this setback.
Is it a rest or match conditioning lost?
The round one results will be the ultimate judge.