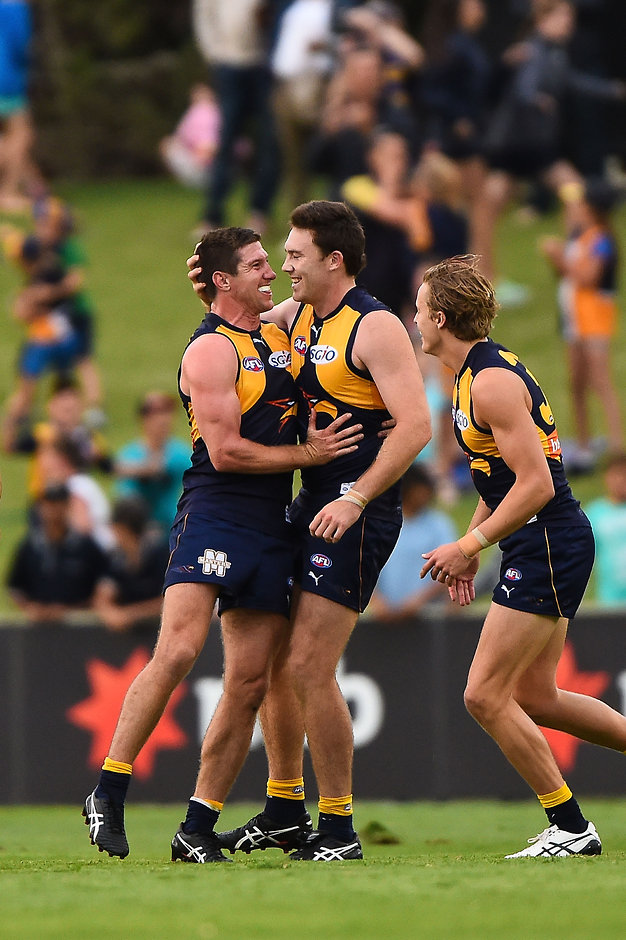 'Gov' didn't put himself forward in that NAB2 game; I'm telling him where he's playing at the moment
Adam Simpson
WEST Coast coach Adam Simpson has given Jeremy McGovern a not-so-subtle reminder of who is in charge, saying the coach will decide where the key-position utility plays this season.
Simpson delivered the message in front of 1000 people at the Eagles' season launch on Tuesday.
The debate surrounding where McGovern will play this season has raged both publicly and privately throughout the summer.
McGovern made the All Australian 40-man squad last season as a floating key defender, starring in the absence of injured Eagles duo Eric Mackenzie and Mitch Brown.
He kicked 13 goals as a forward in his first seven games in his debut season in 2014.
Wellingham in doubt for final NAB Challenge hit-out
Both Simpson and McGovern have stated publicly that he would like the opportunity to play in the ruck and on-ball.
Last Thursday, against Gold Coast, McGovern played the first half in defence before being moved forward at critical stages in the second to kick two vital goals, including the match-winner.
But Simpson declared that he would ultimately decide where McGovern played, despite the speculation.
"'Gov' didn't put himself forward in that NAB2 game; I'm telling him where he's playing at the moment," Simpson said.
"It's always a discussion on a weekly basis at the moment, Gov. Playing in the ruck and on-ball was your next phase, apparently. But we were really excited about what you did (last week)."
Simpson was speaking partly in jest but was also reminding his group that players needed to play their assigned role for the team.
Eagles skipper Shannon Hurn agreed with the coach's sentiments. He said the message was about handling expectations.
"That's one of the things we talked about," Hurn said.
"If (McGovern) just goes about his business and doesn't get too carried away with things, he'll be an excellent player for a long time.
"That's the same with all players. We understand in footy, you can be built up quite well, and you can be (knocked) down.
"Sometimes it's a short-term view. But one of the things you always try to tell the young blokes is to not get too carried away with people's opinions of you.
"It's more about the club and what we expect you to do. If you do that, you'll be a good player and you'll be part of a good team."
McGovern did do some one-on-one ruck training with assistant coach Dean Cox at training on Tuesday.