Who's next? Click here to view the AFL Players' Top 50 as they are revealed
THE HORRIFIC knee injury Robbie Gray suffered in 2012 ultimately proved the catalyst for his transformation into one of the game's elite players, Port Adelaide assistant coach Garry Hocking says.
Such is his standing among his peers that, for the second year running, Gray has been voted No.10 in the AFL Players' Top 50, brought to you by Mars.
Gray ruptured his right anterior cruciate ligament in the dying seconds of the Power's loss to Collingwood in round four, 2012 at Etihad Stadium.
After flying unsuccessfully for a mark in front of Magpie Sharrod Wellingham, Gray landed awkwardly on his right leg, severely hyperextending his knee.
Gray lies stricken on the Etihad Stadium turf after tearing his ACL in 2012. Picture: AFL Media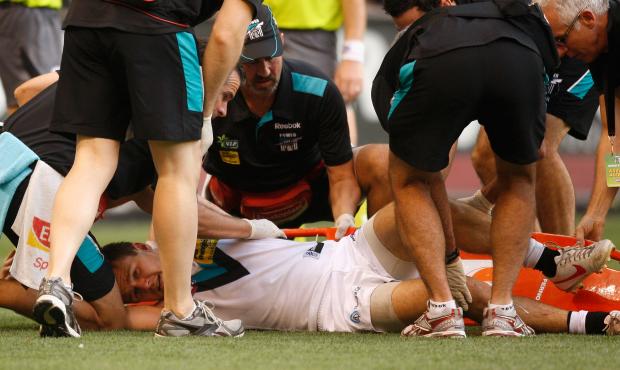 It was a bitter blow for the then-24-year-old, who a year earlier had made a highly successful transition from attack into the midfield en route to a career-best fourth-place finish in Port's 2011 best and fairest award.
But as shattering as Gray's injury was at the time, Hocking told AFL.com.au it had been the making of him as a footballer.
"It was a really horrific injury. It was almost like the world had crashed down for Robbie in terms of his football, but after getting the initial surgery he really ticked every box – and probably went far and beyond that – to get as strong and fit as he could so he could get back to playing," Hocking said.
"The last couple of years Robbie has seen the real benefit of that hard work.
"Robbie was super talented as a player, but the knee injury probably came at a good time for him in a way. It gave him an understanding that football could be over pretty quickly if he didn't grow his game.
"It made him work even harder, get super fit and the last couple of years he's really become a great player of the competition."
All smiles: Gray (r) with teammate and fellow 2015 All Australian Chad Wingard. Picture: AFL Media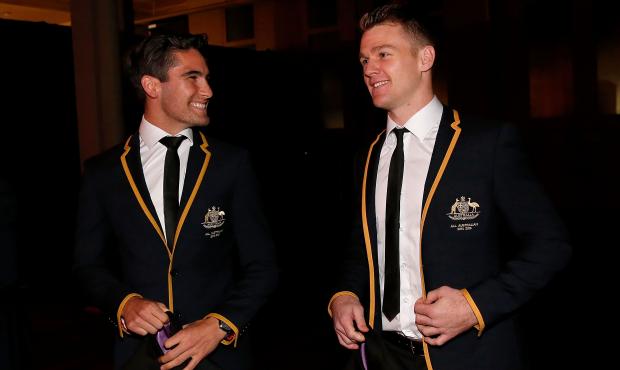 Few would argue with Hocking's assessment.
Since playing 20 games in a solid 2013 comeback season, Gray has catapulted himself into the AFL's upper echelon.
He has won the Power's past two best and fairest awards and been a member of the past two All Australian teams. In 2014, he won the AFL Coaches' Association player of the year award.
Robbie Gray's honour roll
| | |
| --- | --- |
| 136 games | 186 goals |
| Club best and fairest 2014, 2015 | All Australian 2014, 2015 |
| AFLCA Player of the Year 2014 | 42 career Brownlow votes |
Players returning from ruptured ACLs often return diminished athletic specimens but, according to Hocking, the reconstructed Gray is, if anything, stronger and more agile than he was in his freakish forward-line days.
Certainly, the former Oakleigh Charger has vastly improved his aerobic endurance since his knee injury, so much so that Hocking thinks the reduction in interchange rotations from 120 to 90 this season will work to his advantage.
Robbie Gray controls the loose ball and snaps a goal just before the half-time break #NABChallenge https://t.co/pA0INXkzge

— AFL (@AFL) February 27, 2016
But when asked what makes Gray so good Hocking looks beyond the sublime skills, escape artist tricks and innate game sense.
"He's just a fierce competitor, he hates losing," Hocking laughs knowingly.
"You've got to be a competitor in this game and Robbie is hugely competitive.
"He's a hard worker now too, which has obviously complemented his talent."
Who's next? Click here to view the AFL Players' Top 50 as they are revealed