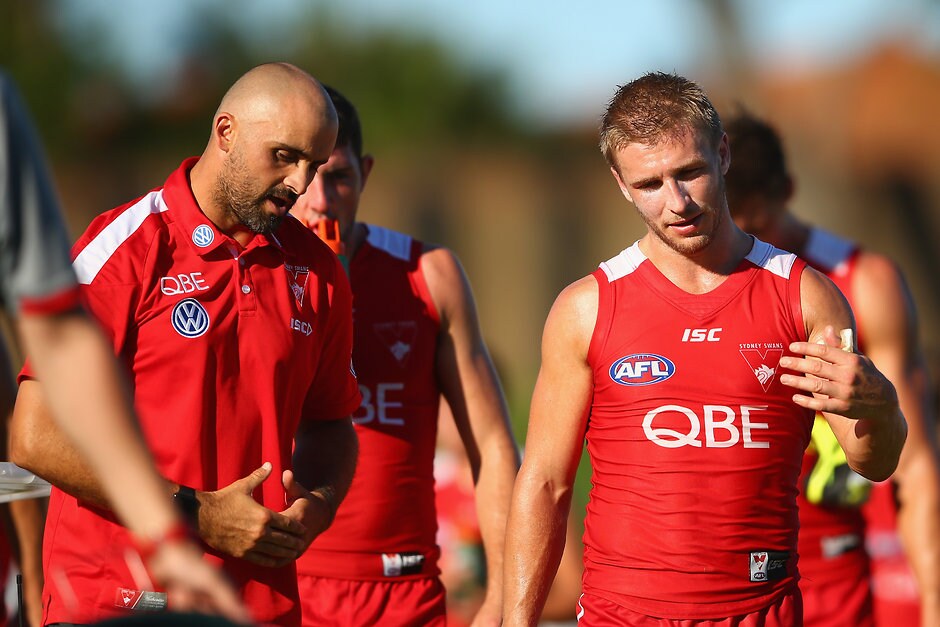 SYDNEY Swans co-captain Kieren Jack has laughed off pre-season predictions that his side is set to slide down the ladder in 2016.
The retirements of Adam Goodes, Rhyce Shaw and Mike Pyke, plus the departure of Lewis Jetta (West Coast) and Craig Bird (Essendon) at the end of last season has robbed the Swans of almost 1000 games experience.
Add to that an injury-plagued summer for Jack's co-skipper Jarrad McVeigh, Ben McGlynn and Gary Rohan, and many have predicted that John Longmire's men could be in for a tough year.
Speaking at the Swans' season launch at the SCG on Wednesday night, Jack said he and his teammates loved being overlooked by those outside the club.
"We're used to it - it's happened for so many years and we don't pay any attention to it really," he said.
"You read it and use it as a bit of motivation to go forward.
"We've got our own motivators inside the four walls (of the footy club), we know where we're at and we know what we're capable of doing.
"The naysayers can continue writing us off, and we'll continue doing what we do."
Longmire told the 250-strong crowd gathered on the Swans' home ground that he hasn't been looking for players to fill the shoes of the five men, who all won premierships with the Swans.

"I don't believe in actually replacing those players, someone just comes in and plays to their strengths and they're different to the players that have left," he said.

"We've lost some great players over the years and guys have been able to come in – someone like Luke Parker for example – and that's what we try and do.

"The evolution of the list means that those opportunities are there and it's a great time for those kids to get a taste of senior football and learn off (someone like) Kieren Jack.

"That's the way it works at the Swans."

Swans chief executive Andrew Ireland revealed that the club was in the process of establishing plans for a new training and administration facility at the Moore Park precinct near the SCG, which he hoped would be finalised sometime this year.

A suitable location for the new building is yet to be confirmed but Ireland said the details should be finalised this year, with the facility to cost around $30 million.

Long-time club sponsor QBE was honoured on the night, ahead of what will be the 30th year the company has partnered with the Swans, one of Australian sport's longest associations.

The Swans' academy – which has produced young stars Isaac Heeney and Callum Mills over the past two years - has had the backing of QBE since it was established.