Who's next? Click here to view the AFL Players' Top 50 as they are revealed
JOEL Selwood never seemed to tire.
However last year, just before he was suspended for engaging in rough conduct with North Melbourne's Sam Wright, there were a couple of signs the undivided attention opposition clubs had given him in recent seasons was testing his patience.
He could hardly move without being buffeted from behind or harassed from the front.
Overstepping the mark by tangling with Wright was uncharacteristic and he copped a one-game suspension for his trouble.
Is Joel Selwood in trouble for this? #AFLNorthCats http://t.co/GPez5mHe8v

— AFL (@AFL) July 11, 2015
It was a rare moment of fragility for the brilliant Selwood and an indication that he could not carry the team on his own.
The week off did him good, as will the emergence of a midfield in 2016 ready to be as good as he has been.
And his peers still rate him highly, voting Selwood in at No.8 in the AFL Players' Top 50, brought to you by Mars.
On the field, he is like kinetic energy, rolling from stoppage to stoppage.
Off the field, he is equally manic, filling up the diary without losing the good-natured charm that belies his fierce competitiveness.
Under pressure: Selwood fends off the attentions of Collingwood's Travis Varcoe in 2015. Picture: AFL Media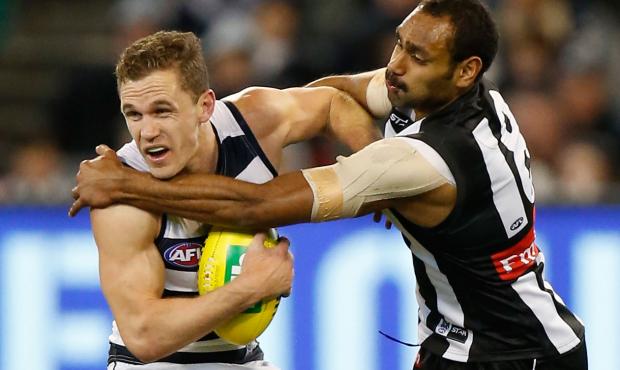 In nine seasons he has never played fewer than 20 games a year.
He set a standard as soon as he arrived and has rarely dipped a millimetre below it in his career.
His 204 games have now included three flags, three best and fairests, four All Australian guernseys and a second placing in the Brownlow medal.
Joel Selwood's honour roll
| | |
| --- | --- |
| 204 games | Three premierships (2007, 2009, 2011) |
| All Australian 2009, 2010, 2013 (captain) | Club best and fairest 2010, 2013, 2014 |
| NAB AFL Rising Star 2007 | 150 career Brownlow votes |
It is no wonder his new teammate Patrick Dangerfield recently described the Cats' skipper as "someone who is universally admired for the way he plays on-field".
If the Cats hope to return to recent triumphs, they have a shining light to guide them.
"Success for him is no fluke. It's something he works incredibly hard at," Dangerfield said.
"I am sure the younger players that come to our football club would look to Joel Selwood and see just how hard he works and understand that he hasn't just been lucky to be a part of one of the great sides. He has been a huge contributor because of the hard work he puts in."
Selwood is simply a champion in every sense of the word.
Although his pre-season has been hampered, no-one expects him to miss round one against Hawthorn.
Even below his best he will still be good, because Selwood is as reliable as a lighthouse keeper when it comes to performing in big games.
"What makes him the player that he is and the person that he is? It is the hard yards that he puts in when no-one is watching, when no-one sees, when it is not measured that makes him the player he is," Dangerfield said.
Who's next? Click here to view the AFL Players' Top 50 as they are revealed
The AFL Players' Top 50 is compiled with the support of the AFL Players' Association.