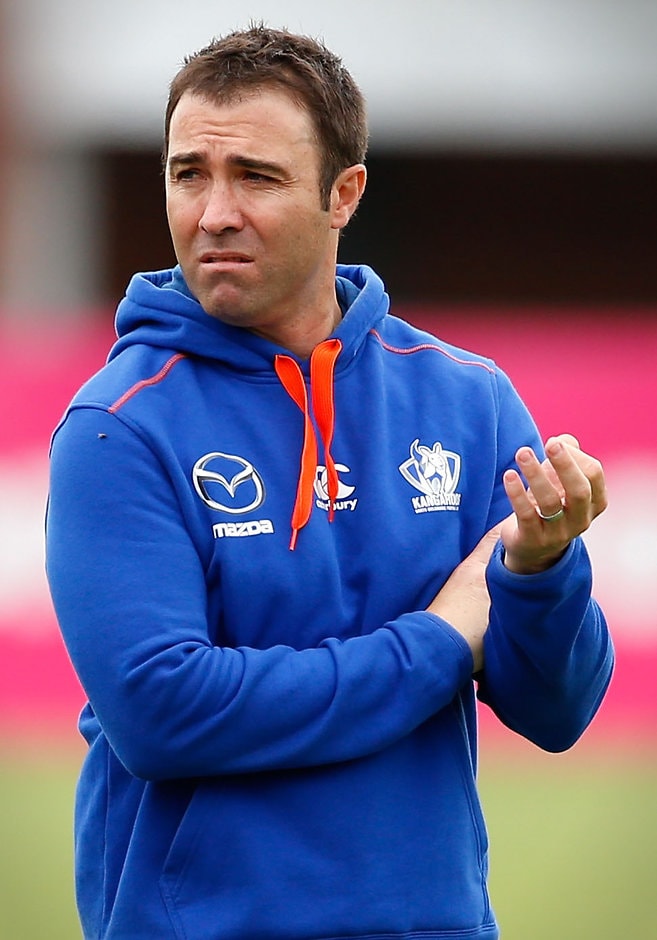 The more important thing was for him to stay away from the players
Darren Crocker on Brad Scott
NORTH Melbourne is confident coach Brad Scott will be well enough to take the reins against Hawthorn in the Roos' final NAB Challenge match on Saturday night, after the Roos coach was laid low by a stomach bug on Friday.
Scott was scheduled to hold a press conference at Etihad Stadium on Friday morning, but was too ill to attend. Director of coaching Darren Crocker stepped in, but said Scott should be back for Saturday's match.
"He'll be coaching tomorrow," Crocker said.
"The doctor has been out to see him. He's taken whatever he needs to so he can recover and full steam ahead tomorrow night.
"The more important thing was for him to stay away from the players [today] so he doesn't infect any of them and cost them their preparation."
Crocker said even if Scott was unable to coach on Saturday night, the coaching staff would be able to cover his absence.
North Melbourne has named a strong squad for the clash against the premiers, with Daniel Wells set to play full minutes at Etihad Stadium.
Defender Robbie Tarrant and star Shaun Higgins will miss the final pre-season hit-out, but the club is confident the pair will be fit for round one.
Tarrant left the Kangaroos' main training session on Wednesday early with a back complaint, while Higgins trained away from the main group.
"[Tarrant] just had a little niggle to his back," Crocker revealed.
"Nothing sinister, but again with one game to go before the actual home and away season begins, we just didn't think we needed to risk him.
"[Higgins] is in the same boat. At a push we could put them out there, but we believe with a weekend off next weekend we can get some really good training into both those guys and get them cherry ripe for round one."
Crocker said it was unlikely Higgins would round out his preparation for the season opener with a game in the VFL.