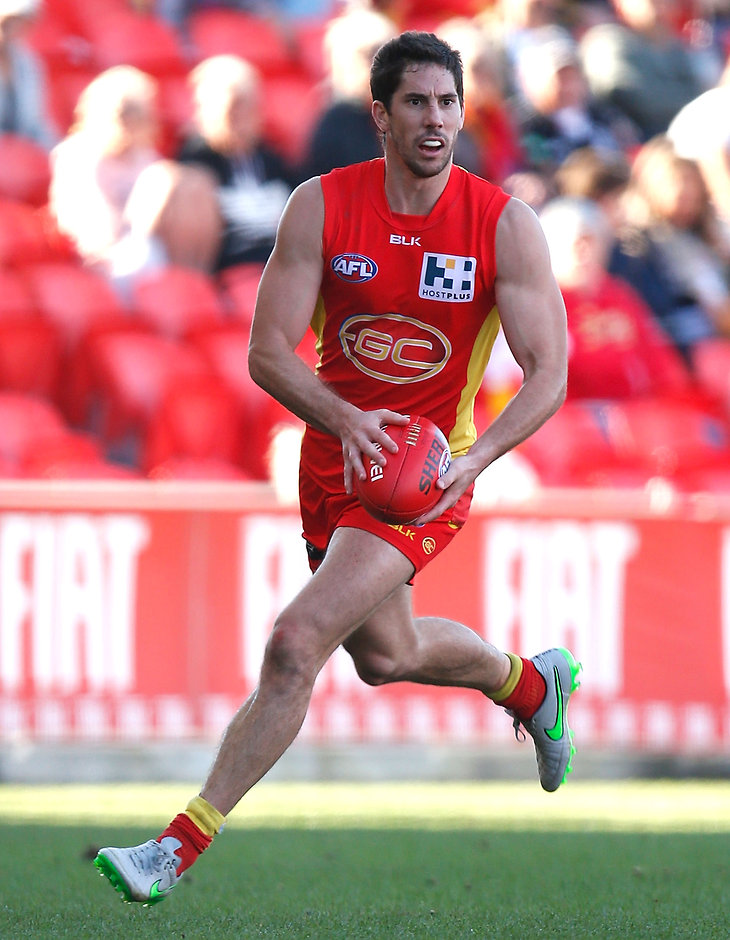 THE UPS and downs of last season taught experienced Gold Coast midfielder Michael Rischitelli to prepare for the unexpected.
During the tumultuous period for the club when the culture was laid bare, Rischitelli stood tall, showing leadership and poise to help the Suns steer their way through rough waters.
He played 21 games, finished fifth in the club best and fairest and won respect for his upfront approach both privately and publicly.

Suns talls get chance to claim round one spot
"Sometimes in life you're thrown some curve balls and you just have to prepare for anything," Rischitelli told AFL.com.au.
"It wasn't all bad…[we're] better for it now knowing these things do happen, try to do your best and be glad you have the support around to get through it."
Now the 30-year-old wants to look forward as he prepares to reach 200 games in round one.
Rischitelli is in a hurry and hopes that last year's difficulties have set the foundation for the Suns to succeed.
"Some guys have had a full year where they probably didn't think they would get one game," he said.
"You can't buy that [experience] and you can't teach it."
Rischitelli, who won a best and fairest with the Brisbane Lions in 2010 before joining the Suns, has not played in finals since 2009.
He wants to appear in September in a Gold Coast jumper, his emotional investment in the club having only grown stronger since he had 31 touches in their opening game.
When Rischitelli ran down Rory
"I know I am not getting any younger," Rischitelli said.
He describes his pre-season as "OK" but frankly admits it hasn't necessarily been his best.
"[It's been] more about me getting through sessions and putting one week, two weeks, three weeks back-to-back and I have done that," Rischitelli said.
What he's noticed being better than before are the training standards at the Suns under Rodney Eade and Justin Cordy.
He says Eade has made everyone on the list, from top to bottom, accountable and helped focus each player on the role they need to play.
It's an approach Rischitelli knows is essential to compete because talent without smart work goes in circles.
"What separates teams is, who can play their role the longest and be switched on for the whole game?"
The milestone is around the corner but Rischitelli is only concerned with team success.
It's what drives him. It's what has made people speak in the past 12 months about how respected he is in the game.
With the average games on the list now above 50 (53.4) and three other clubs younger than the Suns, whose average age is 23.4 years, they are not far away.
If it doesn't happen this season, then the foundations for success are sounder than many outside the club recognise.
Rischitelli is one of the reasons.
"We haven't spoken about a pass mark, but what will get us over the line is consistency with the footy and what our training habits have been," Rischitelli said.
"That will determine where we finish and how we finish."