(STAR) should complement their current programs and arm them with a greater amount of information
Chris Pelchen
FORMER list manager Chris Pelchen is planning a return to football by setting up an independent national recruiting network for clubs to scout the country's talent.
The ex-Hawthorn list manager and St Kilda football boss is part of a group behind the STAR Network (Sports Talent and Recruiting), and has met with 14 AFL clubs to discuss the concept.
This week he will present the idea to all clubs at a national recruiting meeting in Melbourne, with feedback strong so far about establishing the Australia-wide network in 2017.
"We're not looking to impose draft selections on a particular club, it should complement their current programs and arm them with a greater amount of information to make better choices," he said.
"That's ultimately what we're about. We're not trying to replace anyone, we're not trying to take them over."

Click here for all the latest Draft news
The concept would see the clubs who subscribe to the program have access to reporting, analysis and scouting from STAR's team of recruiters around the country.
STAR is proposing to have one full-time talent manager in each of Western Australia, South Australia and Victoria, as well as a 'futures' manager in Victoria to assess talent in forthcoming drafts.
The team behind STAR, which also includes former AFL administrator Rod Austin, is investigating whether they should add a pro scout to their business model too after garnering some interest from clubs who would like to have the AFL free agency and trade market covered.
Each week the recruiting network would use its full-time and nearly 30 part-time scouts to produce more than 200 reports on draft prospects.
"The key component is the core draft pool, and we're proposing under our current business plan that every game in the NEAFL every week will be covered," Pelchen said.
"Every game in the VFL and TAC will be covered. Every game in the SANFL will be covered. Every game in the WAFL will be covered, plus the TFL seniors, will be covered. The NTFL will be covered seasonally."
Pelchen said part-time recruiting officer Paul Prior – the brother of former Bomber and West Coast player Michael – approached him with the idea for an independent recruiting bureau last year. They have met with the AFL about its possible establishment.
The full package is likely to cost around $75,000 to join for clubs, but STAR will also look at offering more targeted models.
"We are looking at a pick-and-pack concept," Pelchen said.
"Conceptually there's full support, but at the same time the needs, requirements and wishes of each club are slightly different.
"If it's a club that feels its coverage is strong, they are looking at a refined model where they might like more information on the futures market or pro scouting or mature-agers who have gone through the draft more so than the under-18 competition.
"If they all believe it's a good idea, we need to work on what the best model looks like."

Following the best kids around the country can be expensive for clubs. Picture: AFL Media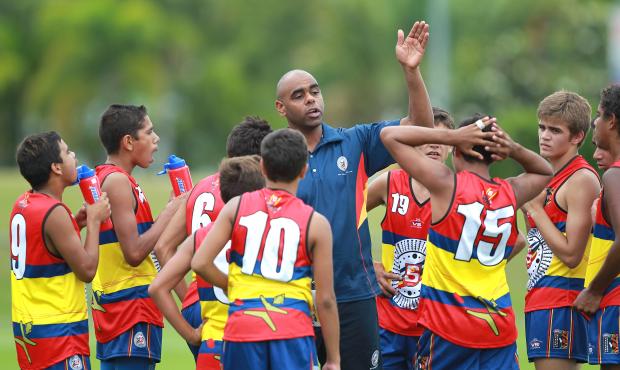 There is a similar model in place in the US, with companies Blesto and the National Recruiting Service scouting college level NFL players aspiring to be drafted.
Many NFL clubs are members of those private recruiting companies and source information, reports and data about prospects.
The information is communal for all clubs who have joined the respective programs, but it is believed many value the extra resources given the large pool of players that need to be assessed in America.
Pelchen, who helped build Hawthorn's 2008 premiership list, has been out of a regular football role since departing St Kilda in late 2014. He was the Saints' football manager and had a large involvement in the recruiting department.
Austin, the League's football administration manager, left the AFL in 2012 after 21 years after playing a central role in the formation of the TAC Cup and under-18 talent pathway and developing list management strategies.
Some clubs see merit in having a 'wire' type of recruiting service in place for every under-18 game around the country, particularly in cases where games only have a handful of legitimate draft prospects playing and sending a recruiter to a game may be too expensive.
Pelchen said the program would also see any player who missed out on being drafted be offered a free consultation with STAR for feedback about what clubs thought of him, and that the service could also be used as part of the media's NAB AFL Draft coverage.
"This is not something to take over or to tell a club how it should be recruiting and who it should pick, it's about building a library source of information that complements what they're doing at the moment," he said.