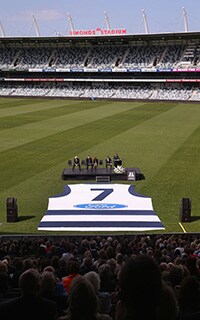 WHAT a fitting way to kick off a memorial service for a man who will be forever remembered as a footballer's footballer.
Blow the siren at 2.10pm - the traditional starting time for Australian Rules matches - at a ground where he made 106 of his 259 appearances in Geelong's iconic navy blue and white hoops.
And then get proceedings underway.
Paul Couch - Brownlow medallist, Geelong legend and dedicated family man - would surely have loved every minute of it.
Well, maybe not all of it.
Close friend and long-time Cats teammate Mark Bairstow recalled once being advised by Couch that "if you ever get the chance to talk about me - don't waffle on".
The only problem was that so many people at Simonds Stadium on Wednesday had so many things they wanted to say about a sporting star who never lost the common touch.
His oldest son Tom - who went on to play a handful of AFL matches for Melbourne - recalled watching Cats games with his dad as a young boy and hanging on every word he said.
Corey Enright was a special modern-day favourite, while the mercurial Steve Johnson could do no wrong in Couch's eyes.
Wife Geraldine spoke of the love of her life.
"You were everything I ever wanted and so much more," she said.
Couch grew up on a remote dairy farm in Boggy Creek in Victoria's western district, the son of Bill Couch, "dubbed by many as the Barassi of the west" according to longtime family friend Father Peter Hudson.
Paul Couch was initially overlooked by Fitzroy, who thought he was too slow to make it at the top level.
The centreman proved them wrong time and time again throughout a career from 1985-97 which included the 1989 Brownlow medal, three Geelong best and fairest awards, two All Australian jumpers and a spot in the Cats' team of the century.
The only thing missing was a premiership, with Couch playing in losing AFL grand final teams in 1989, 1992, 1994 and 1995.
Bairstow recalled lining up for Western Australia against Couch's Victoria in a State of Origin match in the late 1980s.
Bairstow's advice to his fellow Sandgropers was that Couch was very hard to tackle but always turned onto his raking left foot.
At the first centre bounce, Couch flew past a flat-footed Bairstow and launched an attack, which saw the Vics kick the first goal of the match.
As they were trotting back to the centre, Couch gave Bairstow his trademark toothy grin and quipped "we might train together every day, but you don't know everything about how I play".
After the service, hundreds of people - among them many of Couch's former coaches and teammates including Malcolm Blight, Barry Stoneham and Billy Brownless - joined the family in a lap of honour around Simonds Stadium.
Couch died of a heart attack on March 5 at the age of 51 while riding his bike in Apollo Bay.
He is survived by wife Geraldine and children Tom, Jessie, Joe and Molly.
The Paul Couch memorial service. Pictures: Getty Images