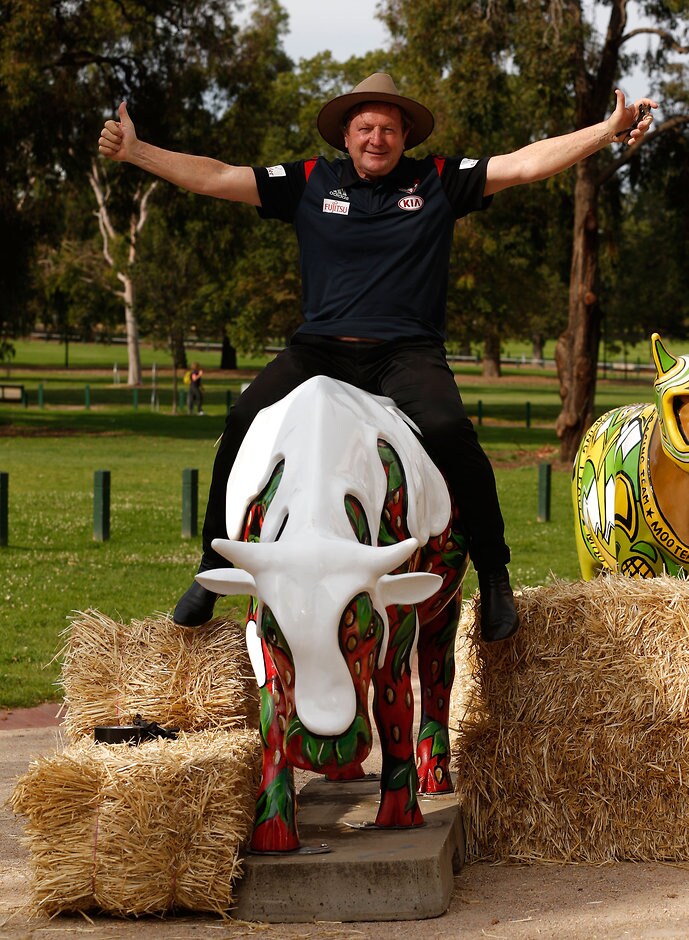 Who are the people who shape the modern game? Starting today, AFL.com.au, in conjunction with the AFL Record, will publish Ashley Browne's 'movers and shapers' list.
Over the summer, AFL Media's Ashley Browne surveyed dozens of people from throughout the football industry – AFL and club officials, coaches, media members and others who work full-time in the game to come up with the most definitive ranking of those who shape the game as it is today.
More than 100 names were thrown up, but we have narrowed it down to the top 50. In some cases, football identities with common interests and causes were lumped in together, but the final rankings reflect a diverse range and the interest is not just in who made the final cut but where they are ranked.
So without further ado, let the countdown begin...
Hat juggler
50. JAMES BRAYSHAW
North Melbourne chairman, The Footy Show host, Triple M football commentator and drive-time host
There are few more ubiquitous figures in football as the season grinds on than Brayshaw. As the chairman of the Kangaroos – a position he will relinquish at the end of the year – he is relatively low-key, but he wields great authority. His work in re-establishing the club in Victoria and setting up a presence in southern Tasmania, when relocation to the Gold Coast appeared a near certainty only a few years ago, is praiseworthy. More high-profile are his roles with Triple M as a drive-time host and football host and commentator, and his Thursday night gig as host of The Footy Show, a TV and football institution.
Champion player
49. DAISY PEARCE

Melbourne women's captain, AFL female football talent co-ordinator
If there is one player who will help make football the sport of choice for female athletes, it is Daisy Pearce, a six-time winner of the Helen Lambert Medal – the Brownlow Medal of women's football in Victoria – Melbourne's captain and best player. As the AFL moves at warp speed towards the establishment of a national women's competition, Pearce will be at the forefront as star player, talent spotter and spokeswoman.
Human headline
48. LANCE FRANKLIN

Sydney Swans player
Lance Franklin's eye-popping nine-year, $10 million defection from Hawthorn to the Sydney Swans in 2014 guaranteed a spike in media and fan interest in the Swans and the AFL in NSW, the most competitive media and sporting market in the country.
The Swans' membership jumped by 4000 in 2014 and 8000 in 2015 with Franklin a key part of that. "Even in Sydney, he is the most recognisable player in the AFL," said one commentator.
Lance Franklin is arguably the biggest name in the game. Picture: AFL Media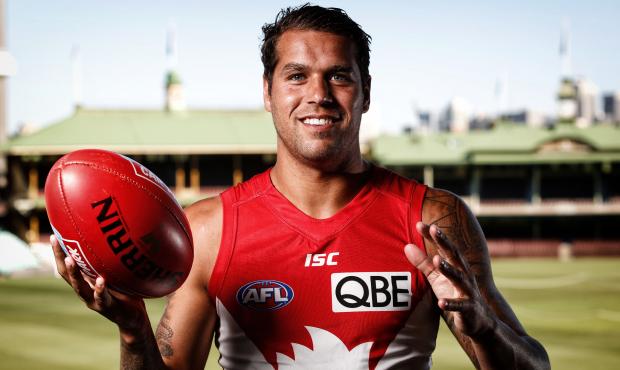 Big brief
47. BRETT CLOTHIER

Manager of competition integrity, AFL
Brett Clothier's remit at the AFL is enormous, including the anti-doping code, gambling and anti-corruption policies, total player payments compliance, the draft and player transfer system, and the personal conduct policy. They are all areas of the game that have increased in scope and importance in recent years and Clothier and his expanding teams need to be across all sorts of issues. "He's done more right than wrong and he has the complete trust of (AFL general counsel) Andrew Dillon," said one associate.
'Sheeds'
46. KEVIN SHEEDY

Retired legendary coach, ideas man
Kevin Sheedy's official role in the game has been reduced to a part-time marketing/business development role at his beloved Essendon. As much as anything, he is there to boost morale and rally the troops during these most testing of times. He has no peer as footy's big ideas man and salesman, recently initiating the inaugural 'Country Match' between the Bombers and Geelong at the MCG in round four. He was also famously a key driver the now well-entrenched Essendon-Collingwood Anzac Day and Dreamtime at the 'G games. After 29 seasons and 679 games as coach of the Bombers and Giants, as well 251 games playing for Richmond, we are duty bound to listen to what he has to say.
Off the long run
45. PATRICK SMITH

Sports columnist for The Australian and SEN radio contributor
The Australian lands across the desk of just about every AFL and club official of note, and most look for how the 'in confidence' discussions from the day before have been interpreted and reported. You don't see Smith in the press box much these days, but then again, he doesn't need to get to the footy in order to understand what's going on.
Waiting for his next move
44. CHRIS JUDD

Dual Brownlow medallist, now retired
Everyone believes Chris Judd when he says he intends to spend at least his first full year out of the game keeping his distance and pursuing other interests. But such was his brilliance as a player and so impressive his thoughts on the game, that even without any active involvement, he remains a person of influence. The Blues got him back in February for some promotional activity but that's been about it since his retirement. If he does ever express a desire to reconnect with the game at a high level, the list of potential suitors will be long and their pockets deep.
The AFL industry is awaiting Chris Judd's next move. Will he return to footy? Picture: AFL Media

Magpie makeover artist
43. NATHAN BUCKLEY

Senior coach, Collingwood
The Magpies are trending nicely as Buckley restocks the playing list, even if the fadeouts that have marred the second half of the past two seasons have earned the side the 'underachieving' tag. But before he committed to coaching, Buckley was a rising star in the media and even now, he has a bigger grasp of the broader picture than many in his profession. Pretty much everything he says is grounded in common sense.
Working in tandem
42. PETER JACKSON and PAUL ROOS

Chief executive and senior coach, Melbourne
Peter Jackson built a great organisation and won premierships at Essendon. Roos delivered the Swans their first premiership in 73 years so they came to Melbourne with an understanding of how hard the job ahead of them was. "Peter's a realist with a really good grasp of AFL footy and what makes a good AFL team and had a really good grasp of how bad Melbourne was," said one observer.
Step by step, sometimes painfully slowly, the pair is rebuilding the Demons surrounded by high-calibre people. "They both understand if you have good people in good roles, you can't predict when success will come but you know it will. These people wouldn't have come to Melbourne if Peter and 'Roosy' weren't involved."
Everyone listens
41. GERARD HEALY

3AW broadcaster, Fox Footy host and commentator
Melbourne might be blessed to have SEN 1116, a 24-hour sports radio station but rarely does a big story happen in footy without those involved coming on to 3AW at 6pm to chat about it to Gerard Healy on Sports Today, a 20-year institution in Melbourne. Or they'll join him On the Couch every Monday night on Fox Footy.
The 1988 Brownlow medallist remains one of the better-connected people in the game, but where he has it over many other former champion players in the media is that he is equally comfortable discussing off-field matters as he is dissecting how it is played.
Gerard Healy combines footy nous and a strong media presence. Picture: AFL Media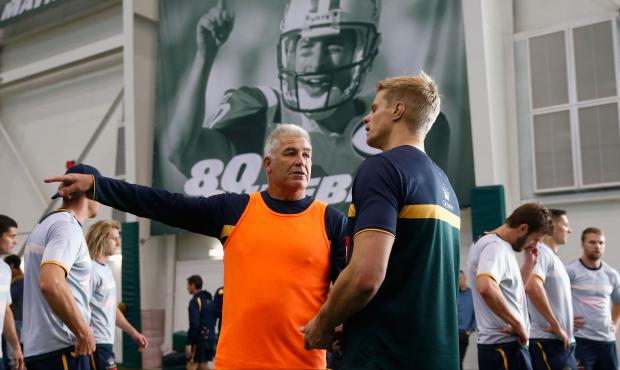 The king
40. TREVOR NISBETT

Chief executive, West Coast
There is no more powerful person in West Australian footy than Trevor Nisbett, a fixture at West Coast for more than a quarter of a century, first as football manager and then chief executive. "You need to get Trevor Nisbett across the line if you want to get anything done in WA footy," is the assessment of one football insider.
Nisbett's ability to identify the right people for the right jobs has long been a trait, from the West Coast premiership teams of 1992 and 1994 he helped construct, as well as the choices of John Worsfold and then Adam Simpson as senior coach. He is also lauded for his loyalty to people and he is known for his staunch support of West Coast people long after they have left the club.
Salary cap czar
39. KEN WOOD

Total player payments manager, AFL
If there was one AFL executive you would love to host at an "off the record" barbecue, Ken Wood is your man. Inside his tightly secured office at AFL HQ are the contract details for every player in the AFL, not just now, but for many years before.
No new playing contract or marketing agreement gets approved without Wood's say-so and he is aware of the salary cap machinations for every club. He can kill a proposed trade with the click of the computer mouse. Every list manager in the AFL has Wood on their speed dial list.
Big business
38. GARY PERT

Chief executive, Collingwood
Collingwood is a behemoth. The Magpies made a $2 million profit last year based on revenue of $66.2 million. And Pert sits at the top. Pert had a stellar 233-game career with Fitzroy and the Magpies, but his media and business background landed him the Magpie job and it is no coincidence that the Pies have poured a small fortune into creating Magpie Media.
Key football decisions have always been left to Collingwood's various heads of football and in recent years industry leaders Geoff Walsh and Neil Balme have held that position. But Pert will speak out on behalf of the club when he feels it is needed, as demonstrated by the recent spat with the Swans over moving the round one clash from ANZ Stadium to the SCG.
Corporate citizen
37. SAM MOSTYN

Outgoing AFL commissioner
For more than a decade, a major goal of the AFL has been to become a more inclusive and socially aware game and Mostyn, an AFL commissioner since 2005, has been a key player in that. She has worked closely with Richmond and the Australian Sports Commission on the research project, Gender Equity: What Will It Take To Be The Best, with the planned end-game being a major increase in the number of women working in the management and executive levels of the game. Sydney-based Mostyn sits on several corporate, advisory and philanthropic boards and has close ties to Australia's indigenous community.
Outgoing commissioner Sam Mostyn has been a driver of change. Picture: AFL Media

Manager, not coach
36. WAYNE CAMPBELL

AFL umpires' manager
It's important to draw the distinction here. The former Richmond captain, an assistant to Damien Hardwick before joining the AFL, is the manager of the expanding AFL umpiring department; Hayden Kennedy is the coach. Still, Campbell's two years with the umpires has been marked by increased professionalism and a flair for innovation.
Four field umpires, full-time umpires and umpire retention are among those items that occupy his time. The NAB Challenge appearance by field umpire Eleni Glouftsis last month also carries his imprimatur. His willingness to get on the front foot and admit when the umpires have made mistakes has earned him widespread respect in football circles.
The footy paper
35. PETER BLUNDEN

Managing director, Herald and Weekly Times
Say what you like about the state of the newspaper game, but the Herald Sun has always had the best understanding of what makes Melbourne tick and that between March and September (and most of the rest of the year) it is football more than anything.
And while analytics might confirm the growing power of digital media, the back page of the Herald Sun still packs a mean punch. Not for nothing, it is the back page of the 'little paper' that football people check first thing every morning and many club sponsorship arrangements vary depending on how many times the sponsor appears on the back page.
The man with the remote
34. PATRICK DELANY

Chief executive, Fox Sports
Rupert Murdoch signs the cheques, but it is Delany who spends Rupert's money and it cannot be questioned that Fox Sports commitment to the AFL is massive. Of the many sports under his umbrella, only one has its own dedicated channel and Fox Footy has become an essential item for pretty much every serious supporter.
What makes Delany unique is his ability to work collaboratively with four codes – footy, soccer, rugby league and rugby union.
"He gets that sport is entertainment and he understands the importance of non-match programming," said one media industry colleague. "And he has made free-to-air broadcasters improve their production values. It's all about enhancing the appeal of the sports that we like to watch."
Minister for football
33. DANIEL ANDREWS

Victorian Premier
You can't run the state of Victoria without matters of football landing on your desk from time to time. Case in point being the Junction Oval redevelopment, which St Kilda (and the AFL) was eyeing off as a chance to return to its original home, only for Andrews to ensure that it became a cricket-only venue.
Then there was the Grand Final eve public holiday, introduced against the wishes of the business community, but which proved to be a smashing success and appears set to continue for years to come. The Essendon-supporting Andrews understands the need to display his sporting bona fides and appears on SEN 1116 from time to time to talk sport.
Victorian premier Daniel Andrews deals in the politics of football. Picture: AFL Media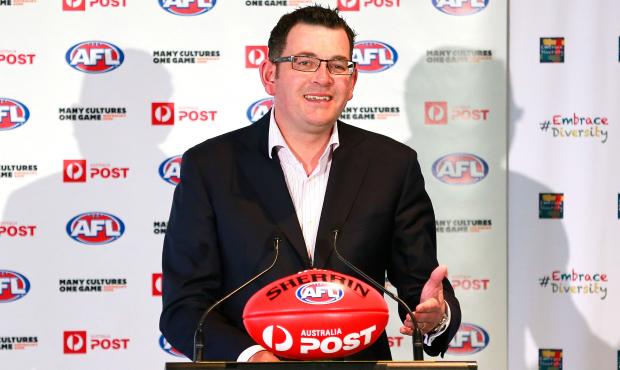 Media specialist
32. KIM WILLIAMS

AFL commissioner
With his passion for the finest in music, art and cinema, Williams is very much your renaissance man. But through his time at the helm of News Limited, the casual Port Adelaide fan fell hard for the AFL. He green-lighted the original Fox Footy Channel back in 2002 and he made it his business to understand the AFL at around that time, but that business interest soon became deep affection.
Then when his time as Rupert Murdoch's Australian point man came to a close, chairman Mike Fitzpatrick swiftly grabbed him for a place on the AFL Commission.
His deep knowledge of the entire Australian media landscape made him a key ally for the League as it negotiated its new media rights agreement last year. His value to the game will only grow as the way Australians consume their media continues to evolve so quickly. In that space, Williams is across everything.
Well connected
31. CRAIG KELLY

Player manager
As a rugged Collingwood defender in the early 1990s, there was little to suggest that Kelly would later become a powerful figure in the game. But he got into the player management business at the right time, partnering with the AFL to create Pro Squad, which then morphed into Elite Sports Properties in 1996.
These days Kelly has a large stable of players and also manages several high-profile media identities including Garry Lyon and Bill Brownless and he remains close to AFL boss Gill McLachlan and TV heavyweights including Seven's Lewis Martin.
ESP was sold to global sports management and marketing firm TLA Worldwide 12 months ago and Kelly has another four years of his management agreement to run. Many believe he will replace Eddie McGuire as Collingwood president after that.