WEST Coast's season was in tatters after round one last year, if you listened to 'experts' and downcast fans.
The Eagles couldn't even beat the Western Bulldogs – supposedly in disarray after the captain walked out and coach was sacked over summer – and Mitch Brown had joined club champion Eric Mackenzie on the sidelines for the season after rupturing his ACL.
Over in the west, Port Adelaide clearly reinforced its premiership credentials with a brave loss to Fremantle on hostile territory at Domain Stadium.
But the Kangaroos surely wouldn't repeat their preliminary final appearance after being thumped by the Crows at Adelaide Oval.
How wrong we were.
Rushing to conclusions faster than train commuters race for the last free seat during peak-hour is all part of the fever-pitch opening weekend of a new AFL campaign.
Is an early roar an accurate gauge of season success for the Tigers? Picture: AFL Media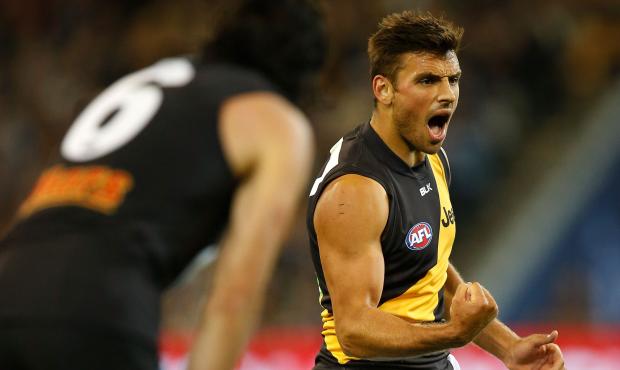 Even after 586 games as player and coach, Paul Roos still has to remind himself not to get swept up in the excitement ahead of his 29th season in the caper.
"It's funny, because it's such a long wait to round one, everyone builds it up – including internally (at the club)," the Melbourne coach said on Monday.

"But you've got to be a little bit careful you don't go over the top because once you get to rounds six, seven, eight or nine it doesn't often matter who wins in round one."
Although round one isn't worth any more points, the anticipation makes it feel like the biggest game of the year.
And if your team wins this weekend, there is, statistically speaking, a logical case to get excited.
More than 60 per cent of teams that have banked four points in round one have gone on to finish in the top eight since 2000, according to Champion Data.

Hitting the ground running with a resounding victory – more than 60 points – has been a precursor to three-quarters of those winners playing off in finals later that year.
But clubs on the receiving end of a 10-goal belting almost never recover, although the Kangaroos bounced back from their 77-point hiding against the Crows last year.
That was an exception to the rule, but Hawthorn's 1991 effort is the daddy of all reversals.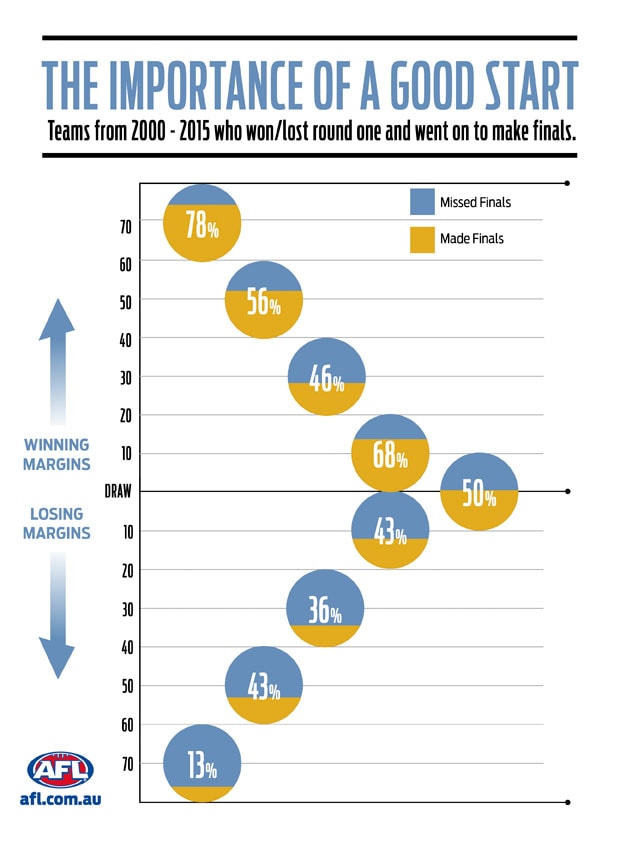 Hawks fans must've been resigned to watching the club's golden era come crashing down when their side was flogged by League newbies Adelaide by 86 points to open the '91 season.
But those halcyon days weren't finished yet – and the Hawks still hold the record for the biggest round one defeat by an eventual premier.
In fact, nine clubs since 1990 have gone down in round one but then recovered and won the flag.
So if your club gets flattened this weekend remember, there is still hope.