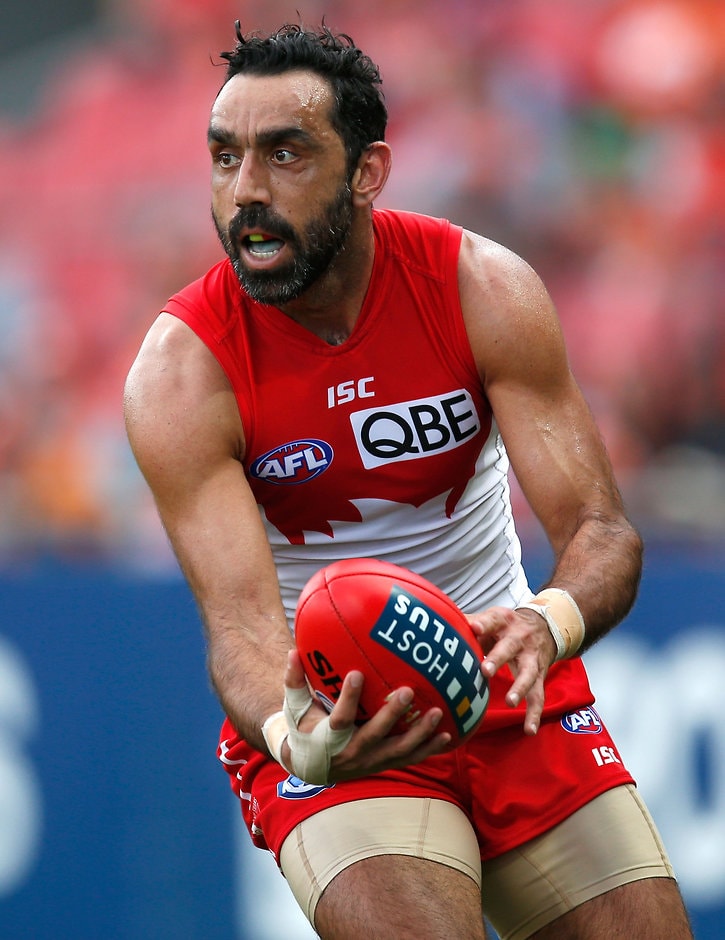 Who are the people who shape the modern game? AFL.com.au, in conjunction with the AFL Record, is publishing Ashley Browne's 'movers and shapers' list.
Over the summer, AFL Media's Ashley Browne surveyed dozens of people from throughout the football industry – AFL and club officials, coaches, media members and others who work full-time in the game to come up with the most definitive ranking of those who shape the game as it is today.
More than 100 names were thrown up, but we have narrowed it down to the top 50. In some cases, football identities with common interests and causes were lumped in together, but the final rankings reflect a diverse range and the interest is not just in who made the final cut but where they are ranked.
On Tuesday, we published names 50-31; following is the list of 30-11, with the top 10 'shapers' coming Thursday.
Trailblazer
30. MATT FINNIS
St Kilda chief executive
Finnis was a smash hit while at the helm of the AFL Players' Association, guiding the players through a hard-fought collective bargaining agreement negotiation with the AFL in 2011. And he hasn't stood still in 18 months at St Kilda, replacing virtually all the senior management team and securing a deal to move the club back to Moorabbin, bringing an end to the unpopular Seaford arrangement. Finnis is also earning rave reviews for his focus on the LGBTI space and at the Saints he has fostered a genuine atmosphere of inclusion and the language within the club has changed.
Elite man manager
29. ROSS LYON
Senior coach, Fremantle
On the morning of the AFL season launch in Adelaide in 2014, Ross Lyon was holding court in the lobby of an Adelaide hotel with a group of players clearly hanging off his every word. They weren't his Fremantle boys, but rather a few of the St Kilda players he abruptly walked out on little more than two years earlier to take the job with the Dockers. The players do not share whatever enmity some Saints fans might have towards their former coach. "His greatest strength is the rapport he has with his players," said one coaching identity. Lyon's 70 per cent winning record is the equal-best of any coach with 100 games or more without winning a premiership. He is awfully stiff not to have won a flag until now. He now has until 2020 to win one with the Dockers after recently signing a contract extension.
Top-shelf individual
28. MATTHEW PAVLICH
AFL Players' Association president, Fremantle record games holder
This shapes as a big year for Pavlich. His 2016 campaign will almost certainly be the last of a magnificent career. It might still end with that elusive first premiership for Fremantle. And as president of the AFL Players' Association he will at the forefront of what shapes as a testy negotiation with the AFL for the next collective bargaining agreement. But he is well-placed to handle it all – Pavlich is one of the most focused, prepared and professional footballers the AFL has ever seen and as one long-time associate said of life after football for Pavlich, "He'll be able to do whatever he wants."
The money man
27. PAUL CONNORS
Player manager
If there was a textbook example of how to move a high-profile player between clubs, it was Patrick Dangerfield's transfer from Adelaide to Geelong at the end of last season. There was no rancour, no posturing and Dangerfield was able move on knowing he had left it all on the ground for the Crows. "He moves players, the most valuable commodity in the sport," said one industry observer. From the time he cornered the famous 2001 national draft with the top four players – Luke Hodge, Ball, Judd and Graham Polak – Connors has been among the most powerful and respected player managers. He certainly drives a hard deal, but is universally regarded for the fair way he negotiates.
Port Adelaide proud
26. DAVID KOCH
Port Adelaide chairman
Before the former business journalist-turned-breakfast TV host took over the Port Adelaide presidency, tarpaulins used to cover entire bays of unsold seating at AAMI Stadium when Port played at home. Four years on, Port is challenging for premierships and playing in front of sold-out crowds at Adelaide Oval, with a match-day experience used as a template for by others.
Koch has used his profile and extensive business contacts to bring sponsors through the door to the stage where, from a commercial perspective, there is no longer much between the two South Australian clubs.
No.2?
25. TRAVIS AULD
General manager AFL clubs and AFL operations
After the annus horribilis that was the 2014 season, Auld's first order of business after leaving Gold Coast to join the AFL's head office was to get people back to the games and have a more enjoyable day at the footy once they were there. Metricon Stadium regularly rated as the best game-day venue when Auld was running the Suns and he received excellent reviews for his work with the AFL in 2015 as the League delivered fan-friendly enhancements, including LED lighting, improved pre-match entertainment, post-match kick-to-kick and cheaper food and drink. "The smartest thing the AFL did was bring in a former club chief executive," said one AFL insider, who regards Auld as the most capable person within AFL House to one day succeed McLachlan.
Matinee idol
24. NAT FYFE
Fremantle player, Brownlow medallist
Nat Fyfe's emphatic 2015 Brownlow Medal win was followed with almost universal acclaim. He plays the game with the type of flair that keeps casual viewers watching, but with a hardness that old-time footy fans love. Tall and athletic, quick and powerful overhead, he is the prototypical footballer for how the game will be played for the next decade. His effort to get on the ground – and play so well – with a broken leg in the preliminary final, will go down in football lore. A picture of a shirtless Fyfe snapped the morning after the Brownlow by AFL media manager Patrick Keane sent social media into meltdown. A new idol had arrived.
Brownlow Medallist Nat Fyfe back on the air this morning as he does the media rounds. pic.twitter.com/kFCNhQ3AXR

— Patrick Keane (@AFL_PKeane) September 28, 2015
Sounding board
23. BILL KELTY
Former AFL commissioner; adviser and confidant to key industry people
The longtime Australian union and labour movement figure ended a 17-year stint on the AFL Commission this time last year. But all this has meant is a shuffle of responsibilities. He immediately turned his attention to heading up a review of state league football and he remains an important sounding board for AFL commissioners and the executive, and various leaders at club level.
Kelty has always been mindful that football is a community-owned and operated code, and that dictated his thinking at Commission level and thereafter.
Doors ready to open
22. ADAM GOODES
Retired dual Brownlow medallist
Now retired from football after a distinguished 372-game career with the Sydney Swans, Adam Goodes will have no official role in the game this year. But such was his importance in the game, he is still regarded as a person of influence due to his proud and public display of his Aboriginality and his strong stance against racism in football. Belatedly, the AFL apologised to Goodes last week when it released its 2015 annual report for allowing the issue of him being booed to fester. A European summer holiday beckons this year, but when Goodes chooses to return to the game, he'll be able to do whatever he chooses.
Good for business
21. STEPHEN GOUGH
Melbourne Cricket Club chief executive
The key contract between the MCC and the AFL, which enshrines the MCG as the spiritual home of the game and the long-term venue for the Grand Final was signed before Stephen Gough arrived at the MCC in 2000 as chief executive. In his time in charge however, players, officials and supporters have been the recipient of modern new grandstands and world-class amenities. Pragmatic and a fair negotiator, he and AFL boss Gillon McLachlan are said to have an excellent working relationship. A former Carlton chief executive, Gough is the first football person to head the MCC.
Son of the west
20. PETER GORDON
Western Bulldogs president
In his first go-around as president of the Bulldogs, Peter Gordon was the "angry young man" ready to butt heads with the League over just about anything. And fair enough too, given the ham-fisted attempt by the then-VFL to merge the club with Fitzroy. Now into the fourth year of his second stint, Gordon has emerged as a lateral thinker still keen to challenge established thinking on football. And he uses a weekly radio spot on the ABC to good effect. He is also fiercely ambitious when it comes to the Western Bulldogs. The bar has been raised high at the Whitten Oval.
In a second stint as Dogs president, Peter Gordon is having a major say. Picture: AFL Media



Man with an audience
19. KEVIN BARTLETT
AFL Legend, broadcaster
For many years, the combination of his morning radio slot on SEN 1116 and his position on the AFL Laws of the Game committee made Bartlett one of the more influential people in the game. The former Richmond champion has always held firm views on how the game should be played. Subtle pushes from the coaches helped end his tenure with the rules committee, but the radio gig ensures he remains a powerful commentator.
Chairman material?
18. ANDREW NEWBOLD
Incoming AFL commissioner and former Hawthorn president
When this list was initially compiled Newbold was still president of the all-conquering Hawthorn, coming off three consecutive premierships. He helped the Hawks become a destination club and was a considered a wise voice in the raging debate within the game about equalisation. Since then he has accepted an invitation to join the AFL Commission and his experience at club level will be critical, given the perception that the game's ruling body can be unreceptive to the needs of the clubs. A strong critic of aspects of the AFL's equalisation policies, how he reconciles that while serving head office will be interesting. There are those who believe he might become chairman if and when Mike Fitzpatrick retires.
A new way ahead
17. PEGGY O'NEAL and BRENDON GALE
Richmond president and chief executive
These aren't the 'Eat 'em Alive' Tigers your grandparents remember. There are few more progressive clubs in the competition now than Richmond. O'Neal is the first female AFL club president while Gale, a former Tiger player and AFL Players' Association boss, walks the fine line between passion for the club and hard-headed, objective thinking. The Tigers have been an active and willing participant in the research project, Gender Equity: What Will It Take To Be The Best, in conjunction with the AFL and the Australian Sports Commission. As part of that, the club has set itself the target of having women comprise 40 per cent of its key committees and executive by 2017. "Brendon is changing the perceptions around the possibilities for the AFL," said one administrator.
Tigers president Peggy O'Neal is helping to reshape the game. Picture: AFL Media


The doyen
16. BRIAN COOK
Geelong chief executive
First with West Coast, where he spent a decade, and then Geelong, where he has been entrenched since 1999, Cook has long been regarded as the chief executive by whom all others are judged. Nearly broke and playing out of a sub-standard facility when he arrived in Geelong, the Cats have been transformed into one of the AFL's premier clubs with Cook's management philosophy a critical reason why. "He has this unshakable belief in where we need to go. He takes people with him and doesn't deviate from that path. He's the poster boy for stability, getting the right people in and backing them in," said one associate, citing the decision to retain Mark Thompson as coach at the end of 2006 following the much-vaunted football department review. Cook backed the embattled coach and the Cats won three of the next five flags.
Grassroots guru
15. SIMON LETHLEAN
AFL general manager, game development
A longstanding senior AFL executive, Lethlean switched roles earlier this year, moving from broadcasting to game development. Having helped secure a huge wad of cash for the AFL, now he gets to spend a large chunk of it in an area that is critical to the future growth of the game. Lethlean played reserves footy for Hawthorn while studying law and was involved in multiple premierships as a player and coach with amateur powerhouse Old Xaverians. "He has an innate knowledge of community football and great connections to the people who count," noted one AFL insider.
The number cruncher
14. RICHARD GOYDER
AFL commissioner
As managing director of Wesfarmers, whose portfolio includes Coles, Kmart, Target, Bunnings, Officeworks and Liquorland, the Perth-based Goyder is arguably Australia's most powerful retailer and is in the discussion for the country's leading business figure. Around the Commission table he is the sole West Australian and brings a strong club perspective, having previously served as a Fremantle board member. "He has a really good handle on the numbers," said one observer who noted that the departure from the Commission 12 months ago of Rio Tinto CFO Chris Lynch wasn't as big a blow as it may have been given Goyder's financial expertise.
Man of the people
13. MARK ROBINSON
Herald Sun chief football writer and AFL 360 co-host
It is a position that some of the giants of the caper, such as Alf Brown and Mike Sheahan, have occupied in the past. It would be a stretch to place Robinson in their company, but "the bloke in the outer" shtick plays well with readers and has also translated into the co-hosting gig on AFL 360 and regular appearances on SEN. Footballers and coaches like talking to Robinson and a host of them have opened up to him for in-depth interviews. "He is the conduit to the people and while some don't necessarily like him, his commentary can't be ignored," said one club official.
Servant of the game
12. ANDREW DILLON
AFL general counsel; general manager legal, integrity and compliance
Like Lethlean, Dillon is part of the powerful Old Xavs network within the AFL industry. A key member of the AFL executive for several years, he has taken the growing integrity department under his wing. "He deeply cares about the game and has a great relationship with players and coaches," said one executive. "But he has to make some really hard calls without fear or favour." There are some at the AFL who believe if Gill McLachlan was suddenly incapacitated, Dillon is the best-credentialled person at AFL House to fill his shoes. "But that's not to say he has any designs on the job because I don't think he has," said another observer.
Still a 'He-Man'
11. LEIGH MATTHEWS

AFL Legend, Brisbane Lions vice-chairman, commentator
An official Legend of the game, with four premierships as a player and four as a coach to his name, Matthews will always command huge respect within AFL circles. Surprisingly, his role on Channel Seven has been downsized to Sundays only, but his spot on 3AW each Thursday evening with Gerard Healy on Sports Today is always captivating. "He has such a crystal-clear mind," said one industry observer. "The decision-makers are crazy if they're not listening to him." Matthews also serves on the AFL Laws of the Game committee and is the football director of the Brisbane Lions. One shudders to think where that club would be had he not got back involved at board level.
With significant off-field influence, Leigh Matthews remains a giant. Picture: AFL Media