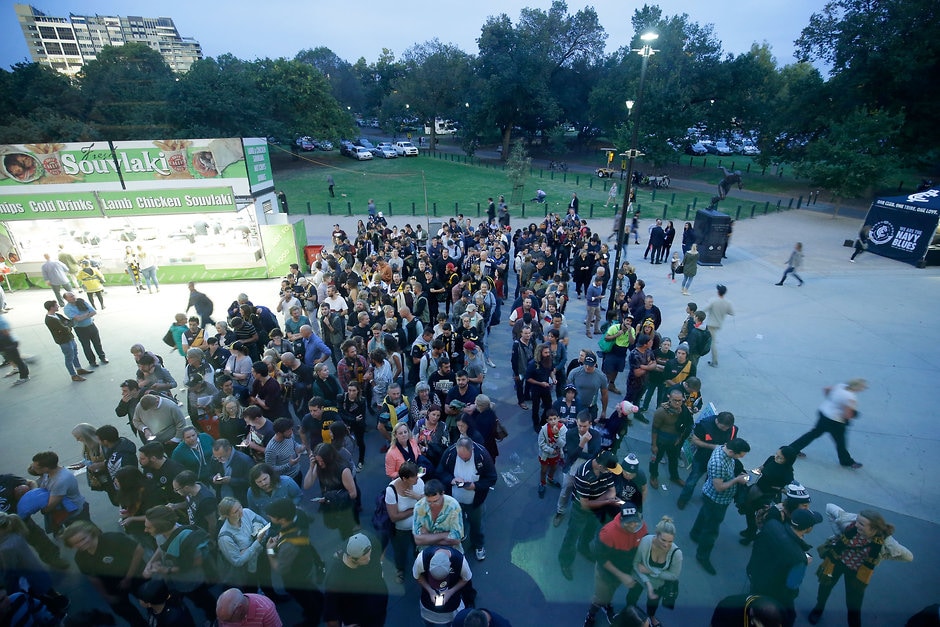 TICKETEK'S mobile website has broken down on the opening night of the season, resulting in long delays for supporters trying to get into the MCG for Richmond's clash against Carlton.
The ticketing failure follows Ticketek's website crash earlier this month, which forced the AFL to push back the release of tickets for the opening rounds of the season.
There were long queues outside the MCG on Thursday night, after fans were unable to access mobile tickets via the Ticketek website and were sent to vendors to have their tickets printed.
So thousands of fans and I have missed the first bounce due to @Ticketek_AU new ticket message failure pic.twitter.com/mWG3KryjZ8

— cameron beaman (@CamBeaman) March 24, 2016
Ticketek is the ticketing agency of choice for the Melbourne Cricket Club, which said it would meet with the AFL and Ticketek to resolve the problem as soon as possible.
"The problem related to Ticketek's mobile ticket system," an MCC spokesperson told AFL.com.au.
"People did have to wait and go and get a printed ticket, which is not what we want."
Had to buy a SECOND ticket just to get in because the line was 100m for @Ticketek_AU as no one's tickets were working. I expect a refund

— Shannon Schmidt (@shannonschmidt) March 24, 2016
The MCC said the problem had been resolved by quarter-time and all fans were inside the ground.
The AFL has put a significant focus on 'fan experience' in the past 18 months and apologised to fans who were inconvenienced by the previous Ticketek system failure.
The AFL was not in a position to provide an update on the ticketing breakdown when contacted by AFL.com.au late on Thursday night but was preparing to meet with the relevant parties on Friday to resolve the issue.
AFL.com.au has contacted Ticketek for comment.
However, Ticketek apologised directly to several customers who complained on Twitter about the difficulties in entering the MCG on Friday night.
@FeeoMatt Hi there, our apologies for the inconvenience. Please make your way to the box office to have tickets reissued.

— Ticketek Australia (@Ticketek_AU) March 24, 2016