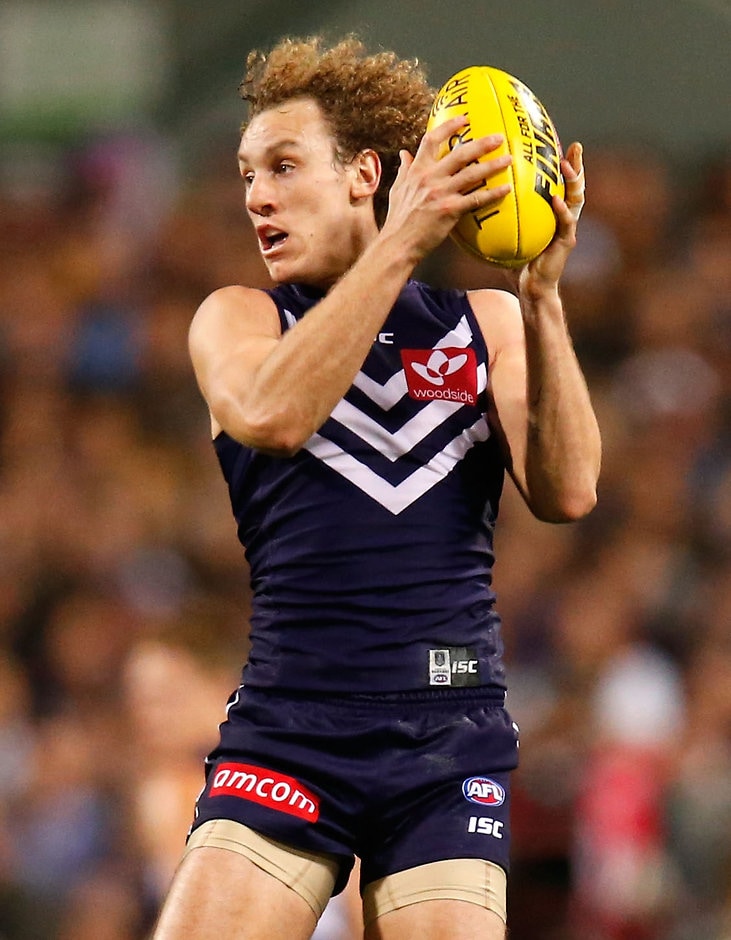 AN OFF-SEASON working on his goalkicking, including help from the club's psychologist, has Fremantle forward Chris Mayne primed to return to his deadly best in 2016.
Mayne made a name for himself in 2012 and 2013 when he kicked 76.19 across the two seasons. He was the most accurate of the top-20 goalkickers in the AFL over those two years.

He finished second in the Dockers' best and fairest in 2012 and was named in the All Australian 40-man squad in 2013 but missed the final 22.

But his goalkicking prowess has dropped in the past two seasons. He still kicked a tidy 41.29 across although 2014 he kicked just 13 goals as he was hampered by a back injury.

Uncharacteristically, Mayne kicked 2.4 in his two games in the NAB Challenge.

He said the secret to his goalkicking lies in focussing on his trademark routine and not worrying about the outcome.

"You fight yourself mentally every time you have a shot," Mayne told AFL.com.au.

"You always think outcome first, 'I've got to kick this, I have to kick this'.

"You really need to just try and bring that back to being able to deliver on the process. And that's what I focussed on in 2012-13. I really focused on more process than anything and really built up a kind of reputation that drew me to be outcome driven and be more expectant.

"So I'm really trying to get back to just focusing on my process and that will get me through and that will be what delivers you the outcome you want.

"If you're too busy thinking, 'I should kick this or I have to kick this' then you just mentally forget little things that help along the way and you kind of give yourself the yips in a way.

"Most players will probably say that. It's always their own self that mucks them up but that's kind of what I've got back to and what I'm focusing on and just really working closely with Kim Mercer our psychologist and Mark Stone (Dockers' forwards coach)."

Mayne still values the defensive side of his game as his strong suit and said that his goalkicking opportunities will come on the back on strong defensive pressure and two-way running.

He was the Dockers' leading tackler last season and his pressure and effort can never be questioned.

"My defensive side of the game is strong and I want to be one of the best players in that area in the competition as a forward," Mayne said.

"So that's really what I focus on because that's what I feel gives me the advantage the other way. The harder I work defensively the more it will come the other way."

While Mayne takes his football very seriously he is extremely passionate about his charity work. He was nominated for the AFL's Jim Stynes Community Leadership Award last year for his work, which includes a role as an ambassador for the Starlight Children's Foundation. The Dockers have had a 14-year relationship with the charity and it is a foundation that is close to Mayne's heart.

The charity focuses on improving the lives of sick children and their families. Mayne himself was in and out of hospital as a child after he was born with a cleft lip and palate.

"I look at what I've dealt with and gone through, it's definitely nothing to the seriousness of what the kids are going through at the moment," Mayne said.

"I'm very lucky that I've been able to live out my dream, where some of the kids have been a little bit unfortunate."

The Dockers are holding their annual Starlight purple haze fundraising game next week against Gold Coast at Domain Stadium and are hoping to raise more than $1 million.