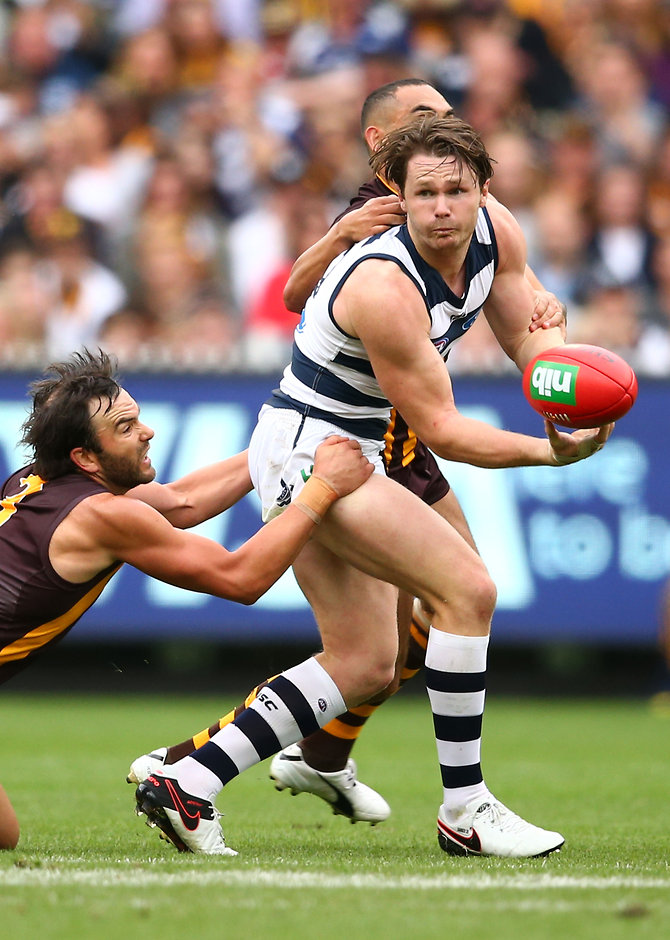 I suspect he's thinking he can play better than that
Cats coach Chris Scott on Patrick Dangerfield
PATRICK Dangerfield has fitted in as seamlessly to Geelong and its midfield group as his best-on-ground performance on Easter Monday suggests, Cats coach Chris Scott says.
In his first premiership match for Geelong, Dangerfield had a game-high 43 possessions in the 30-point win over Hawthorn – eight disposals more than the next best player on the ground, Hawk Sam Mitchell, and 18 more than any of his new teammates.
The former Crow underlined against the Hawks that he is one of the most complete midfielders in the game.
How Dangerfield delivered a history-making debut
He did the hard stuff at stoppages, winning an equal team-high seven clearances and four centre clearances.
He busted the Hawks' defensive lines with the explosive speed that has carried him to multiple Grand Final Day sprint wins.
And he terrorised the Hawks' defenders in the final term with his forward-line smarts and contested marking – his speccie over Ben Stratton would have made any key forward proud.
DANGERFIELD! #AFLCatsHawks https://t.co/b2slSRfX3n

— AFL (@AFL) March 28, 2016
But for all the on-field qualities Dangerfield brings to Geelong, Scott says it's been his down-to-earth attitude that's been most endearing.
Asked whether it had been hard for Dangerfield to jell with a new midfield group after eight seasons with Adelaide, Scott smiled and said: "Actually, it looks like it's been pretty easy to me."
"One of the things we love about him is he's worked really hard to fit into our program. He's a humble young man (despite) being as good a player as he is.
"To my eye, he hasn't tried to come in and influence the way we go about things too much, he just wants to play his part.
"It was a pretty good part today. Irrespective of how good a player you are, when you go to a new club you want to earn your stripes.
"All of our guys to a man have done that really well."
Danger in the zone as Cats down Hawks in classic
For his part, Dangerfield said the Cats' midfield group had worked hard over summer to build the chemistry that helped it get the better of the Hawks' on-ball division.
"There are a lot of new faces but the entire group has a want and will to be good," Dangerfield said after Monday's game.
"So we've been willing to put in the extra work throughout the pre-season and we'll continue to do that.
"We're not going to rest on our laurels and enjoy the win. We'll enjoy it for 12 hours and then focus on the next opponent."
Jimmy Bartel, Patrick Dangerfield and Joel Selwood celebrate. Picture: AFL Media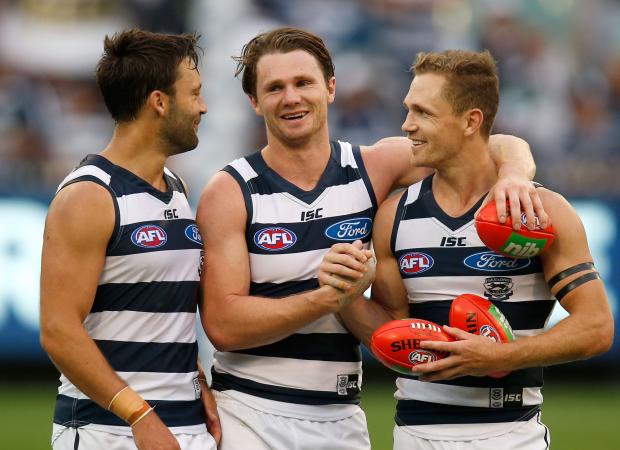 Dangerfield understood the focus would be on him after his outstanding club debut and happily fielded questions from reporters in the Cats' rooms, where the buzz of a successful opening to the season made it hard to hear his answers.
But, just as Scott would do in his press conference minutes later, he quickly switched the conversation to his teammates, praising forward Shane Kersten's defensive job on Hawk defender Josh Gibson and Joel Selwood's 23-possession return after an injury-plagued pre-season.
Scott acknowledged Dangerfield had been "good obviously", but was at pains to point out the efforts of ruck duo Zac Smith and Rhys Stanley, who he said had given their on-ballers "far superior" service than any they had enjoyed in recent seasons.
Asked whether he had seen a better first game for a club, Scott suggested his new midfielder star sets the bar very high for himself.
"I suspect he's thinking he can play better than that. There were a few errors in front of goal," Scott said.
Dangerfield did miss two relatively straightforward set shots for goal in the final term, while he added a third behind with a snap from a difficult angle.
Dangerfield conceded the first two misses had been disappointing.
"I think I might have to do some extra goalkicking with Blake Caracella this week," he said.
"I wasn't very nervous, I think I just didn't hit it that well. I needed to go through my routine a little bit better than what I did.
"But I'm sure the boys won't let me live it down."
Josh Caddy and Dangerfield celebrate a goal late in the Cats' win. Picture: AFL Media