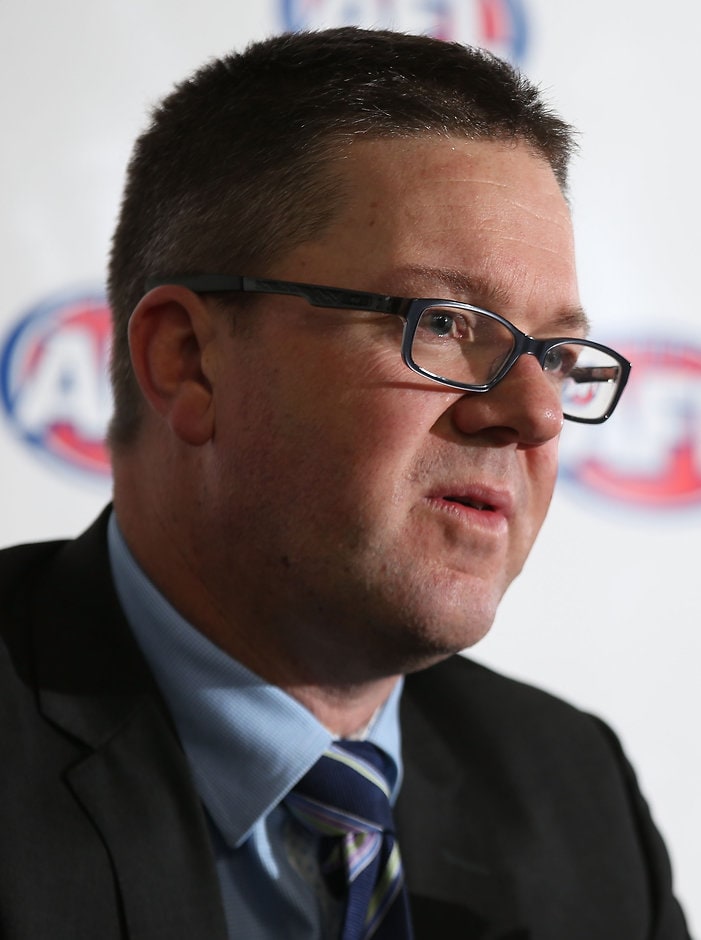 [Walking away] would not be the ideal outcome but I do want to understand what the players have to say
AFLPA CEO Paul Marsh
THE AFL Players Association will discuss the League's illicit drugs policy at its next board meeting and seek feedback from players on their future participation in the voluntary program.
While stressing that the AFLPA wanted to give the revamped policy time to prove its effectiveness, CEO Paul Marsh gave his first indication that walking away from the policy was an option after the players' anonymity was breached.
"We'll get a feel from the complete playing group over the coming weeks," Marsh told radio station SEN on Tuesday night.
"We've got a board meeting coming up where we'll discuss it.
"From where we sit, [walking away from the policy] would not be the ideal outcome but I do want to understand what the players have to say on this.
"I do want to have a conversation with our board in a few weeks' time and from there we'll work out where we go."
Marsh was seething after News Corp reported last week that "up to 11" Collingwood players had tested positive to illicit drugs during off-season hair testing.
While the figure reported was wrong, according to Marsh, the report nonetheless raised concerns about the confidentiality of the results.
"What it has done over the last few days is put the entire playing group, particularly the Collingwood players, in a very difficult position and a very unfair position," Marsh said.
"We've had players come out the other side no longer taking illicit drugs, [so] there are success stories here and that's the first and foremost reason the players have adopted this.
"But it has to be done under the condition of confidentiality … why this needs to play out publicly is just beyond us."
The competition-wide hair testing for illicit drugs is done during the players' holiday period and with the agreement of the AFLPA.
The 2015 off-season was the first break in which the AFL conducted the testing.
The raw numbers for positive hair tests are passed on to officials but a player's identity is only revealed after he has tested positive for illicit drugs twice.
Marsh said the AFLPA did not want to know the results of the testing as it would put them "in the gun" if leaks occur and they were not the right people to help the players.
While he would consult with the players in the coming weeks, he said the industry needed to take a "balanced look" at the new policy and not have a knee-jerk reaction to the confidentiality breach.
"We are having some success here, so it would be a real shame to throw the baby out with the bath water," he said.
"We think we need to give this a minimum of 12 to 18-24 months before you can get a look at it.
"Let's just see if the changes we've made actually work."