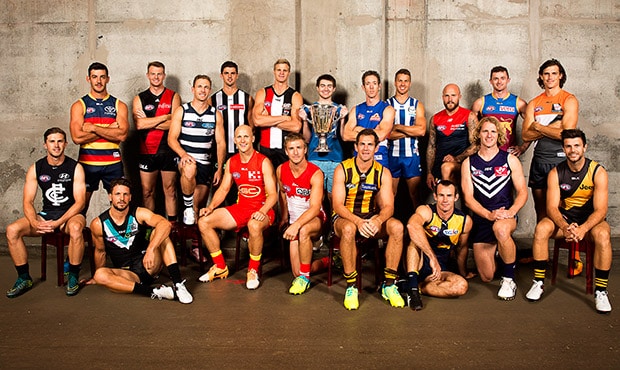 AFL Fantasy coach Jonathan Pertile won the chance to meet the 18 club captains. He tells the tale of what it was like to meet his heroes.

A photo in many ways is meant to tell a thousand words and this was certainly the case. So there is a double standard here with me writing a reflection, but I will let that slide. I want to take you through my overwhelming thoughts and feelings which I shall never forget — not even if Alzheimer's strikes me late in life.

I'm standing alongside some of the greats of the game; holding the 2016 AFL Premiership Cup aloft in my sweaty hands.

Beforehand I was visualising this moment intensely, becoming more preoccupied with the reality that these AFL captains (bar Pierce Hanley who was covering for Tom Rockliff's absence pertaining to the Brisbane Lions Football Club) would be leaps and bounds taller than I am.

I am holding the 2016 AFL Premiership Cup and I have done literally nothing to earn it. I had not made my AFL debut or gone through a torturous pre-season. I would even eat McDonald's occasionally straight after local football training. If I was ever given the chance to play for an AFL club and renewed my old habit of eating McDonald's frequently — the nutritionist would fire me.

Luke Hodge, a four-time premiership player handed me the 2016 AFL Premiership Cup, and I was completely shocked. Next thing I know Gary Ablett is asking me for advice on AFL Fantasy? I was frozen — could not process everything in, yet hindsight tells me: Gary ensure you lock the big 'C' next to your name. (In AFL Fantasy, your selected captain gives you double the amount of points than an ordinary player usually receives).

The champion standing beside me, Nick Riewoldt, has never experienced premiership glory. A part of me wishes I just handed Nick the 2016 AFL Premiership Cup and said, "take it and run, you have come too close — here is your chance." As soon as the photo was taken, Nick was patting my back. I felt as though he knew just how elated I was with the whole process.

I will look back at this photo in thirty years time and hopefully say to my friends and family, "I had a photo with the 2016 AFL captains (aside from the absence of Tom Rockliff) which included Scott Pendlebury: he is a quadruple-premiership player and a winner of the prestigious Brownlow Medal." I am a proud Collingwood supporter; but I'm not too zealous to say I wanted the photo in black and white, no — the colour is just right, as was this very moment.