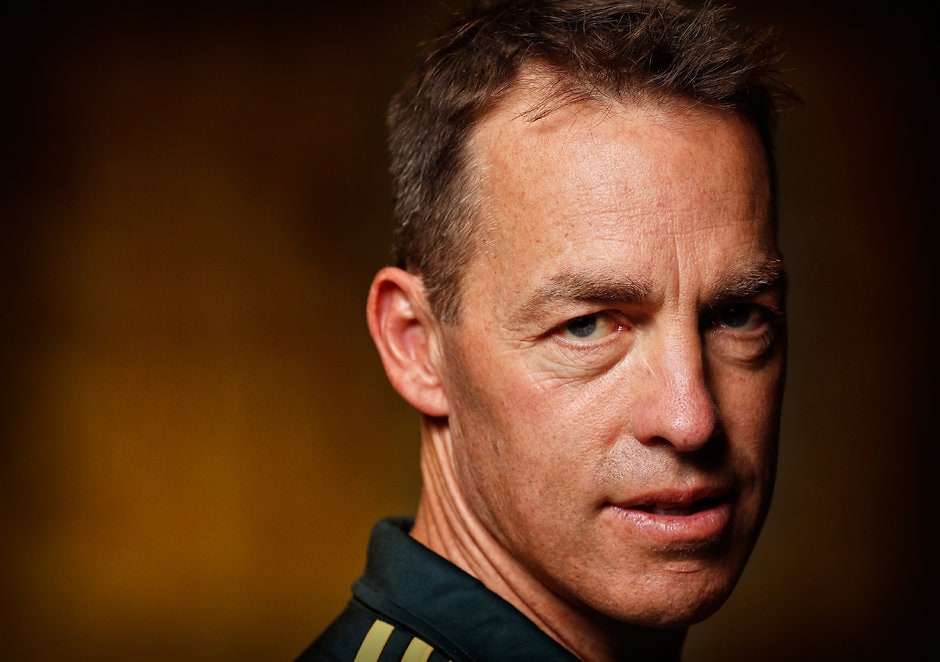 The challenge for us is to make sure we continue to change and evolve.
Hawthorn coach Alastair Clarkson
HAWTHORN coach Alastair Clarkson was at Harvard University in February attending one of his regular off-season study courses when a business stat with clear football parallels was put to him.
Of the Fortune 500 companies from 20 years ago, only 10 per cent remained, showing that those who refused to innovate inevitably perished.
The example frequently given to business students is photographic company Kodak, which built its business on film and refused to adapt as digital camera technology took over.
Clarkson's 'Kodak moment' came in 2009 when he simply tried to replicate the premiership-winning feats of 2008 and saw his team miss the finals.
It's a mistake he has never repeated and the Hawks' ruthless off-season trading only reinforced the coach's determination to avoid the fate of those Fortune 500 companies.
"These are multi-billion dollar companies that have been very successful … but they've either got caught up with their success or they've fallen by the wayside because of their inability to change," Clarkson told AFL.com.au.
"Football clubs are no different to that and we learnt a really good lesson in 2009 when we just tried to replicate what we did in 2008.
"The challenge for us is to make sure we continue to change and evolve and not get caught up in thinking, 'We're going pretty well and let's just keep doing what we've always done'."
Hawthorn needed to adapt after a 2016 season that saw it finish without the hunger, passion or energy needed to win an historic fourth consecutive premiership.
Game plan tweaks will happen, and Clarkson conceded his past dismissal of contested ball was something the team "needed to address and work on" over the pre-season.
The most important ingredient, however, would be rediscovering the passion that went missing when the whips were cracking last year.
"In a pretty closely fought Grand Final, it was that passion and energy that eventually willed the Western Bulldogs over the line in my view … Hawthorn didn't have that last year," Clarkson said.
"We'd had to compete so hard in so many games just to get across the line … we just didn't have the hunger and the energy after what had been a pretty gruelling campaign for us.
"That passion comes about with cohesion, knowing what you're doing, a real togetherness, a real mission that you're on.
"It's a difficult ingredient to find and we've been able to find it a fair bit, but in the last part of last year we couldn't and part of it was because we didn't have the energy to commit to it."
When asked how the Hawks' best football in 2017 with differ to that of 2016, Clarkson points immediately to key forward and new captain Jarryd Roughead.
Sidelined for the entire 2016 season as he battled cancer, Roughead's absence highlighted his true value to a club that had typically moved on quickly when injury struck.
"We've always had a mantra at our footy club: 'lose a soldier, replace him with another soldier'," Clarkson said.
"It's probably only when you have such a key figure like him go out of the game that we just fell away in some crucial areas last year.
"In our reviews of the season we realised that his absence was pretty significant, and it debunked our theory in a way, because he was such a difficult soldier to replace."
As inspiring as Roughead's return will be against Essendon in round one, the Hawks can't simply bank on their new skipper to be the difference between a losing semi-final and a premiership in 2017.
There would be other ingredients, Clarkson said, including an increase in responsibility on midfielders Liam Shiels, Isaac Smith, Billy Hartung and Will Langford.
But as important as those players may prove, it will be a season measured against Hawthorn's blockbuster trade period and Clarkson's refusal to perish by simply doing what he's done.