ACE ESSENDON midfielder Brendon Goddard and young Hawthorn forward James Sicily will likely exchange a knowing nod and a smirk when they cross paths before the opening bounce at the MCG on Saturday night.
It will be the pair's first reunion since they forged a lifelong link by achieving an extraordinary sporting double during the off-season.
Both had a hole-in-one playing in the same group in a mid-week golf competition, the odds of the dual aces akin to winning the lottery.
Playing on opposing teams, Sicily hit the perfect shot with a seven-iron at the 161m par-three 12th hole at the prestigious Huntingdale course in Melbourne. And just three holes later, Goddard incredibly matched the feat when his eight-iron shot at the 141m 15th-hole took one bounce and hopped into the cup.
Sicily, who had only officially been a Huntingdale member for three days, played with friend and fellow member Michael Choi, an Australasian PGA tour pro, against Goddard, who plays off scratch at top-ranked courses Metropolitan and The National. Goddard had been invited to play by his manager Craig Kelly, Collingwood's 1990 premiership defender.
With Goddard square with the card when he pulled the eight-iron from his bag and just four holes to play, he and Kelly, also a Huntingdale member, had already clinched the side bet on the match, the winnings traditionally used to buy first drinks in the clubhouse.
Unfortunately for Sicily, he didn't have any cash on him when he and Goddard met socially for the first time on Huntingdale's first tee.
Brendon Goddard is pretty handy with a golf club in his hand. Picture: AFL Photos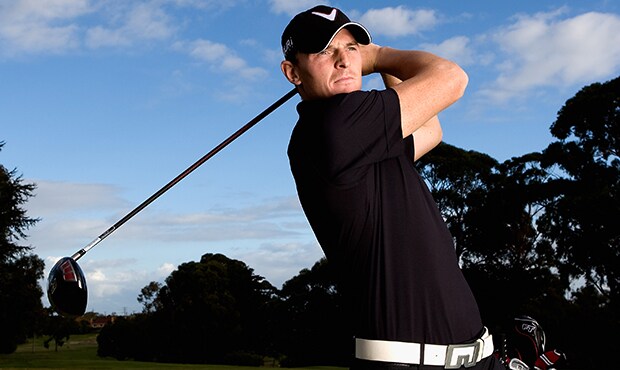 "I've still got that up my sleeve. James actually pre-warned us that he didn't have any money with him when we talked about what we were playing for prior to teeing off," Goddard said.
"At the end of the round after Ned (Kelly) and I won, I just reminded him not to forget my $30 and to have it in his sock when we played each other in the first round. I told him he had to hand it over before the centre bounce."
Sicily, who had only seen Goddard on the football field before that freakish four-ball in summer, is content to remain in the Bomber's debt until there's a more appropriate time to pay up.
"I actually do owe him 30 bucks and he did joke about that. He told me to make sure I have the 30 in [my] sock," the Hawk said.
THE IS AN EDITED VERSION OF A STORY PUBLISHED IN THE FEBRUARY-MARCH EDITION OF GOLF VICTORIA MAGAZINE.