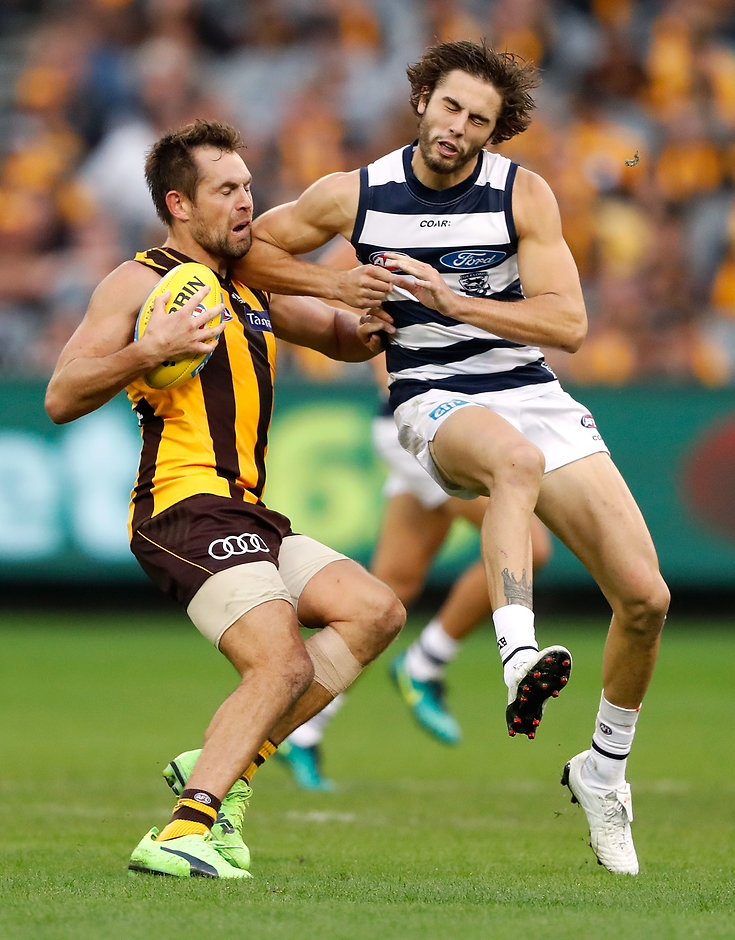 THE AFL Tribunal will not meet on Wednesday night after Match Review Panel sanctions from the Hawthorn-Geelong clash on Monday were accepted.
Geelong suffered a double blow at the Match Review Panel, with rookie James Parsons and midfielder Sam Menegola both rubbed out for the Cats' clash with St Kilda on Sunday.
Parsons accepted a two-match suspension for a stray elbow to the head of former Hawthorn captain Luke Hodge, while Menegola accepted a one-match ban for a dangerous tackle, also on Hodge.
Hawks veteran Josh Gibson was cleared and is available to face West Coast on Sunday after being scrutinised for a bump on Tom Ruggles that resulted in an accidental clash of heads.
Coach Chris Scott defended Parsons' actions to an extent on Monday night, explaining that the 20-year-old could have been preparing to bump but found himself out of position.
Menegola's dangerous tackle on Hodge, which resulted in a match-day report, was graded careless conduct with medium impact to the head.
Hodge was slung and slammed into the centre circle turf at the MCG in the third quarter, but he was able to play on despite his head making significant contact with the ground.
Medical reports from Hawthorn were used in both cases against the Geelong pair.
However, the MRP typically reserves the right to upgrade impact because of the risk of serious injury with elbows to the head and dangerous tackles.
In clearing Gibson, the Panel said the defender had made body-to-body contact with Ruggles and the players' heads had clashed "in the course of that contact".
"It was the view of the Panel that the degree of force in Gibson's block was not excessive for the situation," the MRP said in its findings.
"Gibson did not run a long distance to support his teammate and Gibson did not jump or leave the ground to make contact with his Geelong opponent.
"On consideration of all those factors, the Panel's view was that Gibson's actions were not unreasonable in the circumstances and no further action was taken."