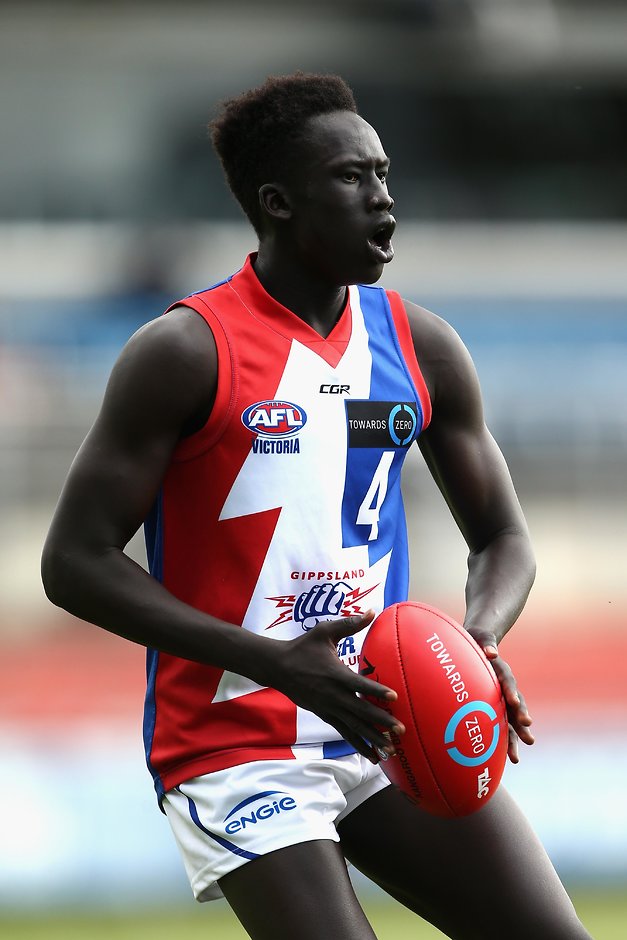 EXCITING forward Changkuoth Jiath leads a group of 11 draft prospects eligible to join clubs as Next Generation Academy players this year.
Jiath, who plays for the Gippsland Power in the TAC Cup and for Xavier College at school level in Melbourne, can join Hawthorn under the AFL's rules to boost the numbers of multicultural and indigenous talent in League ranks.
The lightly framed Jiath has impressed at stages this season across half-forward with his pace and endurance, and creative streak. He will be subject to the same bidding process as father-son and northern academy players if a rival club places a bid on him during the national NAB AFL Draft later this year in Sydney.
However, clubs were able to select the NGA eligible players automatically as category B rookies last year if they were overlooked as both rookies and for senior list positions.
Jiath is one of four NGA players who have been approved as eligible for the Hawks this year, including ruckman Tony Olango, who was overlooked last year.
The list is a rolling group, with more names set to be added as the year goes on and more players are identified by clubs. An AFL committee rules on each prospect's eligibility before the group is officially updated.
The Hawks, Carlton and Richmond appear to have the most prominent NGA zones so far, with the Tigers having three players qualifying for this year's draft.
The group of 42 names approved by the AFL includes prospects who will be eligible to join clubs as far away as the 2023 draft.
Next year could see the first top-end player taken under NGA rules, with North Melbourne having access to Tarryn Trindall (Thomas) via its Tasmanian zone. He is a member of the NAB AFL Academy and has already excited recruiters over the past 18 months.
The Hawks could also benefit again in two years with talented under-16 player Todd Garner in the club's NGA academy. He is the younger brother of highly touted Joel Garner, a sweeping left-footer who is in the frame to be a first-round pick this season.
NEXT GENERATION ACADEMY – ELIGIBLE PLAYERS
CARLTON
Ethan Penrith (2017 draft eligible), Reservoir (club), Indigenous (background)
Artan Cabdi (2017), Heidelberg Heights, Multicultural
Nick Riebelt (2018), Eltham, Multicultural
Sunny Brazier (2018), North Fitzroy, Multicultural
Mitchell Wild (2018), South Morang, Indigenous
Michael Bozikis (2019), Fairfield, Multicultural
Paul Sidhu (2019), Mernda, Multicultural
Tochukwu Oparaocha (2019), Wollert, Multicultural
Cameron Wild (2019), South Morang, Indigenous
ESSENDON
Daniel Hanna (2017), East Keilor, Multicultural
Lucas Cooper (2018), Maningrida, Indigenous

FREMANTLE
Jason Carter (2018), Wyndham, Indigenous
Liam Henry (2019), Derby, Indigenous
GEELONG
Titak Nyak (2017), Corio, Multicultural
HAWTHORN
Tony Olango (2016/17), Marrara, Multicultural
Changkuoth Jiath (2017), Morewell, Multicultural
Bol Jok (2017), Pakenham, Multicultural
Tyrone Hayes (2017), Lakes Entrance, Indigenous
Stephen Kapahnke (2018), Macclesfield, Multicultural
Irving Mosquito (2018), Briagolong, Indigenous
Marcus Toussaint (2019), Inverloch, Multicultural
Todd Garner (2019), Gruyere, Indigenous
Tot Jok (2019), Pakenham, Multicultural
Charles Power (2019), Heathmont, Multicultural
Sebastian Reyneke (2019), Park Orchards, Multicultural
Harrison Pepper (2019), Morwell, Indigenous

NORTH MELBOURNE
Tarryn Trindall (Thomas) (2018), Hadspen, Indigenous
Leiwyn Jones (2019), Launceston, Indigenous

RICHMOND
Derek Smith (2016/17), Mildura, Indigenous
David Smith (2017), Shepparton, Indigenous
Anthony Walker (2017), Kialla, Indigenous
Ajak Dang (2018), Mooroopna, Multicultural
Kyle Clarke (2018), Shepparton, Indigenous
Phillip Moi Moi (2018), Robinvale, Multicultural
Kailen Walker (2018), Red Cliffs, Indigenous
Hugo Ingham (2019), Shepparton, Multicultural
Peter Clarke (2019), Mildura, Indigenous
Kobe Brown (2019), Mildura, Indigenous
Masang Dang (2020), Mooroopna, Multicultural
Abel Conners (2020), Shepparton, Multicultural
Nathan Louw (2023), Swan Hill, Multicultural

WESTERN BULLDOGS
Buku Khamis (2018), St Albans, Multicultural