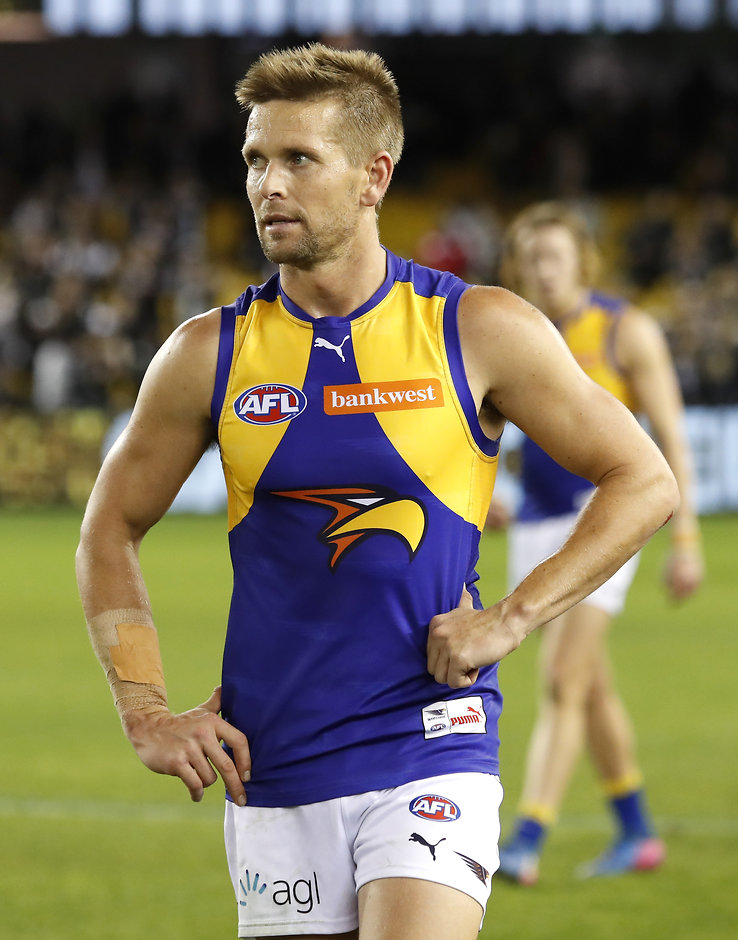 To talk about his future publicly, I think that's disrespectful
Adam Simpson on Mark LeCras
ADAM Simpson has refused to speculate on the future of veteran forward Mark LeCras but says 'the ball is in Lecca's court'.
Commentator David King called for LeCras to never play again after the Colingwood defeat, but Simpson refused to fire back at his former North Melbourne premiership teammate.
"They're irrelevant to me what David says about my players," he said.
"The ball is in Lecca's court.
"He's done a lot for our club. He's been an A-grade talent and an A-grade player. To talk about his future publicly, I think that's disrespectful."
Eagles opponents know we're battling: Simpson
LeCras' future will remain a talking point for the rest of the season, with the inconsistent veteran, who turns 31 next month, out-of-contract this year.
Simpson insists the future for West Coast is bright, and he wants to be the one to lead them to glory.
"All can say is I'm up for the fight and I'm really optimistic about our future," Simpson said.
"The age profile of our list will change very, very quickly - I guarantee that.
"We can't dismiss our whole list and we can't just bottom out and just play the kids and write off the season.
"It's still up for grabs. We'll do everything we can to win this week and keep an eye on the future as well."

Mitchell was in the coaches' box against Collingwood preparing for life as an assistant but the 34-year-old will return against the Brisbane Lions on Sunday.
Whether Mitchell plays on next year or becomes a full-time coach hasn't been revealed.
The former Hawthorn champion's combination with Priddis has been a headache, and the latter's future is also unclear.
"What 'Pridda' does in the future is up to him, he's contracted for next year so we'll work through all those situations as we go forward," Simpson said.
"He's played some really good footy this year and he's played some games that have been a bit down."
Sam Mitchell watches on from the coaches box at Etihad Stadium last Sunday. Picture: AFL Photos

Simpson said second-year midfielder Luke Partington wasn't far off a debut but was wary of external expectations being too high on the ball-magnet who is still working on his deficiencies.
Meanwhile, Scott Lycett's season remains in doubt with the big man struggling to overcome a sore shoulder. He will be tested on Thursday and ruled out for the year if he can't play this weekend.
Simpson is yet to map out a plan with Nic Naitanui following his return from an intensive two-week training camp in the US.
Despite West Coast's flagging finals chances, the star ruckman still hopes to play this season coming back from a knee reconstruction.
"There's five weeks to go in the season and I'd say he'd need every minute of that to get AFL ready," Simpson said.
"They're not connected, the season and Nic's return."