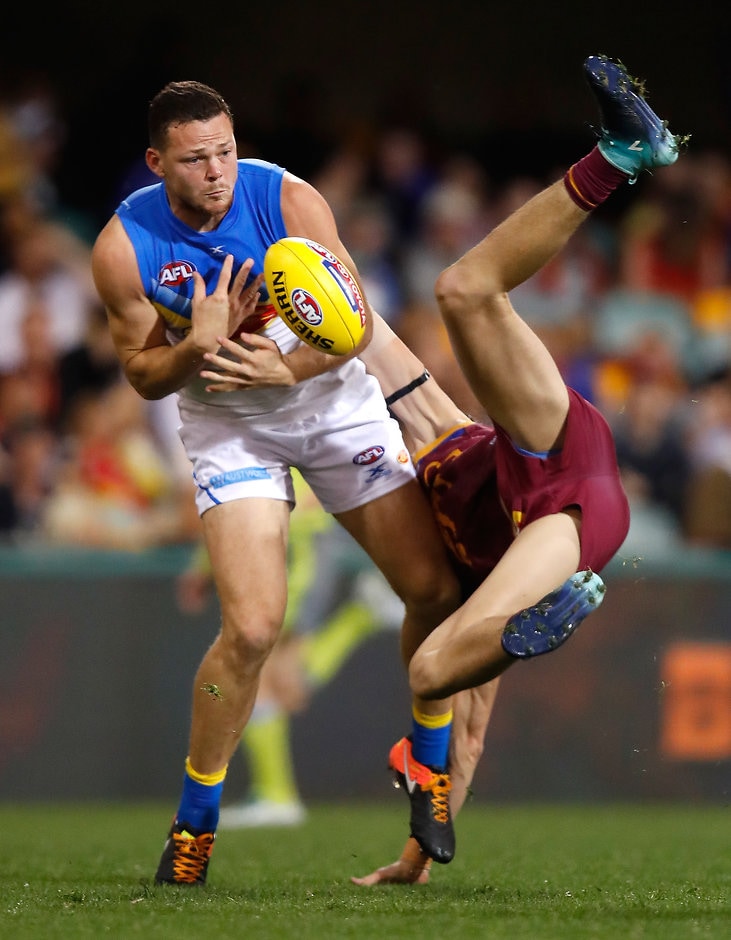 DEAN Solomon is sick of the excuses for Gold Coast, and he wasn't making any after the Suns were belted by the Brisbane Lions on Saturday night.
Solomon took over from sacked Rodney Eade on Tuesday, and had a blunt assessment of Gold Coast's first performance under his guidance.
"What we produced tonight was unacceptable for two-and-a-half quarters," he said.
The Suns led by 22 points early in the second term, then completely folded, conceding 10 of the next 11 goals and 17 of the game's final 21.
During the third quarter a number of Suns looked like they were running on a treadmill, so slow were they moving and so swift was the Lions' ball movement.
WATCH: Dean Solomon's full post-match press conference
Solomon said neither the change of coach or the high injury toll were excuses for the drop off.
"We've got to stop talking about who's out and talk about who's in as a football club," he said.
"It's AFL footy. It's a ruthless business.
"We can't sulk, we can't mope, we've got to get on with it.
"It's a consistent trend, we do fall away too easy.
"That's what we need to address.
"There's no magic formula, it's pure hard work and that's what the boys are committed to for the next two weeks.
"There's only one thing that builds confidence, that's hard work."
Five talking points: Brisbane Lions v Gold Coast
Solomon said the team had prepared well, and the first quarter was full of intensity and enthusiasm as the Suns built a deserved 21-point lead.
They led every statistical indicator comfortably, with Touk Miller and David Swallow dominating the clearances, Jack Martin kicking three goals, and the small forward line laying a mountain of tackles in the forward 50.
"Unfortunately at times they just went away from the gameplan we put in place," Solomon said.
"It's a gameplan based off hard work, not talent, and unfortunately that hard work dried up and we were reactive and got what we deserved.
"We're not going to make excuses for our team, we got outworked, outplayed."
Solomon was clearly frustrated by his first game in charge, but said he and the Gold Coast assistant coaches would do everything they could to end a six-game losing streak against Essendon next week.