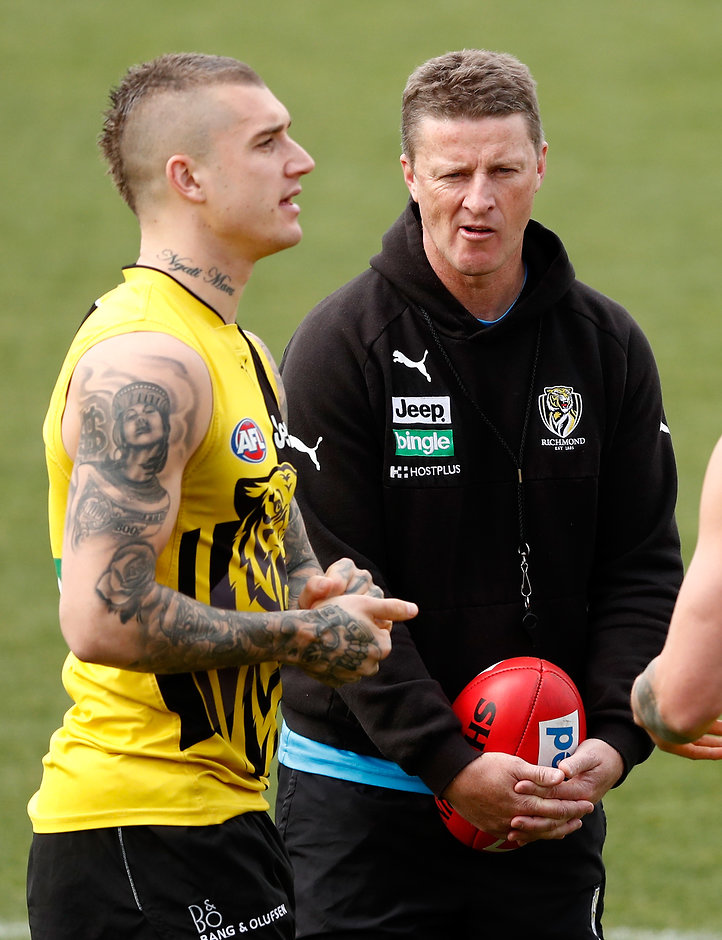 I think Trent Cotchin's contribution has gone under the radar because Dusty is playing so well
PRESSURE is what September is all about, and the pascal gauge is reading 'high' at Richmond heading into Friday night's qualifying final with Geelong.
Three-straight elimination losses in recent times has brought media scrutiny, with coach Damien Hardwick and captain Trent Cotchin, particularly under the microscope.
Hardwick is yet to taste finals success at the helm of the Tigers, while Cotchin was well below his best in the club's past two September exits.

>> Watch Rodney Eade on AFL.com.au's The Final Say program on Sunday morning from 10am AEST. Eade will be joined by Matt Thompson and Callum Twomey to discuss all issues from the opening weekend of finals.
Despite the history, as a coach you need to worry about the present, focus on how your team has been travelling, and importantly for Hardwick - himself, his skipper and the Tigers are all good form.
I think internally Hardwick will be very content and pleased because he's coaching well, his side is playing well and they've been so consistent all season.
They are a far different proposition in 2017, as they now hunt the ball carrier ferociously, with three or four players attacking the opposition with a lot speed and intensity.
They run both ways, their off-ball running has improved noticeably, they get more numbers to get to the loose ball and also cause more turnovers.
Even though Dustin Martin has been starring, they haven't relied on one player, and I think Trent Cotchin's contribution has gone under the radar because Dusty is playing so well.
I wouldn't be worrying about how many possessions he gets, I'd just be focused on his contested-ball work, because he's so good at it.
Cotchin has also been working hard to get back into defence and getting a lot of possessions there through his work-rate, and usually in finals the pressure goes up and possessions are harder to get, so a player of his calibre is going to very valuable in the tough going.
While his captain's performance will be an interesting subplot on Friday night, so will how Hardwick counters Harry Taylor, after the versatile Cat limited the impact of his star defender Alex Rance in the loss to Geelong in round 21.
With Rance more comfortable defending on the last line, Taylor blocked his run at the ball, made him more accountable and also hurt him on the scoreboard with four goals.
The All Australian is so damaging when he is allowed to zone off his man and help his teammates defend, so the match-up with him will be very interesting.
Hardwick has Josh Caddy coming back from injury and Jacob Townsend doing well in recent weeks as the second tall forward, so if they play well, it could force his counterpart Chris Scott to play Taylor down back.
I don't think Hardwick showed his full hand in that game, so expect him to do some things a little differently on Friday night.