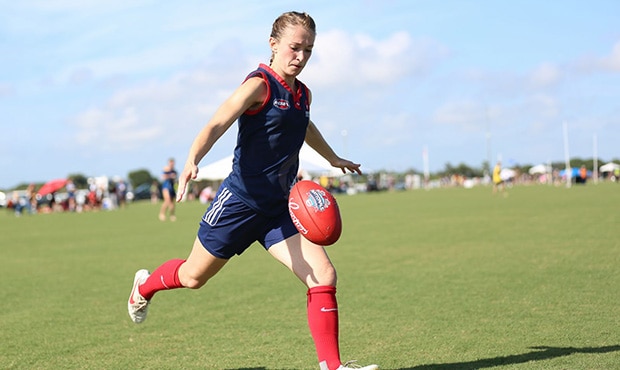 IT'S SAFE to say an Alaskan-born female who learnt how to play Australian Football in Philadelphia is not the subject of your average footy story.
Amy Arundale is a member of USA Liberty, a women's development squad which accompanied USA Revolution (men's) and USA Freedom (women's) to Melbourne for last month's AFL International Cup.
Arundale, who now lives in Delaware (a state in America's north-east) after growing up in Alaska, had not even kicked a football until last year, but has risen through the American ranks so rapidly she is representing her country a year later.
"I knew of [Australian rules], but I hadn't actually seen it too much," Arundale said.
"I played soccer in college, and my best friend's husband studied at Melbourne University, and when he came back he started playing for the Philadelphia Hawks men's team.
"This past year the Hawks decided to start a women's team, so she was the first person to get recruited, and then they recruited me."
The 32-year-old started with Ausball, a non-contact clinic which teaches the basic skills, then trained with Philadelphia's male side before the women's side was finalised.
"We run Ausball like a clinic, then we'll play a non-contact scrimmage," she said.
"Our goal is to try and get people involved. We use it [Ausball] for recruiting quite a bit, especially on the women's side. It's a good chance to expose people to the game before we throw them in full-contact."
The former semi-pro soccer player found Australian Football an enjoyable challenge.
"I was getting frustrated with soccer, because you reach a certain level and that's it.
"I was playing co-ed, but I wasn't really being challenged. I missed having to practice and missed having a team that was really cohesive. I kind of filled all those voids all of a sudden and really gained a community."
A big off-season training block following the women's national competition saw Arundale called up to a national camp in April.
"I didn't expect anything more than just to go for the experience and to play with the higher-level players, and ended up getting picked up for Liberty," she said.
Arundale has found her spot in the midfield, where her speed and agility set her apart.
"I love to run. I love being in the middle of things, being in pack, figuring out how I can create space and be an option," she said.
"It's been cool to be able to take a step back and see how I can organise and make a difference through making sure my teammates are in the right space at the right time."
Arundale and her teammates keep a close eye on the AFL and AFLW competitions, watching matches online.
"Most of us now have teams we cheer for. On the men's side, I cheer for the Hawks, on the women's side for Melbourne, mostly because I have friends who play for them."
One of those friends is Melbourne defender Brooke Patterson, a fellow physiotherapist who is completing a PhD in ACL knee injuries, as Arundale already has.
While in Melbourne, she stayed with Patterson and accompanied her to training at VFLW club Darebin Falcons.
"It was incredible. I was training with Daisy Pearce, Melissa Hickey, Katie Brennan, Darcy Vescio and Karen Paxman. It was definitely a case of, 'I'm not worthy'," she said with a laugh
The Liberty side conducted a playing tour of Melbourne, while the senior teams participated in the AFL International Cup.
They took on local sides around the city, including a representative western suburbs team in Manor Lakes, Bulleen-Templestowe in the east, inner-suburban team West Brunswick, and south-east-based teams Monash University and Oakleigh Krushers.
"To play against guys at that higher level let us see where we are and what the game is like here," she said.
Speaking after Liberty's final game in the country, against Oakleigh, Arundale said it had been a great learning experience.
"Footy's a big family. This tour has makes the world a little bit smaller."