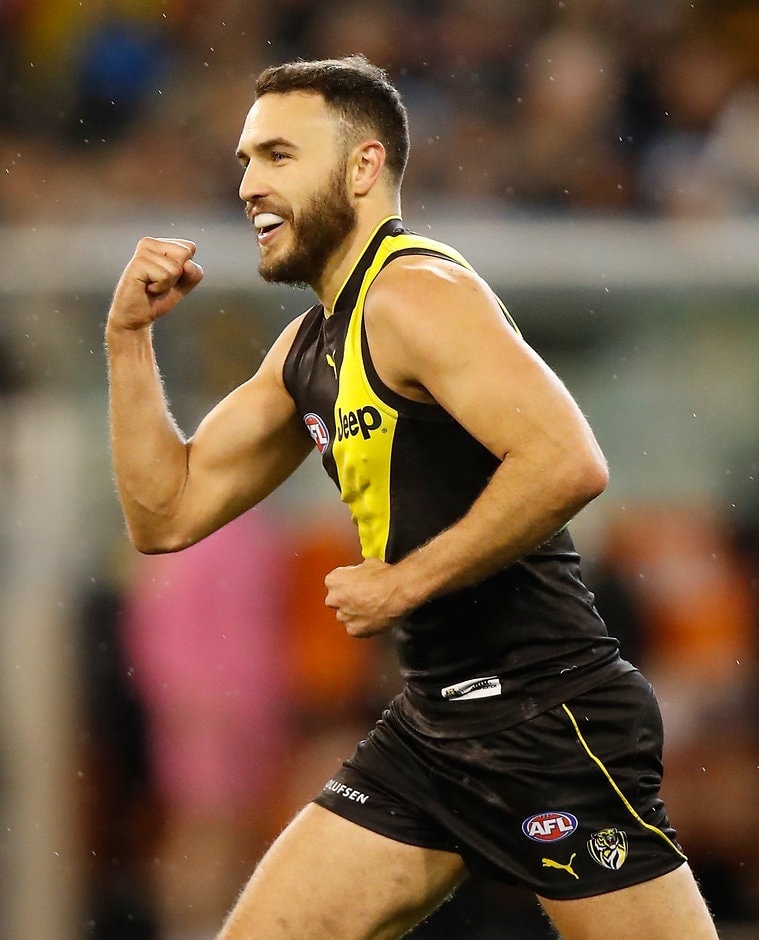 We've been a bit guilty of under-playing the game in (previous) years ... and trying to think it is another game, but it isn't
Shane Edwards
WITH Richmond one win away from its first Grand Final appearance in more than 30 years, forward Shane Edwards concedes he's already dreaming of what it would be like to lift the premiership cup.
Usually the line trotted out by the modern-day player is 'one game at a time', but with the Tigers set to face Greater Western Sydney in a preliminary final at a near-capacity MCG on Saturday evening, Edwards' honesty was refreshing.
While he says the players appear "switched on" for the club's first prelim since 2001, Edwards admits his mind at times has strayed to that last Saturday in September.
"It's pretty hard (not to think about the Grand Final), you can't control what you dream about," Edwards said on Thurday.
'It happens every now and then but I wake up and think, 'Nah, it's the process'
"(I dream) of running around the oval and celebrating afterwards – I can't control it."
In his 11th season at Punt Road, Edwards admitted he thought his chance to contest a flag may never come, but he says the qualifying final win over Geelong has given the Tigers plenty of belief.
Immersing themselves in finals fever is also contributing to their good form.
"We've been a bit guilty of under-playing the game in (previous) years, shying away from what it's going to be like and trying to think it is another game, but it isn't," he said.
"There's a lot more on the line, and we took that (mindset) into the last game we played and it seemed to go all right.
"(We're) embracing the moment, and it's great time to be playing footy."
An interesting subplot of the cut-throat encounter will be former Tiger Brett Deledio's first game in Giants' colours against a club he represented on 243 occasions.
While Deledio declared this week he'd "always be a Tigers man', Edwards says the black and yellow won't be a mood to celebrate his 250th milestone.
"No doubt it will be a hostile (reception for Deledio) – the Tiger army are pretty ruthless," Edwards said.
"He's been a great servant for the club but I think everyone wants us to win the game than celebrate his 250th.
"You can love someone as much as you want, but if they're in the other team's colours it doesn't really matter."
$(document).ready(function(){ document.getElementById("interaction").innerHTML = ''; });