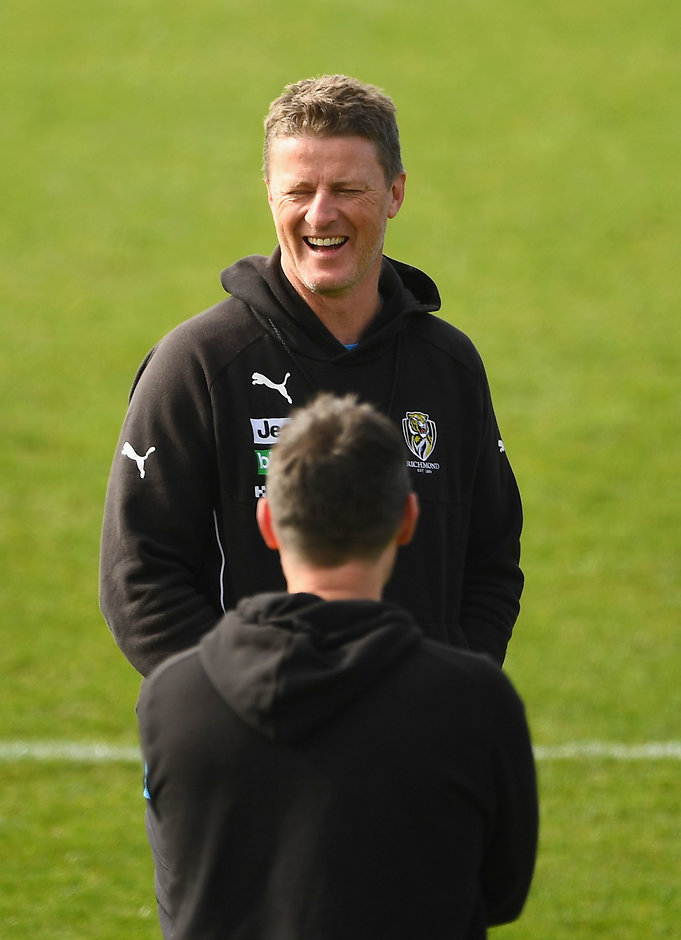 You can either look at it as an obstacle or an opportunity. We're firmly looking at it as an opportunity
Damien Hardwick
RICHMOND'S past will have no bearing on Saturday's preliminary final against Greater Western Sydney, and that includes the strong form they bring in, according to coach Damien Hardwick.
The Tigers are favourites to beat the Giants at the MCG in front of an expected crowd of more than 95,000 fans after earning a week off following their 51-point qualifying final win against Geelong.
RODNEY EADE: How to hose down Dusty and Danger
A win will catapult the club into its first Grand Final since 1982 and give it a shot at its first premiership since 1980, but Hardwick said that history would be irrelevant when his team runs out on Saturday.
"The game doesn't know what's happened in the past, it just continues to look at what you're going to bring this week," the coach said.
"That's all we've had our focus on, what we can bring to the game. Even last fortnight's game against Geelong is in the past as well.
"We can't even bank on that. We just go about doing what we do, our defensive template is very strong, and if we play with great intent and work rate then that will hold us in good stead.
"If we don't bring the work rate and intent then we're beatable."
Moving on from the past has been a key message from Hardwick all season as he drove his team back into finals after an eight-win season in 2016.
It was also a key message when he orchestrated the club's first finals win since 2001 after three failed attempts between 2013-15.
"The game is a preliminary final. In the cut and thrust of a prelim, one wins and goes on and the other is out," the coach said.
"It's a really important game, we understand that. But we're also really pleased with the challenge it's going to give our boys.
"You can either look at it as an obstacle or an opportunity. We're firmly looking at it as an opportunity."
The Tigers were met by a crowd of around 3,000 fans at Punt Road Oval on Friday for their final training session before Saturday's blockbuster final, completing a light 30-minute session.
The Richmond faithful cheer Dustin Martin at Punt Road on Friday. Picture: Getty Images

After two byes in three weeks, Hardwick backed the club's strength and conditioning staff to deliver a program that would get the players ready after one game in 26 days.
"We've got a pretty good record after byes as it is, and we've got a pretty strict routine for how that looks for us and how it works. We're very confident that we've done the work," the coach said.
"Our boys had a pretty hard session on the Saturday and we had a little session yesterday that got some intensity into their legs.
"We're very confident that we're well prepared and we think we're going to be fresh and we're going to be vibrant. Once again, until that ball bounces, we'll have to wait and see."
GWS named an unchanged team for Saturday's clash and will again go in with a small forward line following the season-ending injury to tall star Jeremy Cameron.
Hardwick was confident his medium defenders Dylan Grimes and Nathan Broad could handle the smaller forwards, including veteran Steve Johnson fresh off a six-goal bag against West Coast.
"Much like the GWS back six, the ability of those guys to switch between opponents is really important and it's one of our great strengths so we'll continue to back those guys in," he said.
"The GWS forward line, many people have had a go at it but the reality is they finished fourth on the ladder, so they can kick goals and a lot of them.
"So if we don't play a solid form of defence they're going to kick goals. We've got to make sure we focus on that area."