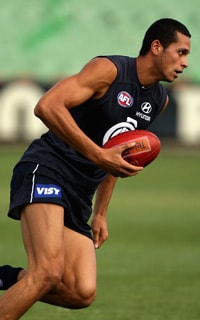 FIERY former Carlton ruckman Aisake O'hAilpin faces deregistration from the game for allegedly headbutting ex-Saint Raphael Clarke in a Northern Territory Football League match on Saturday.
The NTFL Tribunal found O'hAilpin not guilty of a serious misconduct charge on Wednesday night, owing to conflicting evidence and a lack of vision of the incident.
But AFLNT announced on Thursday night it was appealing the verdict on the basis of an "error in law". The Appeals Board will hear the case on Saturday morning.
A ban of two games or more would push O'hAilpin beyond the 16-game suspension threshold that would see him automatically deregistered.
The 32-year-old was sent off and received a two-match suspension last year for headbutting an opponent while playing for Albury in the Ovens and Murray league.
This latest incident came just 22 minutes into the 198cm Irishman's debut for NTFL club Nightcliff, with field umpire Mark Noonan escorting him from the ground immediately afterwards.
A source told AFL.com.au that Noonan, who doubles as AFLNT's umpiring boss, testified that O'hAilpin headbutted Clarke twice, whereas Clarke said it was just once.
"He had an egg (bump) on his head," the source said of Clarke.
"You usually have to be reported twice to be sent off the field, unless the indiscretion is that bad – and Noonan did that.
"Raph didn't go to the tribunal, because he's working in the bush. But he told them O'hAilpin grabbed both his ears, then headbutt him – when it's headbutting, there's none of that player code."
Clarke was playing for St Mary's, while O'hAilpin's brother Setanta, who played 88 games for the Blues and Greater Western Sydney, kicked six goals for Nightcliff.
Setanta, 34, was suspended once in his AFL career for an extraordinary intra-club match incident with Cameron Cloke, where he punched and kicked his teammate.

He copped a four-match ban for what then-Carlton coach Brett Ratten described as "a poor act".
Aisake O'hAilpin was on the Blues' list between 2005 and 2008, but failed to play an AFL match.

He grew up in Cork, Ireland, and came to AFL recruiters' attention for his Gaelic football and hurling exploits.

O'hAilpin has become a journeyman since leaving AFL ranks, playing for Maribyrnong Park, Montmorency, Hillside, Albury, Tooradin-Dalmore and Nightcliff.