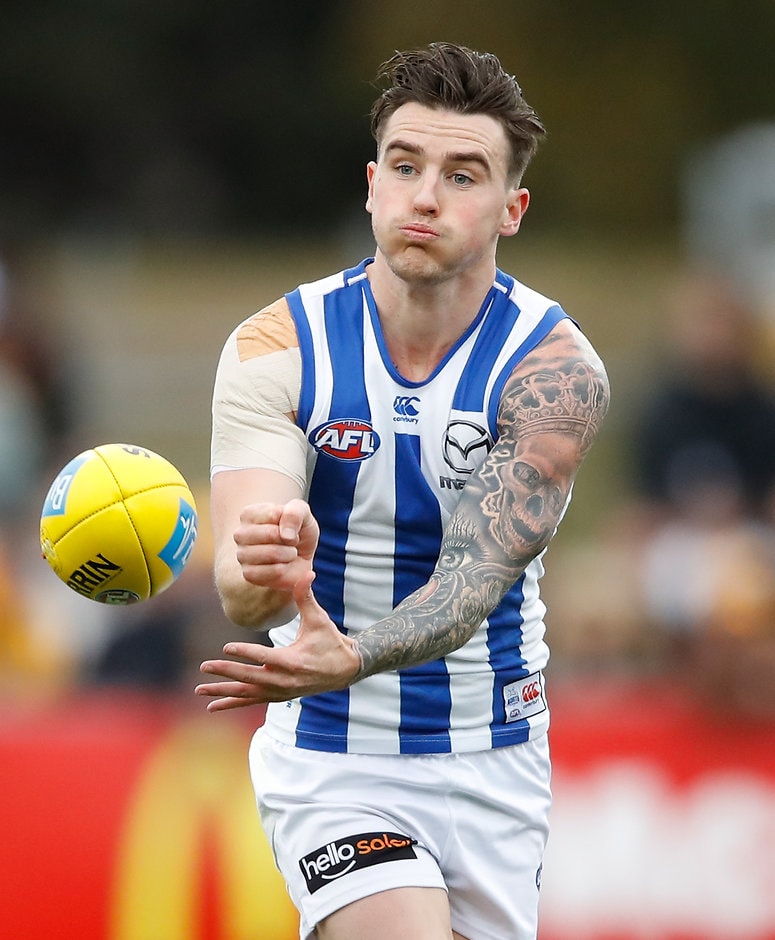 A FRUSTRATED Aaron Mullett believes his best football is still to come as he hunts for a new club after North Melbourne delisted him on Monday.
The 25-year-old defender joined fellow ex-Roos Sam Gibson and Lachy Hansen as the highest-profile scalps in the club's latest player cleanout.
Mullett averaged a career-high 20 disposals in 18 games this year – between a broken hand and a calf injury – and only All Australians Michael Hurley, Michael Hibberd and Sam Docherty averaged more rebound 50s.
"It's really frustrating to be in this position, obviously playing the majority of games (this) year and I think I took a good step forward," Mullett told NAB AFL Trade Radio.
"I'm just waiting by the phone and keeping in contact with my manager and keeping really fit, so if a club comes I'll be ready to go."
Mullett hinted his lack of physicality at the contest was one reason North chose to let him go, as well as the Kangas having younger players capable of playing his role across half-back.
"They obviously had a few injuries … at one point we had three defenders playing in the back half and we had a few half-forwards and a few midfielders playing," he said.
"So, it was more about making sure we can get through as a defensive group and teach the other guys.
"But, coming off a few shoulder recos and things like that, I needed to be a bit stronger in the contest and put on a bit more size.
"Touch wood, my body's feeling really good at the moment, so I've put on a few kilos and hopefully from there I can work really hard in the pre-season if someone offers me a (chance)."
Mullett is willing to relocate interstate to keep his AFL dream alive and said he was versatile enough to move onto the wing or across half-forward – roles he played in underage football.
His prospects of remaining at North were possibly hurt by the fact veterans Andrew Swallow and Lindsay Thomas, who spent time in the VFL this year, were contracted for 2018.
"I haven't sat down with a club as such, but obviously my manager's put my name out there and is talking to a few," Mullett said.
"Hopefully now my name's out there and as a delisted free agent, a few clubs can come to the party and have a chat, so we'll just have to wait and see."